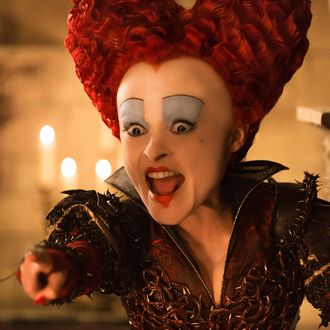 Photo: Peter Mountain/Courtesy of Disney
"If you drink much from a bottle marked 'poison,'" Lewis Carroll said, "it is certain to disagree with you sooner or later." This is a very good life lesson, one movie producers learned this weekend. Afflicted with abysmal critical reactions and bad buzz from the current Johnny Depp situation, Alice Through the Looking Glass did not have a good three-day opening. The sequel to Tim Burton's billion-dollar-grossing mess of computer-generated whimsy earned $28.1 million domestically, and is on pace to make less than $100 million during its run. Despite the high hopes of movie producers, you can't go back to yesterday — moviegoers were different people then.
X-Men: Apocalypse had a similarly disappointing weekend, though it did manage to do some damage at the box office. After wrecking the foreign box office last week, Bryan Singer's film managed a $65 million domestic opening, which is less than X-Men Origins: Wolverine ($85 million), X2: X-Men United ($85.5 million), Days of Future Past ($90.8 million), The Last Stand ($102.7 million), and Deadpool ($132.4 million). Apocalypse, which has gotten the worst reviews of any X-Men film other than Origins, will get its Chinese release on June 3.
The Angry Birds Movie had its wings clipped a bit, dropping 51 percent its second week. It made $18.7 million for a $66.3 million total, with a budget of $73 million. Captain America: Civil War added $15.1 million to its now-$372.6 million domestic haul, while Zac Efron's abs in Neighbors 2 made $9.1 million. Also worth noting: Zootopia, which has remained in the top ten for 13 weeks, has surpassed The Lion King's all-time gross.
There is a most pleasant surprise in this week's box office: A pair of genuinely good films made money. Whit Stillman's Love & Friendship landed in the domestic top ten, with a lovely $2.5 million opening on 493 screens, while Yorgos Lanthimos's sublime The Lobster made $725,092 its third week on 119 screens, an 86.4 percent increase. There is hope in this world after all.