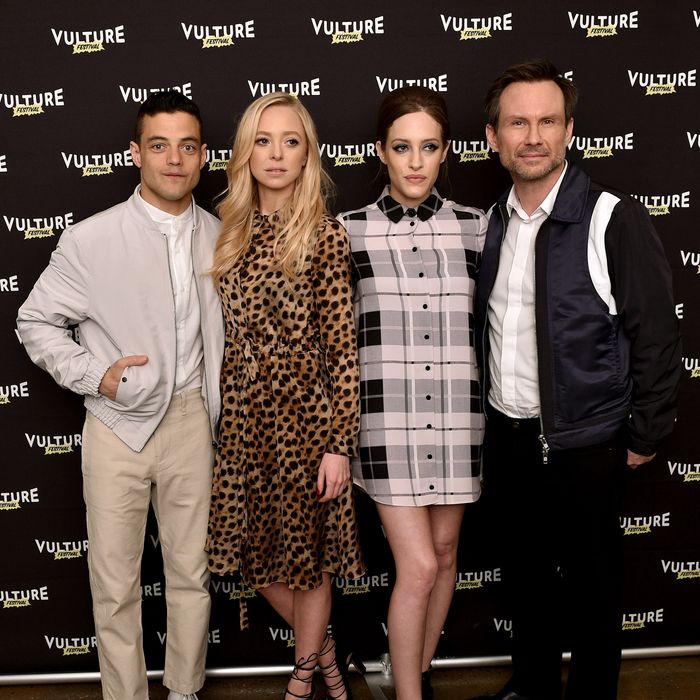 L-R: Rami Malek, Portia Doubleday, Charly Chaikin, Christian Slater.
Photo: Bryan Bedder/2016 Getty Images
Mr. Robot was the surprise hit of the 2015 television slate, a show perfectly suited to our society's current zeitgeist in which technology is forever expanding, through the Internet of Things, into our every day lives. The show doesn't return until mid-July, so cast members Rami Malek, Carly Chaikin, Portia Doubleday, and Christian Slater were pretty tight lipped about the future of fSociety during their Vulture Festival panel with editor Abraham Riesman. But they did dig up some pretty good intel on what it takes to hack into the minds of their characters.
The graveyard scene was the hardest scene to film. When Elliot Alderson realizes that Mr. Robot (a.k.a. his father) is a delusion, and that he actually led the Evil Corp hack (and created fSociety), the moment happens in a graveyard. It is the first time all four actors are on the screen together, and each claimed that shoot, which was filmed in a real cemetery on Doubleday's birthday, was the hardest of the entire season. "It took nine hours," Doubleday said of the scene. Malek and Slater filmed in the morning, but both Doubleday and Chaikin were on set to watch, and each struggled to contain their emotions as they watched Elliot try to come to grips with the realization that he is Mr. Robot. "We were sobbing watching them," says Chaikin. "After they were done, all I wanted to do was throw up. It was so amazing. By the time we had to film, I said, 'I can't cry [anymore].'"
When Doubleday rewatched that scene, she began to wonder what people would make of seeing something that intense on TV. "I remember walking away," she said, "and thinking, 'OMG, is that what this show is going to be like? How will people respond?'"
During the panel, Malek emphasized the rapport he developed with Slater, but he felt that he couldn't "horse around" during this scene. "When he grabbed my face at the grave, I had to look him straight in the eye," says Malek. "We shot it over and over again, and just kept looking at Christian dead in the eye, and I thought, 'If I have to do this scene again, I am going to be hurt for a while.'"
How Sam Esmail got the greenlight to direct all of the second season. It has been mentioned on countless occasions how Sam Esmail, the show's creator, intended for Mr. Robot to be a feature film, and that season one is the equivalent of the film's act one. Esmail directed several of those episodes, but he decided that not only would he contribute to the second season's scripts, he wanted to direct all ten of its episodes. According to Slater, USA Network have one ask before giving Esmail the greenlight: "They felt confident," he said, "but it is still a big leap so they asked Sam to write eight scripts ahead of time, [before] he could go ahead with the directing. Instead, Sam wrote 12."
The realness of Angela and Darlene. Doubleday, who plays Angela, mentioned that she and Chaikin (who plays Darlene) often discuss how glad they are to play fully fleshed-out characters. "There are so many scripts I get where, in the breakdown, your character is described as funny and cute," says Doubleday. Both her and Chaikin said it was refreshing to play a character that wasn't boxed in as a romantic interest. "When Sam told me that Angela was this girl who is going to go after this huge corporation, and that I had to portray what it is like to climb the ladder as a corporate woman now," says Doubleday "I was so excited when I found that out."
Costumes are pivotal. You might think it'd be easy to dress a character who's antisocial, but Malek said it took time to find just the right clothes for Elliot, who dresses like he's "armoring up." Malek described the goal for the aesthetic as, "If Elliot was to put his head down, and there was a drone above him, he could disappear into the city for a moment." After trying on several types of black pants, including one that had elastic in it, he, Esmail, and the wardrobe department decided on jeans that were thicker than most ("this guy doesn't like to be touched"), and a hoodie that would double as an outfit made for urban combat. "When I put that hoodie and backpack on," says Malek, "I start walking and talking like Elliot, and I also stop touching people."