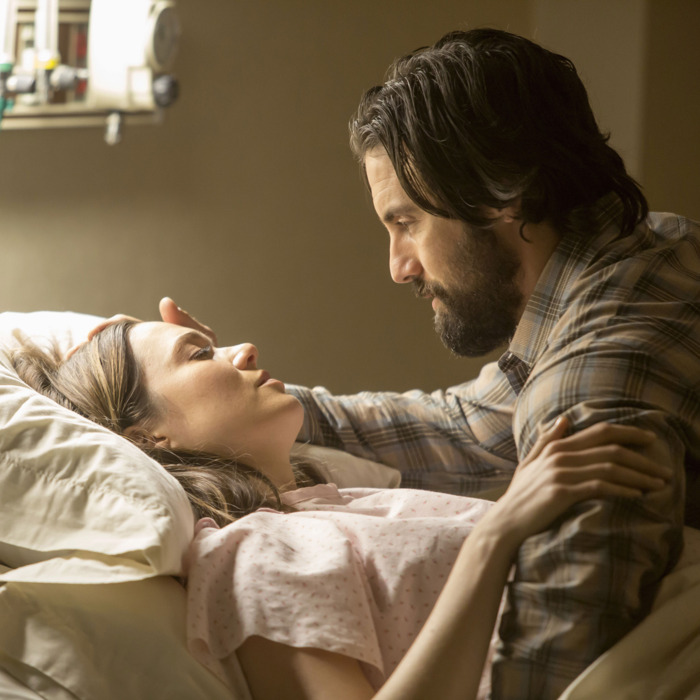 L-R: Mandy Moore as Rebecca, Milo Ventimiglia as Jack in This Is Us.
It's impossible in 2016 to describe any broadcast network as "thriving," but if any comes close to matching that description right now, it's NBC. This might strike some as a remarkable-bordering-on-ridiculous statement, given just how bad things were at the Peacock only a few years ago — and how many issues it still faces. NBC doesn't have a major comedy hit, its shows have little critical or pop-culture buzz and, using the (increasingly irrelevant) metric of Nielsen ratings, it will cede the adults-under-50 ratings crown this season to a Super Bowl–boosted CBS. But what NBC does have is a prime-time schedule that works better than it has in years, and which — thanks to Dick Wolf's ever-expanding franchise of Chicago-based dramas — has the potential to produce substantial long-term profits for the company. This explains why the new lineup the network announced Sunday boasts so few changes, and why we actually believe NBC Entertainment boss Bob Greenblatt when says he "couldn't be happier" about where things stand now.
For anyone who grew up during the Must-See TV era — that roughly two-decade stretch that began in the early 1980s with Hill Street Blues and Cheers, and then drew its last breath when Friends exited in 2004— the way in which NBC has clawed its way back from the brink has been somewhat painful to observe. Rather than trying to recapture past glories with a new commitment to programming The Best Shows on TV, the Peacock's path to recovery these past few years has largely been paved by pragmatism. Eschewing the pursuit of Emmys or year-end top-ten lists, Greenblatt has basically been trying to out-CBS CBS with a steady diet of proudly middle-of-the-road programming. That's meant doubling, tripling, and, next season, quadrupling down on the Chicago shows. It's why Greenblatt replaced the upscale comedies and dramas NBC was once known for on Thursdays with The Blacklist, and why there will soon be a Blacklist spinoff. And it explains the existence of the very CBS-y thrillers Blindspot and the upcoming Timeless. While none of these moves have resulted in a massive ratings surge for NBC, they have allowed the network to construct a schedule that can now reliably be counted upon to attract a decent-sized audience almost every night of the week. It's the sort of stability advertisers love, and which is more difficult than ever to attain at a time when viewers have so many non-linear options.
Having solidified NBC's foundation, it's not surprising that Greenblatt opted against making any radical changes or introducing a ton of new shows in the fourth quarter. Instead, his new schedule — overseen by veteran program planning chief Jeff Bader, whom Greenblatt brilliantly poached from ABC a few years ago — is all about shoring up weak spots and further bolstering key nights in a bid for incremental gains. As it did last year, NBC will use top-ten hit The Voice to get viewers to sample what the network believes are its best new shows. And so, on Mondays, the singing competition will lead in to the Shawn Ryan–produced time-travel thriller Timeless, which seems to have some of the same DNA that allowed both Blacklist and last fall's Blindspot to click in the hour. Meanwhile, The Voice's Tuesday results show will be used to get audiences to This Is Us, a relationship-driven hour starring Mandy Moore and Milo Ventimiglia seemingly designed to appeal to folks still mourning Parenthood. Sight unseen, it's impossible to say whether either of these shows will work. Broadcast networks have a horrible track record of late-launching warm-and-fuzzy character dramas, which immediately makes Us a long shot. But if either of these shows is going to succeed, it's hard to imagine any better time slots than the ones NBC has given them. (And given the emphasis on procedural dramas throughout most of the week, it's refreshing to see This Is Us given such a plum spot.)
Much riskier — though heartening — is NBC's return to Thursday-night comedies, with sophomore Superstore opening the night at eight p.m., paired with The Good Place, created by Mike Schur and starring Kristen Bell, at 8:30 p.m. Superstore was something of a surprise when it aired Mondays at eight this winter, consistently drawing a decent-sized audience without the benefit of any lead-in. It also drew solid reviews and seemed to mark a return to NBC's single-camera-comedy glory days. All of this likely convinced NBC execs to give the show a shot on a night with such historic importance to the network's comedy brand; the fact that The Big Bang Theory has started to cool down in the ratings just a tad, and doesn't air on Thursdays until late October, also probably helped. But long-term, Big Bang remains the big-box store of sitcoms, killing all who get in its way. At the very least, a fall run on Thursdays — coming right after the Olympics — could help Superstore build on its first-year momentum. Pairing it with Good Place, which features Ted Danson's return to network comedy, will also help build buzz and sampling. (Also smart: NBC's decision to air a special episode of Superstore during the Olympics, further raising its profile.) Given all the teeth-gnashing that followed the network's abandonment of Thursday comedy, it would be wrong not to applaud the network for finally returning. On the other hand: NBC's ambivalence about The Carmichael Show — barely renewed, left off the fall schedule — is incredibly depressing. Smart, upscale comedy doesn't have to be single camera, and it doesn't have to be populated by mostly white casts.
Elsewhere, the network's decision to cancel The Mysteries of Laura wasn't a complete shocker given the show's older skew and the fact that NBC doesn't have an ownership stake in the program. (Networks make more money on shows they produce themselves.) And now that we know what NBC will replace it with Wednesdays at eight p.m. — season two of Blindspot — the cancellation makes all the sense in the world, even if it's irksome that a show with 8.6 million weekly viewers is considered a "failure" because most of those viewers are over 50. Still, Blindspot will almost certainly attract a younger audience to the hour, and it figures to draw far more viewers away from CBS and ABC than did Laura. Likewise, shifting Chicago Med to nine p.m. on Thursday and pairing it with Blacklist gives NBC a shot at competing for No. 1 from nine to 11 p.m. Thursdays, even if its new comedy hour tanks. ABC's once-red-hot Shonda Rhimes dramas are still huge with younger women, but they suffered serious erosion among broader audiences this season. CBS, meanwhile, will hardly be a ratings juggernaut after Big Bang ends and is open to challenge. NBC is still a far ways away from its past Thursday dominance, but it's also far from an also-ran anymore.
As genuinely impressive as NBC's recovery has been, there are some reasons to worry about the foundation on which it's been built. While the network has constructed this much-improved lineup brick by brick over the course of years, rather than relying on a singular hit, NBC is still putting a whole lot of faith — probably too much — in one producer, Dick Wolf. Consider: Of the ten hours of scripted series on the network's fourth quarter lineup, a stunning 40 percent will come from the Law & Order creator. And that's before mid-season newcomer Chicago Justice arrives, or the network makes room for the planned documentary anthology series Law & Order: True Crime. (There's even been talk of rebooting the original Law & Order.) Shonda Rhimes may own an entire night over at ABC, but, increasingly, Dick Wolf owns an entire network. Wolf's shows are all working well right now, and, more importantly, his company is part of the larger NBC corporate empire. Whenever all the Chicago shows hit syndication, the Peacock will reap a financial windfall, so if NBC can ride the Windy City express to long-term profits — well, the logic speaks for itself. During a conference call with reporters Sunday, Greenblatt argued that each of the four of the Chicago shows is, despite a common lineage, a distinctive series with its own creative structure. Maybe, but they're also all still coming from the same factory. This leaves less room for NBC to explore other kinds of shows and other creative voices, and possibly discover the next Dick Wolf. But then, maybe experimentation is overrated, particularly when Wolf's comfort food seems to be doing the trick.