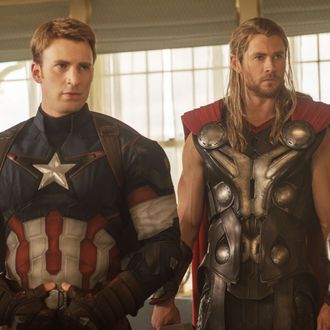 Coming soon to Netflix?
Photo: Marvel
There are two defining experiences of Netflix in 2016:
1. The increasingly interesting and ambitious original material, coupled with its deep reservoir of TV series.
2. The confusingly poor selection of films available for streaming, a library that seems to atrophy every month, dragging Netflix farther and farther away from its now-mythological roots as a business that sent you DVDs (?) in the mail (???).
But in September, Netflix will finally address point No. 2. Its deal with Disney, which it struck all the way back in 2012, will soon go into effect, making Netflix the exclusive home of all Disney movies on pay TV. This spans the width and breadth of the mouse-eared empire, meaning that, come autumn, you'll be able to watch Pixar, Marvel, and Lucasfilm movies alongside the latest late-period Adam Sandler offering Ted Sarandos & Co. have midwifed into this cold, confusing world.
As you might expect, Netflix paid a pretty penny for that content, stealing it away from Starz to the reportedly Wagnerian tune of some $300 million a year. Pricey as that may be, the deal should go a long way toward addressing what feels like an increasingly sparse cabinet of movies available for streaming on the service, and it also offers a glimpse into the economics of running a service like this one. It's the high price tag of those streaming libraries that sent Netflix off in the direction of original content in the first place, but as the cost of Netflix itself continues to rise, the company has to determine what its subscribers care about most.
An offering like Disney's, which includes family fare, franchise blockbusters, and a classics archive, hits at the sweet spot of what consumers seem to want most from the movies in 2016 — not to mention aligning Netflix with the studio currently dominating theaters. There might not be a catalogue of films more valuable right now than this one, and, as an added bonus, it lines up nicely with Netflix's own selection of Marvel television shows, including Daredevil, Jessica Jones, and the upcoming Luke Cage.
This also marks the first time one of these libraries has gone to a non-cable distributor, making for yet another shot across the bow of HBO and Showtime — not to mention poor Starz, from whom Disney got swiped. HBO, for example, offers Fox's movies at the cost of roughly $200 million a year through 2022, a price that now appears to be a good deal. Of course, Netflix has proven over and over that it's able and willing to pony up more than its competitors toward the price of legitimacy. While that might not have been enough to win over Nate Parker, it worked just fine for Disney.