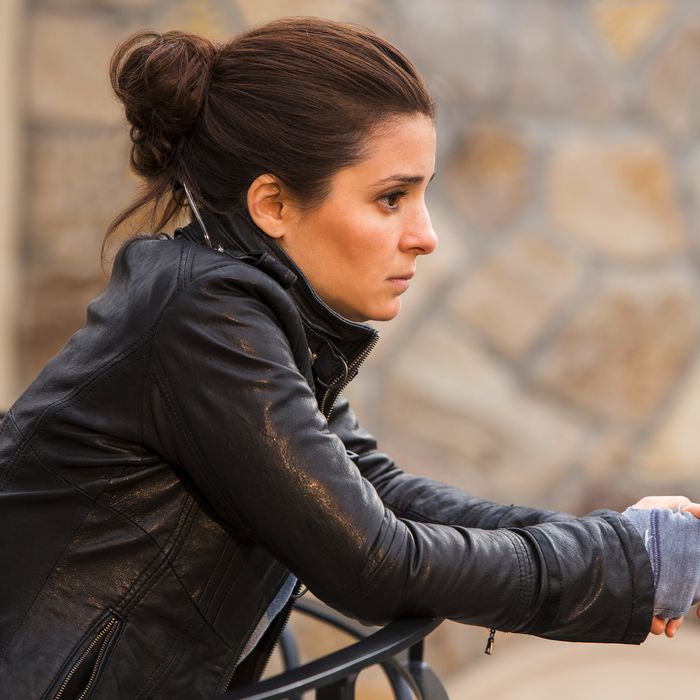 Shiri Appleby stars on Lifetime's UnREAL.
Photo: Lifetime
The 2016 Emmy race has begun, and Vulture will take a close look at the contenders until voting closes on June 27.
Earlier this week, FX sent TV Academy members (and some journalists) a box filled with DVDs of the network's many potentially Emmy-worthy programs. This was not at all unusual: From The Shield to American Horror Story, FX has long been an awards-season powerhouse, along with statuette-seeking stalwarts such as HBO, AMC, Showtime and, more recently, Netflix and Amazon. But for some networks, 2016 represents what could, quite literally, be a golden opportunity to snag some Emmy love. Thanks to the ever-expanding number of scripted series, outlets not normally known for quality scripted programming suddenly find themselves with shows being talked up as contenders. While conversations about awards generally focus on specific shows and the people behind them, winning an Emmy — or even just getting nominated — can give smaller networks a big PR boost, putting them on the map with viewers, as well as writers and actors considering where to bring their next project. They can even assist larger outlets, including some that have won a smattering of Emmys over the years, reshape their identities with advertisers and the creative community. After all, AMC was known for being little more than the other classic movie channel before Emmys' embrace of Mad Men changed everything. Here's a look at five networks chasing Emmys particularly hard this year — and how much capturing voters' attention would matter.
USA
Not since Tony Shaloub's still-shocking run of wins for Monk has USA been such a big part of the Emmy discussion as it has become with Mr. Robot. Within a few weeks of its premiere, critics were already talking up the dark drama as one of 2015's best new shows, buzz that USA's marketing and PR team immediately realized as a potential game changer for a network heretofore known as a home for escapist fare.
How much Emmy matters: A lot. USA doesn't necessarily need any help getting viewers to know its shows exists, given the network's age, size, and synergy within the broader NBCUniversal conglomerate. But a slew of nominations around the time of the show's season-two debut might convince Peak TV-weary audiences that it's time to binge season one and join the F-Society revolution. Plus, a successful campaign might convince producers shopping edgier projects that AMC and FX aren't the only basic-cable networks in the quality drama game.
Lifetime
The network that once sold itself as Television for Women is hardly new to scripted originals, and it's also not a complete Emmy virgin: Over the years, a few of its TV movies — the ones that veered from camp and cheese — have gotten attention from TV Academy voters, as has Project Runway on the unscripted side. But with reality show–inspired drama UnREAL, Lifetime might finally have a chance to get on the board with a scripted series nomination. The network has been pushing hard to get attention, months ago sending critics a binge-watching kit filled with snacks and every episode of season one. And next month, it'll hold a For Your Consideration event on a yacht, duplicating one of the group dates seen on the Bachelor–inspired show.
How much Emmy matters: Somewhat. There's no indication Lifetime execs suddenly have any aspirations of becoming a female-focused FX or AMC. But what the network does need is a new, younger-skewing scripted hit. UnREAL was hardly a Nielsen juggernaut in season one. Lifetime's Emmy campaign is as much about driving up attention for the show as it is winning an award or establishing a new standard for Lifetime series.
WGN America
For a network that wasn't even in the scripted-series arena three years ago, it's pretty amazing the Tribune-owned network has three contenders this Emmy season. 2016 dramas The Outsiders and Underground have both gotten solid reviews and good ratings, while the now-canceled Manhattan ended up on some 2015 best-of critics lists. All are probably long shots, given WGN's relative lack of marketing muscle versus other networks'. But WGN has still been making a go of it, with heavy trade ads and even a gospel brunch FYC event for Underground last month. And Outsiders and Underground also hail from Sony Pictures Television, which helped AMC turn Breaking Bad into an Emmy giant.
How much Emmy matters: A decent amount. In terms of brand transformation, a strong Emmy showing would in some ways do for WGN what awards did for AMC. Thing is, it's unclear WGN execs are necessarily looking to evolve their network into a destination for Serious Dramas the way AMC and FX did in past years. And yet, as an outlet that is still very much looking to establish itself in the minds of viewers as a home for original programming (and has already had success), WGN would greatly benefit from any attention.
TBS
Over the course of just a few months, Samantha Bee's Full Frontal has made the network a serious competitor to Comedy Central and HBO in the topical comedy space. (You can tell by the number of "Samantha Bee Crushes/Destroys/Takes On" tweets and headlines that now pop up on Tuesday mornings.) Bee is at the vanguard of TBS's transition as the home of The Big Bang Theory reruns into a destination for more left-of-center comedy fare. On the scripted front, the network will be hoping the combination of Rashida Jones as star and Steve Carell as executive producer will put Angie Tribeca in the game, even though parodies rarely play well with Emmy voters.
How much Emmy matters: A lot. Kevin Reilly, the former Fox boss who now oversees both TBS and sister net TNT, is desperate to transform the reputation both networks have for middle-of-the-road programming. Emmy acceptance, particularly for Full Frontal, would validate his strategic shift and help recruit more top talent to the networks.
The CW
With last season's Jane the Virgin and this season's Crazy Ex-Girlfriend, the CW has arguably had the most critically acclaimed newcomers of any broadcast network for two consecutive years. Golden Globes voters have recognized both series with awards for respective stars Gina Rodriguez and Rachel Bloom. But save for best-narration nominee Anthony Mendez, Emmy completely snubbed Jane last summer. Reviews for season two have been strong, and critics haven't stopped gushing about CXG. Sadly, Emmy voters historically have had no use for the C-Dub: It's never gotten so much as a nomination in any major category during its decade in existence.
How much Emmy matters: Not much. Sure, the validation of the CW's remarkable commitment to well-crafted programming with diverse casts and themes would be most appreciated inside the network's headquarters. And the PR that would follow might bring a few more viewers to the still criminally low-rated shows. But the CW brand and bottom line aren't dependent on what the TV Academy decides — particular since the Globes have already given both shows a quality halo.