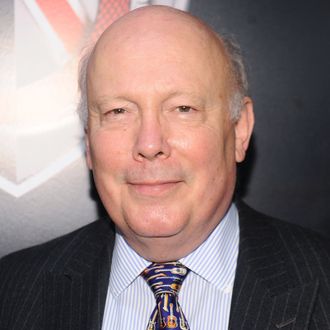 Photo: Brad Barket/Getty Images
Scandalous cross-class marriages? Check. Trenchant matriarchs? Check. Stalwart nieces? Oh, you better believe it. The new drama from the Downton Abbey creator, Julian Fellowes Presents Doctor Thorne, is chockablock with benevolent uncles, drunk millionaires, and a village filled will secret dalliances and pecuniary upheaval. Everything you want from Downton Abbey, plus, well, what else do you people need really? The Weinstein Company announced today that the new show will premiere May 20 on Amazon Prime. Based on a book by Anthony Trollope, Doctor Thorne will star The Night Manager's Tom Hollander as the titular physician, Ian McShane as the above-mentioned inebriated millionaire, and Alison Brie as a wealthy American. From the show's release:
In the series, Dr. Thomas Thorne (Hollander) lives a quiet life with his niece Mary (Stefani Martini, Endeavour) in the English village of Greshambury, which is ruled with an iron fist by the terrifying Lady Arabella Gresham (Rebecca Front, Humans). But Lady Arabella's world is forever changed when she learns that her beloved son is planning to elope with common-born Mary, rather than follow through on his arranged marriage to the rich American heiress Martha Dunstable (Brie). Unbeknownst to the rest of the town, the prestigious Gresham family has all but lost their fortune after their patriarch Francis Gresham Senior (Richard McCabe, Cinderella) squandered it on one of his many fruitless pursuits; they're now forced to take loans from drunken millionaire Sir Roger Scatcherd (McShane) in order to survive. Lady Arabella's scheme to regain their fortune through the arranged marriage now seems poised for disaster; but Lady Arabella is not one to be easily dissuaded, and thus resolves to achieve her goal by any means necessary.
The only question is will Ian McShane or Rebecca Front end up being the Maggie Smith of this show? Dear God, what if they're both the Maggie Smith of this show?