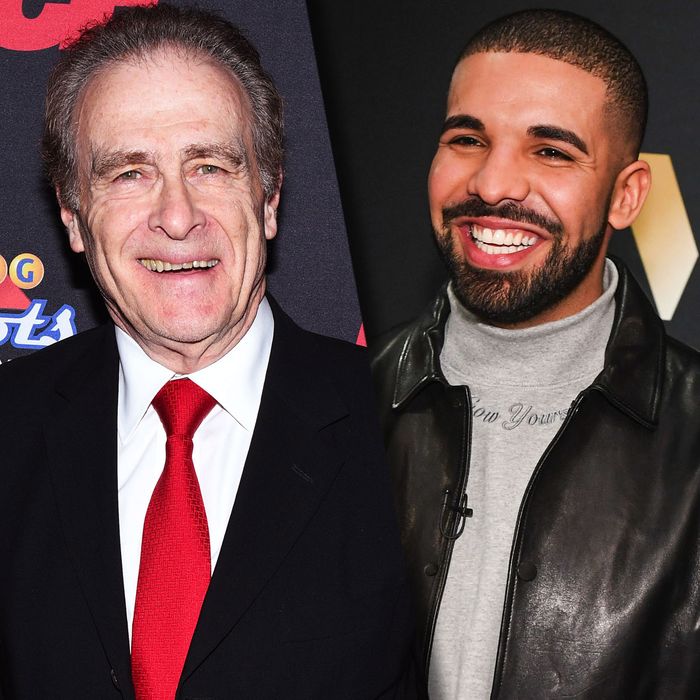 The 6 Gods.
Photo: Getty Images
Prior to last summer, Norm Kelly's greatest claim to fame was serving as the interim deputy mayor of Toronto between 2013 and 2014 while the late former mayor Rob Ford sought treatment for drug addiction. As Toronto city councillor, the 74-year-old politician's life hasn't been nearly as glamorous — until one day last July when Kelly fired up his Twitter fingers and sounded off on the Great Rap Beef of 2015 between Drake and Meek Mill. It started when Kelly tweeted at Mill, "You're no longer welcome in Toronto."
That went viral, as did nearly every other taunt at Meek's expense that trickled out from Kelly's mind to Twitter's ears for the rest of the year. His tweets — which, piggybacking off Drake's own disses, even included shots at Mill's girlfriend, Nicki Minaj — got under Meek's skin so much, the rapper responded by calling Kelly an "old white racist man."
Long after the dust from that feud settled, Kelly has continued to capitalize on his Twitter fame with ruthless jabs at B.o.B's flat Earth theory, more public stanning for all things Drake, and promoting Toronto with every meme-able opportunity — earning him the appropriate title of 6 Dad. How did Norm Kelly get so good at trolling Twitter? Vulture caught up with Toronto's greatest hype man to get his own view from the 6.
You became a Twitter sensation during last year's Drake–Meek Mill beef, and now you're known throughout Toronto and beyond as the 6 Dad. You're Twitter-famous now.
I love it! It's unexpected, but I like that it means a relationship with the younger generation — a close one and a warm one.
Had you always paid such close attention to rap?
I like all forms of music — in the office I would pick and choose our background music. But with the Meek Mill confrontation —  if you wanna call it that — I became more focused on hip-hop. I've enjoyed learning about its origins, how it's developed, its characteristics. It's been good fun!
No one believes you write your own tweets.
I do, but I have to tell you that my Twitter account is different from most. I don't use it as a personal diary or an extension of my political life. I use it instead to promote Toronto and look at the silly, quirky side of modern living in an urban context. Helping me with the photography is a young man who spends the time looking for photos. He's got a terrific eye, and he provides me with the photos and does the Photoshopping for me.
American politicians generally aren't as casual as you are on social media. Obama probably wouldn't tweet about a mic drop like you would. Where do you pick up all the slang you use?
I actually went to the library and took out a number of books on the history of hip-hop. I spent many years in graduate school — teaching in front of a classroom — so there I was making notes on the major characteristics of hip-hop, the language. I've also got two millennials in the office, as well as nieces and nephews, and I'm always talking to them, listening, and asking questions.
You attended a rap battle last year, too.
I did! It was fabulous. It was WD5 [World Domination 5] and, I'll tell ya, it was intense. There must have been 500–600 people there who were loud, passionate, and loving every second of it. What really made it fascinating for me was that I was there as the guest of Kid Twist, and he was facing a rapper from Philadelphia. I was in the green room with Kid Twist for about an hour and a half before his battle started, and I learned that a lot goes into creating lyrics and strategically preparing for rap battles. I love it.
One of the slights last year against Drake was that he couldn't win against Meek because Meek's a seasoned battle-rapper. But Drake challenged that style by playing to what the internet would rather hear: memes.
When Meek emerged and I began listening to his songs, what hit me was that he was a throwback. Drake, Kanye, and others have taken hip-hop closer to the mainstream, and that may explain their extraordinary popularity. They retain, for the most part, the hip-hop base and they've also attracted the pop audience.

Tell me about the night Drake and Future brought you onstage in Toronto. You were literally standing back to back with Drake.
When Ryerson University told me they were going to invite Drake for the frosh concert, they asked if I would like to be a part of that evening. I said I would. That night, there was a light drizzly rain in Toronto. I'm in a back alley on the Ryerson campus waiting for Drake and he showed up with a caravan of cars — all black, tinted windows — he gets out, walks over to me, the two of us address each other, and I got a big hug. He's a hugger! When I put my arms around him, I couldn't get over how big he was. He's a big guy! He's been pumpin' iron!
We went into the green room and chatted as we walked, and I also talked with some of his security and producers. It was a very warm, comfortable stay in the green room with him. I thought I would be among the first to address the students, but, as it turned out, Future performed, Drake performed, and then they introduced their second surprise: me! Before I went onstage, I asked for the Ryerson University hockey jersey and the reception was incredible — not only from the student body, but from Drake himself. After I gave my brief address — which was simply "Ryersonnn turn up!!!" — Drake came toward me and the two of us went back to back. That was our pose, and the students loved it. It was just a terrific evening.
Do you and Drake keep in touch?
He's a busy guy, as am I. He spends a lot of time in other places doing other things, but when possible, when he returns to Toronto, we chat.
Did you hear Views before the rest of us?
People think I somehow got inside knowledge about it. I wish I had.
Earlier this year, President Obama chose Kendrick Lamar over Drake. Please respond.
When I saw that, I went Whoaaa, hey. But that invited me to take a closer look at Kendrick. He's more of a lyricist, closer to the roots of rap. So from that perspective, I can see where Obama's coming from. But overall, when you look at the total package, I still think it's Drake.
Do you have a favorite Drake song or album?
I have two that I play as background music, and I alternate them with the Weeknd and some of the others: If You're Reading This It's Too Late and Thank Me Later, those are the two I listen to most frequently.
American charts have been dominated by Canadians this year and last — Drake's even heading for his first solo No. 1 here. That must give you such a great sense of pride.
Oh, absolutely. Canadians generally are just very quiet, polite people. But with the changing demographics, especially in our urban regions, we've developed a creative dynamism that's taking Canadian musicians to heights that previous generations wouldn't have anticipated and, frankly, would've been surprised at a development on that scale. More than half the rap albums that topped the Billboard chart in 2015 had tracks produced by artists from Toronto or the surrounding artists. [Ed. note: Rihanna's "Work," the longest-running No. 1 of 2016 was produced, written, and featuring Canadian musicians.]
People obviously know you for your political life, but you're more recognized now for your Twitter and association with Drake. What else should people know about Norm Kelly?
Some people look at me and say, "You're an old man, you're in your mid-70s. You can't be funny or relating this easily with the young generation."
But what a lot of people don't know is that prior to my life in politics, I had a successful teaching career. I was a teaching assistant as a graduate student at university, I taught secondary school in Toronto, and I was head of history at the most prestigious private school in Canada, called Upper Canada College. Collectively, I put about 15 years into teaching and I had fun. I enjoyed being with my students. All of that has come back over the last year. And when I talk with students who are older now, they tend to say nice things about me and their experience in the classroom. I think that relationship that I had with my students, at that time, has resurfaced and manifested itself in the relationship that I now have with younger generations.
So many people think you're trolling when you tweet about rap, but it feels sincere.
If there's anything I've learned in politics, it's that there are a lot of opinions out there — and it's best to let most of them bounce off your skin.