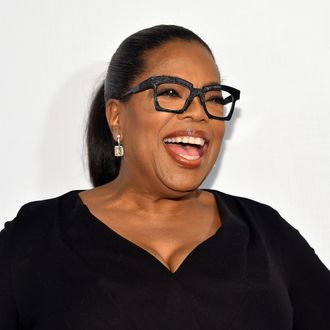 You get a cell, and you get a cell!
Photo: Ben Gabbe/Getty Images
"You get a human cell, and you get a human cell, everybody gets a human cell!" Oprah will shout at the audience as she stars in her latest project, HBO Films' The Immortal Life of Henrietta Lacks. The movie is based on Rebecca Skloot's best-selling nonfiction book about Henrietta Lacks, whose cervical cancer cells were harvested without authorization in 1951 and used to create the first human immortal cell line. Oprah will play Deborah Lacks, Henrietta's daughter, who tries "to learn about the mother she never knew" and discovers Henrietta's scientific legacy in the process. George C. Wolfe is writing and directing the film, while Winfrey is executive producing, alongside Alan Ball, Peter Macdissi, Carla Gardini, and Lydia Dean Pilcher. Henrietta Lacks's sons Zakariyya Rahman and David Lacks, Jr., and granddaughter Jeri Lacksare are acting as consultants on the project. Hopefully Oprah celebrates the news by giving herself another O Magazine cover.