We've met Jamie's sister Jenny; we've met his uncles Colum and Dougal; and on the next episode of Outlander, it's time to meet one more member of the clan — Jamie's grandfather. Check out this exclusive first look at the Old Fox, a.k.a. Simon Fraser, otherwise known as Lord Lovat.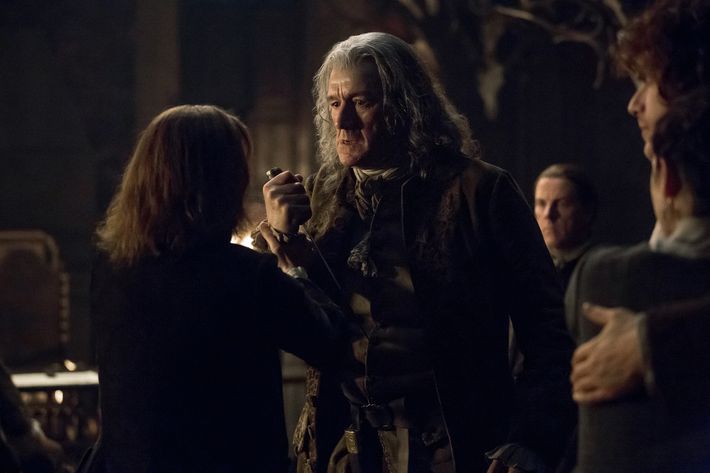 Unlike the other characters in Jamie's family, loosely based on folks in Clan Mackenzie, this one is more directly based on a real-life, historical figure. The chief of the clan Fraser of Lovat, he kidnapped and forcefully married the former Amelia Murray, only daughter of the First Marquess of Atholl, in front of a drunk minister. Her family, understandably, was angered by this and prosecuted him for forced marriage and rape, among other charges, leading him to flee. He was tried in absentia, sentenced to death, and then pardoned, although he was later sentenced to death yet again for a separate charge in 1745. He actually was the last man in Britain to be executed by beheading, even though it wasn't outlawed until some 40 years ago. Lovat's role in the Jacobite uprising, well, that was complicated — but we'll see how it pans out in Saturday's episode.

Author Diana Gabaldon has said she made no alterations to Lovat's life or persona, "save for grafting an illegitimate and totally fictional branch onto his family by making him Jamie Fraser's grandfather." Given Old Simon's history, she said this wouldn't be any kind of character assassination.