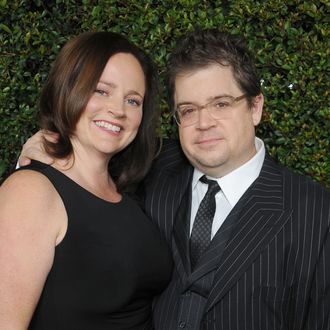 McNamara, Oswalt.
Photo: Gregg DeGuire/2011 Gregg DeGuire
In a moving piece for Time, Patton Oswalt reflects on the life of his late wife, Michelle McNamara, who died almost two weeks ago in her sleep. The comedian recalls McNamara's many true-crime feats and celebrated memories (namely an Obama one), and addresses the gravity of her absence. "The reaction to her passing, the people who are shocked at her senseless absence, is a testament to how she steered her life with joyous, wicked curiosity," he writes. "Her family is devastated but can't help remember all of the times she made them laugh or comforted them, and they smile and laugh themselves. She hasn't left a void. She's left a blast crater."
A longer excerpt:
I loved her. This is the first time I've been able to use "I" writing this. Probably because there hasn't been much of an "I" since the morning of April 21. There probably won't be for a while. Whatever there is belongs to my daughter — to our daughter. Alice.

Five days after Michelle was gone, Alice and I were half-awake at dawn, after a night of half-sleeping. Alice sat up in bed. Her face was silhouetted in the dawn light of the bedroom windows. I couldn't see her expression. I just heard her voice: "When your mom dies you're the best memory of her. Everything you do and say is a memory of her."

That's the kind of person Michelle created and helped shape.

That was Michelle. That is Michelle.

I love her.
You can read the rest of Oswalt's piece here.