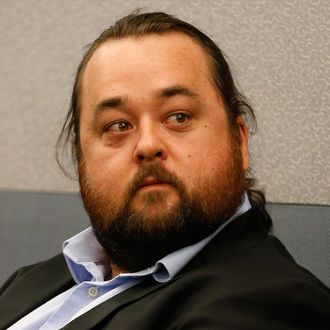 Austin Lee Russell, better known as Chumlee.
Photo: John Locher/AP`
Austin Lee Russell, better known by his nickname "Chumlee" on the reality series Pawn Stars, is expected to plead guilty to weapon and drug charges that stem from the discovery of guns, marijuana, and other controlled substances at his home this March. The Associated Press reports that Russell will plead guilty to a felony weapons charge and a misdemeanor attempted-drug-possession count. In exchange for his plea, Russell would avoid jail time and get the felony dismissed from his record, provided he stays out of trouble over the course of a three-year probation. If he does not complete the probation, Russell would face two to five years of jail time for the felony. As part of the deal, Russell would also have to attend counseling and forfeit the weapons and drugs the police claim to have seized on his property. Russell's house was searched as part of a sexual-assault investigation, though he has not been charged in that case. Prosecutors have said they will not pursue "any additional charges arising from this investigation." Russell will return to court next week to enter his plea.