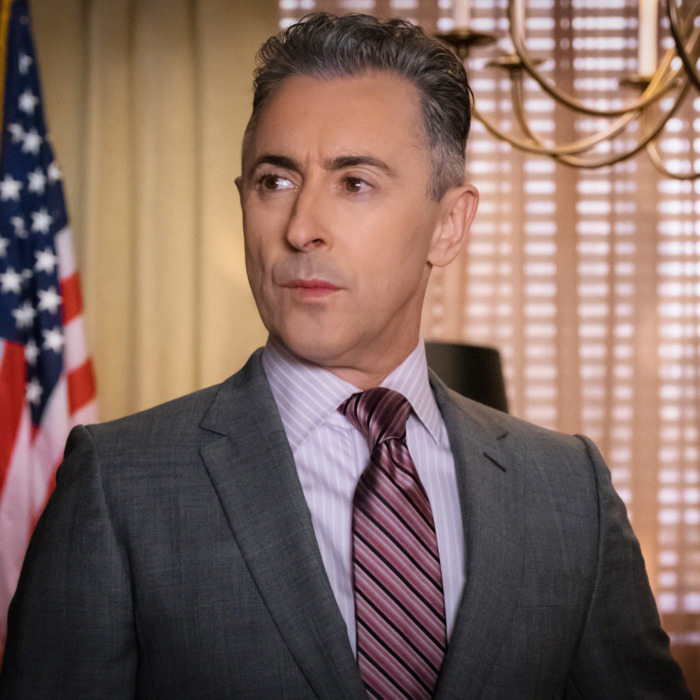 Alan Cumming Describes Objects.
Photo: Jeff Neumann/CBS
It felt like it was time for The Good Wife to draw to a close; after all, the best years of the show are behind it, and its co-creators always planned for a seven-season run. But that doesn't make it any easier to say good-bye to some of the show's stellar characters, so as a self-soothing mechanism, I've been daydreaming about possible spin-offs for the ones I love most. Real talk: Even though Michelle and Robert King said they'd be open to a spin-off, the odds don't seem great. The Kings are moving on to new TV projects, and many Good Wife cast members have already started drifting toward new projects. Still, it's nice to have something to dream of.
Good As Gold
To be very clear: I would watch any spin-off involving Eli Gold, just as I'd watch any series starring Alan Cumming. But I was particularly delighted by the dynamic between Eli and Marissa this season, and so, I propose a series called Good As Gold in which they co-star. In it, they'd play Scandal-style political fixers, traveling the globe to win elections. The show's darkly comedic vibe would come from the fact that it wouldn't matter for whom they were trying to win elections. Picture Eli working his magic and cutting devilish deals to get, say, Putin re-elected — all accompanied with Marissa's trademark wit and asides. I would also accept a version of this spin-off in which the Golds solve crimes, or possibly try to obtain relics from ancient archaeological sights. I'm pretty flexible here.
Lockhart and Associates
I worry most about Christine Baranski's post–Good Wife career; yes, the show has mishandled her and her character in recent years, but the outlook for older actresses in Hollywood feels bleak. That's why I propose leaving her character Diane exactly where she is, as the only named partner of a firm that doesn't need more than her name at the top of the letterhead. It would be fascinating to see Diane's personal and professional life out from under the shadow of Alicia's stories. I'd love to see more of how her political activism plays out (especially her strong views around reproductive rights), what her caseload looks like when there's no one else to cater to, and how she makes her offbeat relationship with her husband, Kurt, work.
Approach the Bench
One of The Good Wife's greatest assets over the years has been its strong pool of judges, one of many benefits the show reaped by filming in New York City, our nation's hotbed of aging character actors. I'd love to see a show built entirely around this group of actors, which includes heavy hitters like Jane Curtin, Denis O'Hare, Jeffrey Tambor, Ana Gasteyer, and many more. The premise wouldn't even take much work to develop; it could be exactly what The Good Wife is now, only from the perspective of the judges' bench rather than the lawyers' table. Plus, we know from this season that there's all manner of corruption going on behind the judges' closed doors — imagine if we had a few seasons in which to actually explore that. Alternatively, frame it as a comic mockumentary. Parks and Rec has been off the air for far too long — we need some bumbling do-gooders and their nemeses back on network TV.
Sheer Force of Will
When I read about the clamor among fans of The Good Wife who hoped Will would somehow be back for the show's final episodes, my immediate response was, "What, as a ghost?" I've since latched onto the idea of Will Gardner's ghost just hanging out at the offices of the firm, silently helping along or sabotaging cases. He wouldn't be limited to the firm, though — he could haunt clients to intimidate them from testifying, spy on opposing counsel, distract jurors, and try to avenge his own death, if there's time. Maybe he could even go back in time to examine crime scenes, but that's really something the writers can work out in development. Think of it as a cross between Quantum Leap, The Ghost Whisperer, and Touched by an Angel. Come on, that sounds right up Josh Charles's alley, right?
Alan Cumming Describes Objects
An unscripted television program in which someone hands Alan Cumming an object of his or her choosing, and then Cumming describes it. Accent modulation a plus, but not a necessity.
Je Suis Zach
When Zach said that he was getting married, then moving to France with his new bride, and then starting to try to establish himself as a writer, I laughed for about ten full minutes. This obviously deserves its own half-hour HBO dramedy. It could be one part meta-comedy, one part look-at-a-couple-who-got-married-far-too-soon, and one part meditation on the downfall of young white men who show up in France and think they're Ernest Hemingway. I would also hope for regular visits/guest appearances by Grace, which would introduce us to all of her inevitable rebellious collegiate selves: Raver Grace, Self-Designed Major Grace, Let Me Tell You About My Study Abroad Grace, and You Guyyyyys, I'm So Drunk Grace.
Chasin' Jason
Yes, Jason's the investigator, so it might make sense to imagine a show for him like Dog the Bounty Hunter or Person of Interest. But I imagine Jason in a show where he's the hunted, not the hunter. Something that's a cross between Catch Me If You Can and a more festive version of The Fugitive, where Jason traverses the globe, growing out his stubble, mumbling sexily, and hiding out from the law. Along the way (having left Alicia back in her "rooted" life in Chicago), Jason would meet and romance a too-rooted woman in every city and town, leaving a trail of broken hearts in his wake. Ideally, he would take off his shirt a lot, too.
Uncanning
Michael J. Fox's show about his "real life" (that was not, in fact, about his real life) failed a few years back, but the premise wasn't completely flawed. I propose repurposing it and centering it around Louis Canning instead. Same slice-of-life vibe, just with more faked near-death experiences! With Canning's balance of comedic timing and streak of pure evil, the show could be a darker version of Veep.