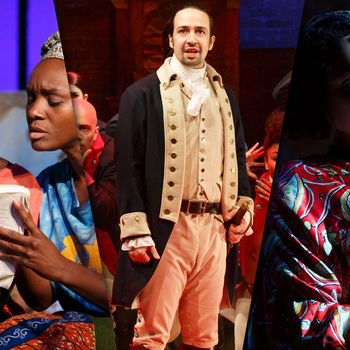 A dancing boy and two Rialto schnooks were bested this morning by a Treasury secretary when Hamilton, not unexpectedly, received 16 Tony Award nominations, breaking the record formerly held by Billy Elliot and The Producers. Sweeping every race in which it competed, the blockbuster hip-hop musical also set what looks to be a record in the number of nominations it garnered for performances: seven in all, in all four acting categories. As a result, Lin-Manuel Miranda, the show's multi-hyphenate creator and star, will duel his Burr, Leslie Odom Jr., for best actor in a leading role; in the featured actor category, Daveed Diggs, Christopher Jackson, and Jonathan Groff will battle it out. Might one of the two other nominees in that category — Christopher Fitzgerald, the imp from Waitress, or Brandon Victor Dixon, who plays Eubie Blake in Shuffle Along — thus sneak through? Probably not, with the Hamilton juggernaut so seemingly unstoppable. It tells you a lot about the nature of this year's competition that Groff's prizeworthy role as King George takes up less than ten minutes of stage time.
Still, the 51 Tony nominators did what they could to spread the joy. Every eligible musical except for the early duds Amazing Grace and Allegiance got at least one nomination. Most notably, the show that closed the season with nearly as big a bang as Hamilton opened it, Shuffle Along, netted ten, even while denying Audra McDonald, its star, a shot at her seventh Tony. (She is probably relieved.) Some of the non-Hamilton musical nods were clearly consolation prizes: Dames at Sea, Disaster!, Tuck Everlasting, and On Your Feet! each received a single nomination, three of them for choreography, which wouldn't help them much even if they won. Dames at Sea closed in January; Disaster! closes in July, and Tuck Everlasting is not long for this world.
But the new musicals that pulled in multiple nominations — Bright Star surprisingly got five, Waitress unsurprisingly four, and American Psycho grudgingly two — may not be able to make much bank on them either; Hamilton can be expected to realize at least eight of its noms, leaving only a few categories for the other shows to glean. The revivals may have better luck. The Color Purple, with five nominations, stands a decent chance at up to three big prizes (best revival; Cynthia Erivo for leading actress; Danielle Brooks for supporting actress); She Loves Me (with eight nominations) could pull a few valuable straws in the design categories; and Fiddler on the Roof (with three) could eke out the choreography award.
Playwrights both dead and alive are very happy that Hamilton is a musical, leaving their categories wide open. Twelve of the season's 20 plays were acknowledged, even the dreadful Misery for wonderful Laurie Metcalf. (But no love was spared for Al Pacino in his David Mamet trainwreck, China Doll.) The 46 nominations available to non-musicals were mostly (and nicely) shared among eight productions: Long Day's Journey Into Night (seven), The Humans (six), Eclipsed (six), King Charles III (five), Noises Off (five), A View From the Bridge (five), The Crucible (four), and Blackbird (three). That's a deep field; it was such an unusually fine year for drama that some awfully good productions and performances (Fool for Love; Linda Lavin) couldn't get a footing in the contest. What's more, among those that did, the competition is wide open. I'm not sure there's an obvious favorite in a single category, unless it's perhaps Lupita Nyong'o in Eclipsed. The acting categories are so densely stacked with top-notch talent (Frank Langella! Jeff Daniels! Jayne Houdyshell! Megan Hilty!) that everyone's basically starting at even odds. Which is a good thing, given the likelihood of an otherwise anticlimactic Hamiltonys.
Insofar as the awards are a strictly Broadway phenomenon, they are, like the Oscars, at least as much about commerce as art. This year, the two were often aligned. Still, it's worth noting that both sides of that yin-yang split depend on producers, who risk their reputations (and other people's money) with every show they put on. This season's Tony nods represent a big reward for three producers in particular. One, of course, is Jeffrey Seller, the lead producer of Hamilton, with its 16 nominations. Another winner, regardless of the voting, is the nonprofit Roundabout Theatre Company, with 21 nominations for its productions of Thérèse Raquin, Noises Off, Long Day's Journey Into Night, and She Loves Me. (The other leading Broadway nonprofit, Manhattan Theatre Club, came up with two, both for The Father, starring Langella.) But the biggest haul went to Scott Rudin, whose five productions (The Crucible, Blackbird, A View From the Bridge, The Humans, and Shuffle Along) netted a whopping 28 nominations. He's the one likeliest to make bank at the ceremony on June 12 — or would be if it weren't for that other banker in the running, the one with the waistcoat and breeches.