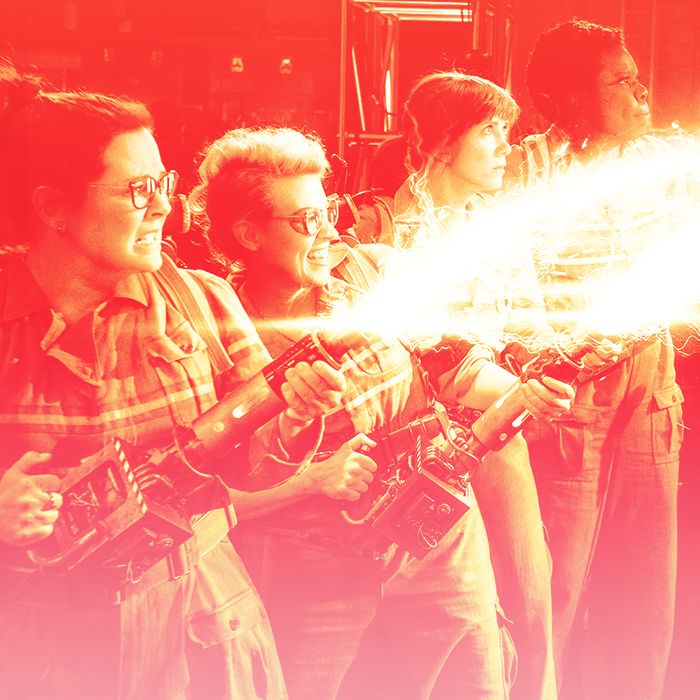 Ghostbusters.
Photo: Sony Pictures
After the Blockbuster Summer of 2015, when three movies — Jurassic World, Avengers: Age of Ultron, and Minions — each grossed more than $1 billion worldwide, 2016 was bound to feel a little hungover. That being said, now that this year's summer slate is upon us, it's time to grab the ibuprofen and gallon-jug of water, because the sunlight is gonna hurt. Yes, there's still an MCU entry, Captain America: Civil War, to prop up the box office, but, beyond that, the situation looks uncertain. What should we expect the top-five releases to be domestically? Here's my best guess.
1. Captain America: Civil War
Even before Civil War opened to $179 million — more than all but seven movies managed in total last summer — this was the obvious choice. Thanks to its litany of superheroes, it looked likely to play closer to the two Avengers movies ($623 m, $459 m) than its Captain America predecessors ($176 m, $259 m). Now that it's off and running, an Avengers-caliber $400+ million gross is not only in the cards, but likely, especially considering its euphoric reception. While I don't think it'll quite catch Ultron's $459 m mark, even with the aid of Robert Downey Jr.'s goatee, $420 million feels right. Just as inevitable-seeming is the vaunted $1 billion worldwide number, with great reviews and happy fans helping Civil War just edge past Iron Man 3 to become the highest-grossing non-Avengers MCU movie.
Prediction: $420 million
2. Finding Dory
The Ellen DeGeneres–fronted Pixar sequel's predecessor, Finding Nemo, was a phenomenon, pulling in $339 million during its initial run back in 2003; according to Box Office Mojo, its lifetime gross of $380 million would be equivalent to $528 million in today's dollars. While I highly doubt Dory will be able to reach those heights in the era of Netflix and kids playing with their parents' iPads, Inside Out and Minions did make $356 million and $336 million, respectively, last year. I think Finding Dory will come in right around the latter, and about on par with Zootopia's still-growing $328 million — a number that Pixar, and the increasingly mighty Disney, will happily take.
Prediction: $330 million
3. Suicide Squad
Batman v. Superman has made $327 million at the box office. People did not like Batman v. Superman. Deadpool has made $362 million at the box office. People did like Deadpool.
Batman v. Superman has the names "Batman" and "Superman" in the title. People have heard of them. Deadpool has the name "Deadpool" in the title. Fewer people have heard of him.
Science seems to indicate, then, that the fate of Suicide Squad mostly rests on how good the movie turns out to be, since, without the trump card of a Batman or a Superman, it can't survive the kind of tepid reception that Zack Snyder's mope-fest received domestically. However, if it hits as well as Deadpool did, it could be in line to make well over $300 million. I'm going to land somewhere in the middle of those two outcomes, with David Ayer delivering a solid, fan-service-y action flick that capitalizes on the Warner Bros. machine and its high-firepower cast to come in around $300 million — still well short of the phenomenon that was Deadpool, but a success all the same.
Prediction: $300 million
4. The BFG
I initially had Alice Through the Looking Glass in this spot, thinking that the late-period Tim Burton movie that no one's looking forward to would coast to $250 million on the strength of its predecessor, Alice in Wonderland, which earned $334 million back in 2010. But while I do think that movie could still perform very well, solely on the strength of the franchise's audience, The BFG, Steven Spielberg's adaptation of the beloved Roald Dahl book, has a much better chance of being this year's Alice in Wonderland — that is, an adaptation of a children's book that combines live action and CGI to the sound of a cash register. If Alice could do $334 million, and The Chronicles of Narnia managed $291 million, and Charlie and the Chocolate Factory, a remake, set a likely floor at $206 million, The BFG seems solidly headed to a gross in the mid-$200s, with the potential for way more if it turns out well. Did I mention it's a Steven Spielberg movie?
Prediction: $255 million
5. Ghostbusters
There are six movies with about equal purchase on this spot, but I'm going to be bold and go with Ghostbusters, counting on the wave of nostalgia that's carried Star Wars and Jurassic Park reboots to such great heights paying similar dividends for Paul Feig's all-female reboot. While Feig's previous releases have always been better returns on investment than outright earners — Bridesmaids, The Heat, and Spy made $169 million, $159 million, and $110 million, respectively — the addition of the Ghostbusters name to the mix feels like it should be worth, oh, $100 million on its own, regardless of what people think about the trailer. With a budget over $150 million, that's certainly the expectation at Sony, which will do all it can to make sure this concoction of Melissa McCarthy, hot IP, and a catchy twist can overcome male angst and be a hit.
Prediction: $225 million
Other potential picks:
This list noticeably leaves off the latest X-Men movie, Apocalypse, which bows this month, because I'm fairly sure that the oxygen-sucking impact of Civil War will make it hard for Apocalypse to truly dominate the box office. Plus, I agree that there's a palpable lack of anticipation for the film, and its meh reviews won't help. At some point, it was inevitable that the onslaught of superhero movies would clog up the marketplace, particularly when a title like Civil War is still in theaters, and I think Apocalypse will be a casualty of that, falling well short of its predecessor X-Men: Days of Future Past's $233 million.
My instincts are similar regarding Independence Day: Resurgence, which just doesn't feel necessary. Independence Day is the rare blockbuster so complete in its vision and spectacle that a sequel seems almost anathema. After all, it's no coincidence that it took 20 years, and the gist of Resurgence — the aliens, they're … resurging! — doesn't exactly suggest a Fresh Take so much as a flat remake. How many people will choose to go see this in theaters instead of just engaging in their regular July 4 re-watch of the first one? I don't think enough, particularly without the presence of Will Smith. While Resurgence should still do gangbusters overseas — the world's never had a problem with watching America blow up — bombing domestically is not unrealistic.
Star Trek Beyond and Jason Bourne, on the other hand, both have a good chance of landing in the $200 million range, heights their franchises have reached before. Star Trek mainly has to overcome its marginalization in the face of new Star Wars movies, not to mention diminishing returns and the departure of J.J. Abrams from the captain's chair, and Jason Bourne must prove it's the genuine article after the disappointing (and confusing) Bourne Legacy, which now exists within the franchise mostly as a thing to be explained away.
The other big blockbusters, Ben-Hur, The Legend of Tarzan, and Warcraft, feel much more like flops than top-five films. Teenage Mutant Ninja Turtles 2 and Now You See Me 2 will play better internationally than here. Pete's Dragon, The Angry Birds Movie, and The Secret Life of Pets could all be winners, but none of them has the pedigree or Finding Dory and The BFG; still, don't count them out. And War Dogs strikes me more as a solid $100 million performer than a Hangover-level blockbuster, though Todd Phillips, Jonah Hill, and Miles Teller make a potent team.