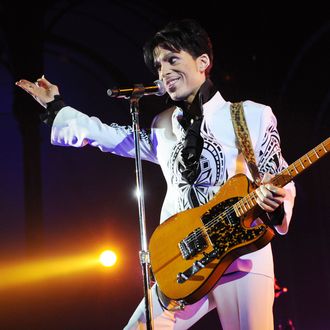 Prince.
Photo: Bertrand Gruy/AFP/Getty Images
Minnesota lawmakers are rethinking the Personal Rights in Names Can Endure (PRINCE) Act amid a crescendoing wave of concerns. When Republican Rep. Joe Hoppe proposed the bill earlier in the month, the goal was to introduce legislation that would protect deceased Minnesotans from exploitation by giving their heirs and estates publicity control over the commercial use of their names and likenesses. "I think it's a good idea just to protect what [the late music icon] worked to establish," Hoppe said recently. But critics have been quick to point out that the bill, in its current form (here), could lead to unintended consequences or serve as a "cash grab for attorneys."
Blake Iverson, a partner at a boutique Minneapolis law firm, told MinnPost earlier this week that the proposed legislation "is broad enough to drive a truck through." "If someone wants to throw a Prince dance party, they can expect a cease and desist letter from an attorney," he added. Other media-law experts have said the vaguely penned protections could open the door to lengthy and unnecessary litigation or hinder free expression. "Celebrities can and will use right of publicity laws to try to stop reporting about things that they want to keep secret, even if those things might arguably be matters of public interest," explained Jane Kirtley, director of the University of Minnesota's Silha Center for the Study of Media Ethics and Law. Writing for the Huffington Post on Monday, Michael G. Bennett, an associate research professor at ASU, called the bill itself exploitative:
The first indicator of this bill being designed without concern for Prince is apparent in its very name. A superficially clever acronym for "Personal Rights In Names Can Endure," the title actually does exactly what the law it names is supposed to prevent: commercially exploit an individual's name without that individual's consent.
The AP noted Thursday night that Hoppe has pulled the bill from the state legislature for the time being — he'll consider his opponents' arguments, and hopes to return next year with revisions.