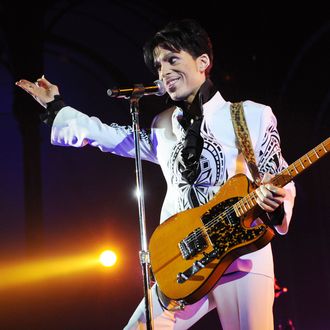 Prince.
Photo: Bertrand Gruy/AFP/Getty Images
A Minnesota doctor, who had been treating Prince in April, was on his way to deliver medical test results to Paisley Park the day the music icon was found dead there, according to a search warrant acquired Tuesday by multiple news outlets. Filed last week, the court docs note that family practitioner Michael T. Schulenberg saw the musician on April 7, as well as on the day before his death, April 20. It's unclear if he was also present when Prince's body was discovered.
In his warrant application, Carver County detective Chris Nelson wrote that police interviewed Schulenberg, who was working for Minnetonka's North Memorial Clinic at the time: Schulenberg said he had given the artist a Walgreen's prescription during one of their appointments, according to the affidavit, but further specifics about the medication weren't listed. Citing an unnamed source, however, the Minneapolis Star Tribune reports that Schulenberg was treating Prince for withdrawal symptoms linked to opioid addiction, and that the doctor did not prescribe opioids. (Schulenberg no longer works at North Memorial, according to the New York Times; spokespeople for the hospital weren't able to elaborate. The Times adds that his track record is solid, per state records.)
The warrant was applied for on April 27 and used on May 5 to gain access to Prince's medical records at North Memorial, but Carver County officials haven't made findings available. "That shouldn't be a surprise to anybody that these records were examined," Carver County chief deputy Jason Kamerud told the L.A. Times about the warrant's contents, adding that the investigation into Prince's death is ongoing. To that end, the AP saw a Carver County sheriff's vehicle and roughly one dozen unmarked cars flock to the artist's estate Tuesday afternoon. "Detectives are revisiting the scene at Paisley Park as a component of a complete investigation," read a tweet from the Carver County sheriff's account in the evening. "No other information is available."
The updates come on the heels of reports that a different doctor, specializing in opioid-addiction treatment, was also called to Prince's estate to assist with "a grave medical emergency" right before his death. Prince had reportedly overdosed on painkillers the week before he died, and investigators, including those from the DEA and U.S. attorney's office, are looking into his alleged opioid use. Prince's initial autopsy was completed one day after he was found unresponsive at Paisley Park: There were no signs of trauma, and police ruled out suicide. The medical examiner's office has said the rest of the results, including the final cause of death, won't be made public for several weeks.