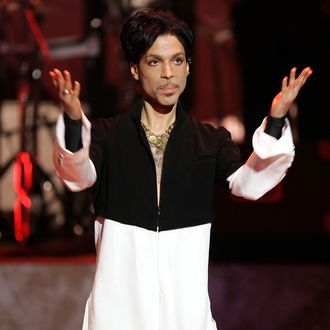 Praise Prince. We guess?
Photo: Kevin Winter/Getty Images
When Prince stepped back from the public eye late in his life, he spent his time working on music, hosting parties, and, apparently, keeping an eye out for charity cases. Rolling Stone has posthumously published an interview with the musician, which was conducted at his Paisley Park estate back in January 2014. It reveals that Prince remained celibate and often fasted in order to retain his focus on his music. But in addition to that, and to recording heaps of material that's never seen the light of day, Prince spent his time mentoring other artists, and he even had plans to reach out to a few more — including one of particular note:
He mentions a desire to mentor Chris Brown, says he invited him to Paisley Park. I note that some people think what Brown did to Rihanna was unforgivable. He's shocked. "Unforgivable?" he says. "Goodness. That's when we go check the master, Christ. … Have you ever instantly forgiven somebody?" I shake my head. "It's the best feeling in the world, and it totally dismantles that person's whole stance."
Prince's interest in supporting Brown, controversial as he is, stemmed from a nearly religious need to support his peers. Talking about Michael Jackson's death, Prince said, "He is just one of many who have gone through that door – Amy Winehouse and folks. We're all connected, right, we're all brothers and sisters, and the minute we lock that in, we wouldn't let anybody in our family fall. That's why I called Chris Brown. All of us need to be able to reach out and just fix stuff. There's nothing that's unforgivable."
So yes, in addition talents as a musician, Prince was preternaturally willing to lend a hand to people, even if they might not be anyone's first choice for forgiveness.