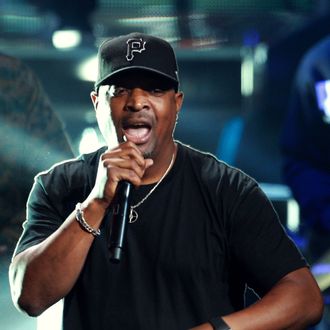 Chuck D, of Public Enemy.
Photo: Stephen Lovekin/2009 Getty Images
You might have noticed Rage Against the Machine's new #TakeThePowerBack website — Billboard, citing unnamed sources, reports the cryptic page is prepping fans for the arrival of Prophets of Rage, a new supergroup formed by members of Rage, Public Enemy, and Cypress Hill. More specifically, it'll be Tom Morello, Tim Commerford, Brad Wilk, Chuck D, and B-Real. (No Zack de la Rocha.) "This is not a Rage-specific reunion," a source had told Rolling Stone earlier Wednesday. "There's a lot more to it. There are a lot of moving parts, a lot of exciting news to be revealed." The Prophets have their debut set for June 3, at the Hollywood Palladium. The band's name is a reference to a similarly titled Enemy song, but live shows promise to showcase hits by all three constituents. Stay tuned.