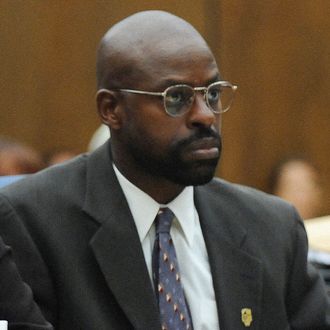 Sterling K. Brown as Chris Darden.
Photo: FX
The People v. O.J. Simpson so effectively painted real-life lawyers Christopher Darden and Marcia Clark as the kind of tragic, adorable work couple you want to write reams of fanfic about that it's easy to forget how hated and mocked the pair was before the show began. Case in point, the series creators themselves had trouble casting Darden, because so many actors kept turning down the role. Plus, the writers feared that, as in real life, whoever played Darden would be steamrolled by Courtney B. Vance's Johnnie Cochran. As showrunner Nina Jacobson put it in a roundtable with The Hollywood Reporter:
The character that was hard to cast was Chris Darden because there were a lot of black dudes who were like: "No way — I'm not playin' that guy. I hate him." Not to mention the fact that you had to get somebody who could on one hand be charismatic and sexy enough that you were rooting for him and that you really cared about him but on the other hand let himself be bowled over by Johnnie Cochran. A lot of actors would walk in and couldn't do it: They were either so charismatic and alpha that they couldn't be the guy who got overwhelmed, or they were so beta they couldn't be the guy you rooted for.
Thankfully, they found Sterling K. Brown, who captured Darden's smoldering despair so well that Tina Fey — who perpetuated the image of Clark and Darden as nincompoops on Kimmy Schmidt — changed her Emmy registration to vote for him and for Sarah Paulson. Let this be a lesson to actors: Don't be afraid to take on a character you hate. And to casting directors: Consider Sterling K. Brown.