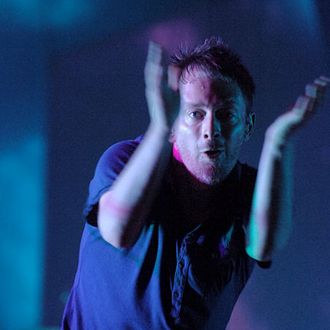 Photo: Jeff Kravitz/FilmMagic
How to disappear completely: Over the course of two hours on Sunday, Radiohead's website gradually faded to white, and all of the band's social-media content — on Twitter, Facebook, Instagram — was expunged, as if the group was slowly erasing itself from online existence. All that remained was the color-sapped carrion of online apparitions, a sort of memento-mori meme. Earlier in the weekend, Radiohead also sent out tangible leaflets adorned with ominous lyrics from the long-gestating song "Burn the Witch." Just a week after the internet went bananas for Lemonade, the band seems intent on deconstructing modern viral marketing — call it anti-viral marketing, maybe.
Update: Radiohead returned to the internet late Monday night (early Tuesday morning in the U.K.) with a brief, animated vid of a bird. The captionless clip is featured on the band's Twitter, Facebook, Instagram, and "deadairspace" website; see it below:
Update No. 2: The clip was a teaser for the band's stop-motion "Burn the Witch" music video, released later on Tuesday.

Does this mean a fuller "Dawn Chorus" is imminent? Stay tuned.