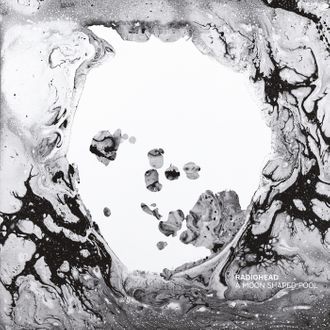 After a truly #OnBrand hype-building campaign that involved the gradual erasure of their online presence, some creepy leaflets, a Wicker Man–inspired stop-motion video that features a Blue Velvet–like bird, and a Paul Thomas Anderson–directed video that's currently playing in select theaters, Radiohead has finally released their new album, A Moon Shaped Pool. Radiohead seem to be playing the long game with the album, as it includes a song written in 1999 ("Burn the Witch") and 1995 ("True Love Waits," which was written during The Bends sessions and appeared on the live album I Might Be Wrong in 2001).

Update: Google Play has deleted the album. It will be released for real on other platforms, including the band's official site, at 2 p.m., with a physical release set for June 17 through XL Recordings.
Update: A Moon Shaped Pool is now available on the band's site here and on iTunes. It is streaming on Apple Music and Tidal. The two previously released singles, "Burn the Witch" and "Daydreaming," are available to stream on Spotify, but not the rest of the album. According to a report from Billboard, the service looks forward to "making the rest of A Moon Shaped Pool available on Spotify as soon as we can." The band did not comment on the decision, but Thom Yorke has a famously antagonistic relationship with the streaming service — he once described it as "the last desperate fart of a dying corpse" — so it may be some time before A Moon Shaped Pool enters Spotify's catalogue.