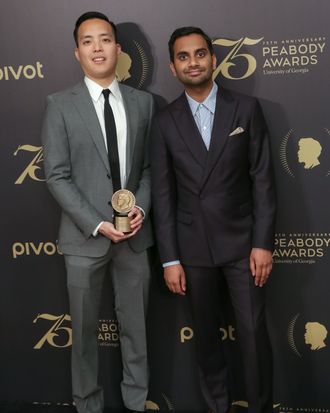 The dapper winners.
Photo: Brent N. Clarke/2016 Brent N. Clarke
Aziz Ansari and Alan Yang netted a prestigious Peabody Award last night for their Netflix comedy Master of None — which was recently renewed for a second season — and used their respective acceptance speeches to humorously address Hollywood's continuing diversity problem. (Including how their show utilizes a "token white guy" and what George Foster Peabody would think of their win.) Read their speeches, in full, below.
Yang:
George Foster Peabody was a very progressive, forward-thinking man. He was also born in 1852. So if you told him that someday an award would be given in his name to an Asian man and an Indian man for creating a show that is magically beamed to people's computers and phones whenever they want, he definitely would have been very confused and terrified. And then if you told him that The Daily Show was getting another award, he probably would have been like, "Yeah, that makes sense. That show's amazing." Thank you so much for this. I'm very much glad to be alive now, instead of 1852, because even though we have our share of issues, some of which have been so wonderfully illuminated by the works honored here tonight, for a lot of different kinds of people and different groups of people, this country has never been a greater place to live. Thank you.
Ansari:
Thank you to all the people that Alan thanked. And thank you also to Alan. You know, Alan works behind the scenes, and sometimes people confuse him for the Asian actor Kelvin Yu on our show, and so I feel like I can't overstate how important he is to the show. I also want to thank my family, who went the extra mile and acted in the show, and wrote on the show, unlike Alan's lazy family, who just watched. And I want to thank Netflix and Universal for believing in us, and letting us tell our stories. I think they really seem to get what diversity really is. It's not, "Hey, let's give this white protagonist a brown friend!" No. It's "Let's have a show where there's a token white guy." And that's what it is. Thank you to the Peabodys, it really is a special honor, because, let's be honest, so many award shows fuck up! They don't give people awards that should probably get awards. And the Peabody is great because it seems like you guys actually watched all our shit, and decided it was good! There was no schmoozing, no weird-ass dinners. And I think all being honored here really appreciate that. Thank you.