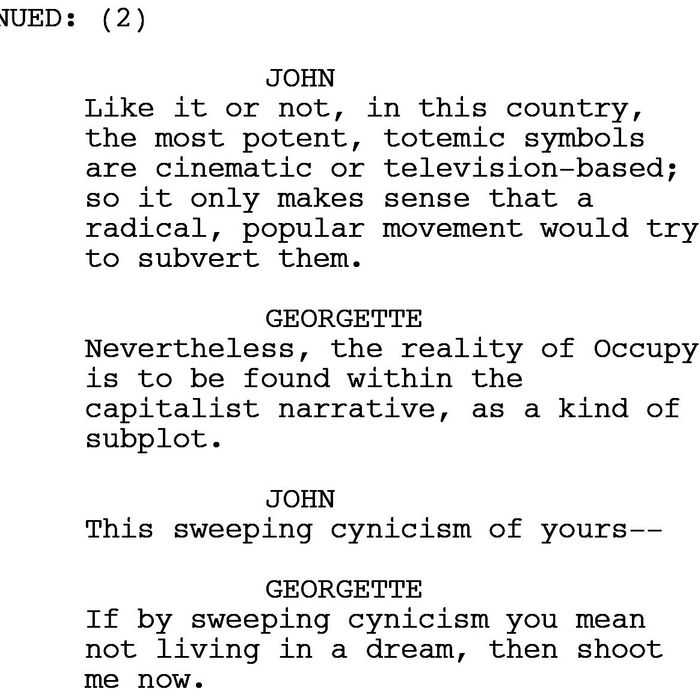 An excerpt from Maggie's Plan.
In the comedy of manners Maggie's Plan, Ethan Hawke and Julianne Moore play husband-and-wife academics who squabble over, among other things, politics and Greta Gerwig's title character. Moore's Georgette is an anthro­pologist; Hawke's John specializes in the ficto-critical variety of her field. As if it weren't hard enough writing for passive-aggressive scholars, writer-director Rebecca Miller managed to make them comedic. Using an especially tart exchange from her script (seen above), Miller explains how — and why — she did it:
"A few years ago," says Miller, "I went to a panel where academics were autopsying the Occupy movement, and the conversation was so absurd and interesting. This scene [in which Georgette and John debate Occupy] is based on that panel. The point, other than to convey the language of these people, which is so extreme to the ear, is to show a divide between the characters. John is anti-materialist, and Georgette is more bourgeois.
I wasn't able to do that language justice by myself, so I lifted several paragraphs of Georgette's dialogue from a paper written by my friend Barbara Browning, who's a professor who writes with a ficto-critical flavor.
I'm going to do a bad job explaining what ficto-critical anthropology is, and then some ficto-critical anthropologist is going to deconstruct the film, but, as I understand, it's a way of combining personal narratives, fiction, and criticism. It's important to remember that I'm not a scholar. I just loved the idea of using this unlikely discipline because it allowed for the kind of character that John is — a guy who is desperate to write a novel that he's spinning out of his own life, but ironically it turns out his book would be better if it had more academic theory. The deeper you dig with this stuff, the more absurdities you find. You can't make up something like ficto-critical anthropology — but I lived with a philosopher for years, so I definitely know it's something you can laugh at."
Maggie's Plan is in theaters today. Here's a scene from the film.
*This article appears in the May 16, 2016 issue of New York Magazine.