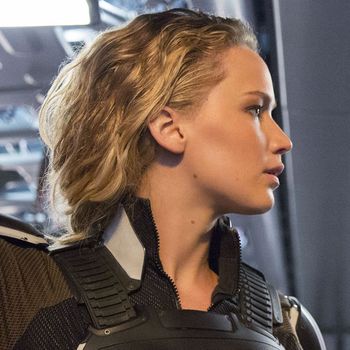 DF-08349_08350_R – Jennifer Lawrence as Raven / Mystique and Evan Peters as Peter / Quicksilver in X-MEN: APOCALYPSE. Photo Credit: Alan Markfield.
Photo: Alan Markfield/TM/Marvel
It's fascinating to see X Men: Apocalypse get lambasted by critics, who — emboldened by fanboy cavils with Batman v Superman: Dawn of Justice and perhaps a bit ashamed for wilting so uncritically before the juggernaut that was Captain America: Civil War — have finally announced that we've hit the group-superhero saturation point. Big news, eh? Beating up on director Bryan Singer isn't especially risky either. Although not indicted for statutory rape, he has been sullied by accounts of orgiastic pool parties and employees who spend much of their time supplying him with very young (though legal and consenting) sexual partners. Private behavior doesn't invalidate the noble "It Gets Better" subtext of the X-Men films, but it does raise prurient thoughts about the seemingly wholesome goings-on behind the gates of Professor Xavier's mansion.
I keeed.
The point is that X-Men: Apocalypse is ripe for the taking down.
But I liked it a lot.
The defense admits that it's choppy and the effects are variable. But the charge of too many characters and subplots is unusually dull-witted, even for our duller critical wits. Characters have always flitted — or whooshed or roared — in and out of X-Men movies. Whereas Iron Man and Captain America and the rest of the superheroes in that other (Disney) Marvel Comics universe are more interesting when they work alone (their tag-team stuff is getting old, fast), the mutants who show up at Xavier's manse to be schooled and trained and guidance-counseled haven't been able to make it by themselves. Watching Apocalypse, you don't feel as if every character is being set up for his or her own spinoff. They complement one another. They need one another. The overflowing ensemble nature of the enterprise is the whole point. And while you might miss Patrick Stewart and Ian McKellen, the younger-generation "reboot" has been handled with unusual grace. Many of these mutants are more engaging than their older incarnations.
Now that their "origin stories" have been sketched out, it's more clear than ever that these mutants have had good reason to hate a world that has rejected and/or injured them. That's how the super-villain, Apocalypse (boomingly voiced by Oscar Isaac), gets under their skin — by preying on their resentments. Introduced in a cheesy but stirring dawn-of-time prologue, Apocalypse mixes vigilantism with Old Testament fervor. He's like the Travis Bickle who tells a presidential candidate, Senator Palantine, "This city here is like an open sewer. … It's full of filth and scum. … I think that the President should just clean up this whole mess here. You should just flush it right down the fuckin' toilet." Apocalypse wants to flush the world right down the fuckin' toilet, and he recruits "four horsemen"— among them Erik Lehnsherr/Magneto (Michael Fassbender) — to help raze the planet. Where Professor Xavier (James McEvoy) exhorts his students to control their supernatural powers and use them more selectively, the Anti-Xavier turns his disciples into weapons of mass destruction.
On a lighter note: Do you love watching Jennifer Lawrence stride around looking sexy, determined, and, sometimes, an increasingly violet shade of blue? I do — even though Mystique/Raven has gone the Katniss Everdeen route and become an "inspiration" to young female mutants. She needs to reclaim her punk rebelliousness. There are, however, a couple of female punks in Apocalypse's mini-armada. As Psylocke, Olivia Munn shows up in killer dominatrix garb and is whip-cracklingly good. Alexandra Shipp is the new bad girl version of storm, and she's refreshingly expressive after her predecessor, Halle Berry — who, Oscar be damned, has never met a line she can't make sound tinny. Singer feels in his loins the fetishistic nature of the superhero genre. He goes as far away from Disney-style Marvel as his corporate masters will allow.
On the new Team X, redheaded Sophie Turner makes a tremulous Jean Grey and is a distinct improvement on her rather blank predecessor. I loved watching her, though I admit it had as much to do with her other famous role: The House of Stark has been so hideously abused that it's great to see one of its members finally kick ass. Meanwhile, characters seen fleetingly in other X-Men films have begun to acquire dramatic stature. Nicholas Hoult's blue Beast is a melancholy sweetheart, with fangs at the ready. As Cyclops, Tye Sheridan's incendiary impulses are an extension of his high-school alienation. Kodi Smit-McPhee's Nightcrawler is pitifully ill at ease in a body that defies understanding—which makes his first experiences of teamwork that much more affecting. Evan Peters's Quicksilver is in a class by himself. Moving so fast that the only way to depict his heroism is in ultra-slow motion, he saves his fellow mutants in a slo-mo slapstick ballet that would bring salutes from a couple of silent-movie clowns I can think of. There's another comic action set-piece that isn't in the same league but has its charms — a prison break that's a howl in more ways than one and boasts a roaringly good cameo. You say that Rose Byrne is wasted as the vanilla CIA agent, Moira Mactaggert? I say that Rose Byrne in any form can class up any joint.
Which leaves the stars, McAvoy and Fassbender. The stickiest narrative problem is how McEvoy's Xavier will lose his hair in the complete absence of conventional male-pattern baldness. Fortunately, the filmmakers accomplish this in a way that makes thematic (if no other) sense: Xavier's empathic link with the body-swapping Apocalypse would burn out most peoples' brains, so his hair seems a small price to pay. Hail, empathy! Fassbender's Magneto is, of course, the dramatic linchpin, and you could argue that it's a drag watching him drift to the dark side yet again and get pulled back by his old friend Xavier yet again and drift to the dark side yet again. But X-Men: Apocalypse pushes the formula to another level. The film's most heartbreaking scene is a face-off with hapless, confused soldiers, in which Erik, living in remote Poland with his wife and daughter under an assumed identity, learns the impossibility of passing for normal. The ghastly spectacle haunts the rest of the movie.
Am I grading on a curve in praising X-Men: Apocalypse? Of course. Films of its ilk are compromised at every level by the demands of studios — which have now structured their entire existence on building "franchises," "tent-poles," and "universes." If you go into this movie with no investment in its mythos, you will be indifferent to much (though not all) of it. But in many scenes, Singer captures both the pain of being an outsider and the potentially ruinous temptations that come with newfound power. He can hold his head high in regards to this film, if little else.