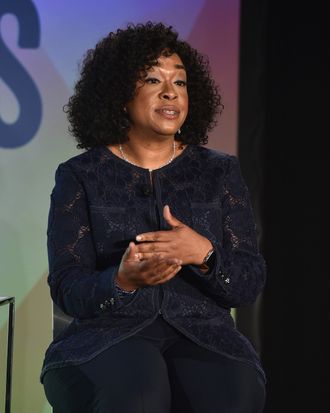 Shonda!
Photo: Bryan Bedder/2016 Getty Images
Shonda Rhimes is a master of exits. In her five television shows, she's had to kill off, maim, or slowly disappear countless characters. But it turns out the exit of Callie Torres from Grey's Anatomy wasn't long in the works at all. (Sara Ramirez made the announcement she wouldn't be returning on Instagram on Friday.) In fact, the Grey's Anatomy finale was already finished when Rhimes found out Ramirez wouldn't be back for next season.
"I found out maybe three days before you guys [the public] found out," Rhimes revealed during a conversation with Stacey Wilson Hunt at the third annual Vulture Festival. This departure, indeed, was different from all the others: "It wasn't a big, planned thing. I had a different plan going and then Sara came and said, 'I really need to take a break.' I was sort of lucky that we had shot the end of the season with her going to New York."
There are no hard feelings, however, as their mutual social media posts suggested earlier this week. (Rhimes tweeted that Sara "will always have a home at Shondaland.") "I love the woman and I want everything for her so it all worked out in that sense," Rhimes said.
Rhimes finds it fascinating that people are shocked when actors leave, noting that most drama shows run for, at most, "four seasons." That her shows have survived so long is, quite frankly, an anomaly in the TV world. "The idea that Sandra [Oh] did it for 10 seasons and then decided to go was amazing," she said. "Because I know what that is for an actor: You itch to do something new or take a break." Making an oblique reference to Patrick Dempsey leaving at the end of last season, Rhimes continued, "People made such a nasty deal of that … but I think they want a story on the outside that doesn't have to do with anything on the inside."
Thirteen seasons in, some wonder how long Grey's will continue. Rhimes might have given fans a hint at an answer: She'll be done when the actress playing the title character, Meredith Grey, is ready to go. "I'm always constantly amazed when Ellen [Pompeo] is ready to re-up," said Rhimes. "Our pact is that we will go together. When she goes, I go."