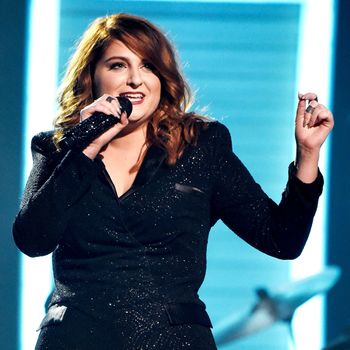 All about that Britney.
Photo: Kevin Mazur/Getty Images
It starts with a hair change. In 2002, when Christina Aguilera introduced her Stripped era — the explicitly sexual departure from her genie in a bottle inneundoed Disney past— she leaned in slowly with the occasional black extension. Then, one day, she debuted a full head of jet black hair and has been a rainbow-toned provocateur ever since. For a young pop hopeful like Ashlee Simpson, then in the shadow of her world's more-famous older sister Jessica, she took "showing her dark side" just as literally as Xtina did, with a contrasting black dye job dramatized on her very own MTV reality show.
More than a decade later, Big Pop is up to its old tricks: When Meghan Trainor showed up at the 2016 Grammys in February, the bubblegum blonde, whose bass (and more) was all about dominating the Hot 100 last year, was nowhere in sight. Instead, an auburn-haired woman in a sparkling black evening gown won Best New Artist that night. "New album. New hair," she declared on Instagram.
With Meghan Trainor's new look comes a completely new sound — replacing the retro doo-wop that awarded her a gold gramophone are punchier guitar stabs, Caribbean-lite earworms, and sing-spoken winks at having "nice breasteses." Visually, she's been hitting "I'm a Slave 4 U"-level choreography breakdowns. It's a style so distinctly synonymous with early 2000s pop that you'd be forgiven for mistaking singles  "No" and "Better" for a Max Martin-produced Britney Spears confection circa 2001, or a leftover from Rihanna's debut. "There is a fear that it's been done before, and whether I could bring it back because no one has done that yet," Trainor recently said about perhaps rushing a Y2K pop revival that millennials like herself might not be ready to accept as nostalgia just yet.
But Trainor didn't need to replicate last decade to experience those same industry-wide double standards. Just this week, a video starring Trainor's Photoshopped waist was released without her approval, prompting her to publicly shame her label into taking the video down and reuploading it with her real-life, unretouched body.
If you ask those who worked closest on Trainor's sophomore album, Thank You, out now, recycling a sound that's not even 20 years old was unintentional. "I wish I could say that the style of this album was something we plotted out," Ricky Reed, the album's executive producer, tells Vulture, "but we really just kept going with our gut every day and arrived where we're at." Reed, who has previously gone platinum with Jason Derulo and Fifth Harmony, locked in with Trainor beginning last fall to work on the follow-up to her Grammy-darling debut. We spoke with him ahead of the album's release to get the backstory on Meghan Trainor's sophomore reinvention.
Bringing back Y2K was more organic than it seems.
Making the leap from harmless "Dear Future Husband" sap, to making out with Charlie Puth at the AMAs, to chest-puffing kiss-offs like "No" sure sounds like a pop star narrative Britney's manager Larry Rudolph dreamt up 15 years ago. But Reed assures us that Trainor's venture into Y2K pop wasn't as methodical as it has been for artists like LIZ and even Charli XCX. "[Making 'No' sound like millennium pop] was almost an afterthought — now it's sort of the hallmark sound of the song," Reed says. "But these cycles come around in roughly 15-20 year [intervals], as far as what's considered throwback. The craft of the songs and production from that era is amazing. Who doesn't love classic Destiny's Child or Ace of Base? There's so much amazing music from that time period, so it makes sense that we're starting to hear that pop up in records."

She needed L.A. Reid and her label's push to go Full Pop.
Initially, it was L.A. Reid, the head of Trainor's label, Epic Records, and her manager, Troy Carter, who encouraged her to expand her pop reach. Reid was so blunt as to even tell her Thank You lacked a single when she thought she'd written plenty. "He was like, 'You don't have your bullet. You don't have that big song,' and I was like, 'I think you're crazy,' because I had these great doo-wop-y throwback songs that were huge," Trainor told Rolling Stone. She channeled her frustration and his demands into an emergency studio session with Reed that birthed "No." "There was real magic in the room, you could feel it," Reed says of making Trainor's third Top 5 hit. "It really is a science of creating happy accidents. Big Pop songs are born of inspiration and spontaneity. The question becomes: How do you create spontaneity when you're going into the studio five days a week?"
For Reed, success usually occurs when he and the artist allow the energy in the room to drive the song, rather than vice versa. "A lot of people say don't let bad vibes into the studio, but I love to. If you're having a bad day, write a song that feels like that," he advises. "It's when you spend every day trying rigorously to write hits that you write no hits. 'No' was sort of a Pandora's Box that we couldn't close after we'd opened it."
No, winning a Grammy was not a factor.
When Meghan Trainor won the Grammy for Best New Artist in February, it was off the strength of Top 40 hits like her chart topping doo-wop body positivity anthem, "All About That Bass," and syrupy John Legend duet, "Like I'm Gonna Lose You." By that time, Trainor and Reed were well into Thank You, which, out of 15 songs, offers genuine doo-wop once ("Mom") and only a couple ballads ("Hopeless Romantic," "Kindly Calm Me Down"). Reed says the Grammy never made them — Trainor or her label — reconsider moving away from Title. "In fact, after she won the Grammy, L.A. [Reid] tried to scoot forward the release of 'No' to immediate post-Grammys to try to ride that momentum. But we realized that may have not been in our best interest," Reed explains. "[Her Grammy] was a blessing for people to see her as a real artist. More than ever it became imperative to help her grow and change and evolve to the next step of her career."
Her new Caribbean songs are more than just a radio tactic.
In a post-"What Do You Mean?" pop world, Caribbean music is the style du jour. The biggest hit of the year so far, Rihanna's "Work," is largely a dancehall riddim, made more authentic because Rihanna is herself Bajan. How believable is a white woman like Meghan Trainor singing "Roll your bumper and whine slow" on "Woman Up," one of three Caribbean-influenced songs on Thank You? Not very. But unlike Justin Bieber, her familial ties to the culture might give her an in. Trainor's uncle, Burton Toney, is a soca artist from Trinidad, whom Trainor has consistently credited for her appreciation of the genre. (Trainor even performed in a soca band as a teenager.) For that reason, Reed argues she's not just chasing trends or guilty of cut-and-dry appropriation. "Even when we were working on No", we started it with a modern dancehall drumbeat. The very first thing we did was came up with the lyric 'My name is no' over this dancehall beat," he recalls. "Obviously, she is a white woman channeling soca and Caribbean music, but I think her enthusiasm and love for it is so real, it'll make people believe she's allowed to sing those songs the way she sings them."