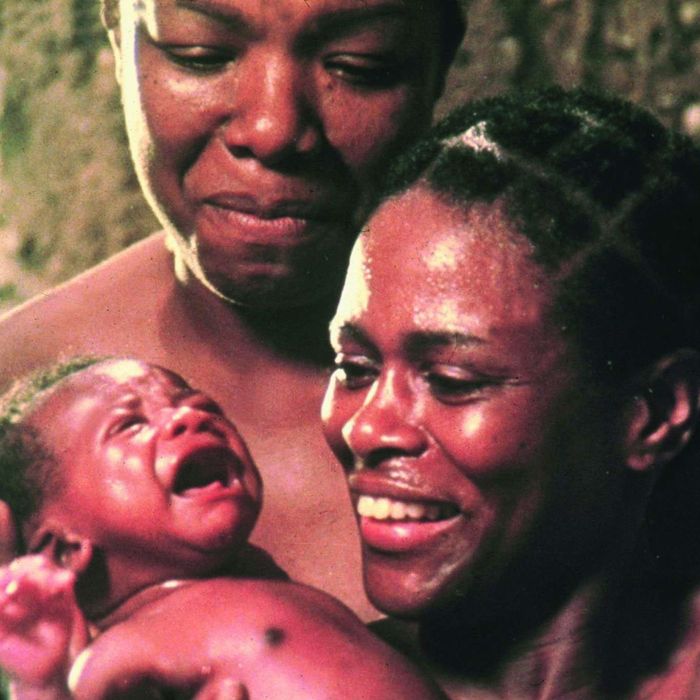 Cicely Tyson in the original Roots.
Photo: Warner Brothers
Next week's remake of Roots, airing over four nights on A&E, History, and Lifetime, might not seem all that notable in this era of endless TV and movie reboots. After all, just last week the major broadcast networks unveiled plans for new versions of everything from Lethal Weapon and The Exorcist to a reimagined MacGyver.  But as popular as all of those properties were in their original form, none can compare to the tsunami-like impact the original Roots had when it landed on ABC in January 1977. It wasn't just the biggest event of the week or the season: Up until that point, Roots was the top-rated TV production the medium had ever produced. And nearly 40 years later, no other television movie or mini-series has surpassed its reach.
Airing over eight consecutive nights at the end of January 1977, Roots was a massive hit from its opening shot to the final frame. But it's the final installment, airing on Sunday, January 30, that landed the series in the record books. According to Nielsen, 51.1 percent of all American TV homes tuned to ABC for the conclusion of Alex Haley's epic story about the African-American experience. To put that in context, the two top-rated shows of the 1976–1977 TV season, Happy Days and Laverne & Shirley, were seen in about 31 percent of all TV homes, while most other shows in the top 10 that year drew about 25 percent of the available audience. With its penetration into slightly more than half of all U.S. households with TV sets, Roots simply blew away everything else that aired on TV that season, or in seasons past. Even 1977's Super Bowl showdown between the Oakland Raider and Minnesota Vikings, seen in 44.4 percent of U.S. TV homes, couldn't match the appeal of Roots. And compared to viewership for present-day programming, it's not even a contest. AMC's The Walking Dead, currently the biggest show on cable, wrapped its most recent season by reaching just under 8 percent of TV homes the night it aired. NCIS, which most weeks is TV's top-rated series (broadcast or cable) in terms of overall audience, typically earns that honor by making its way into about 10 percent of all television households.
While Nielsen's scientific measurement is obviously the best way to quantify how big Roots was, there's also anecdotal evidence to explain how the show swept the country. John Amos, the veteran actor best known for playing the dad in Good Times as well as Kunta Kinte in Roots, recalls a story relayed to him by Leslie Uggams, another actor in the mini-series. Amos says Uggams, who was performing in Las Vegas the week Roots aired, told him the mini-series "shut the casinos down. People left the gaming tables to go to their rooms to watch Roots." New York Magazine columnist Frank Rich, a TV critic for Time magazine in the 1970s, recounted the mini-series' impact two years after its broadcast as part of his review of the sequel, Roots: The Next Generation. The original, Rich wrote, "galvanized the country. Suddenly both the history of slavery and genealogy were national obsessions. Theaters and restaurants emptied out during the show; hundreds of colleges started Roots courses; the National Archives in Washington found itself flooded by citizens' requests for information about their ancestors. Writer Alex Haley, whose search for his African heritage had led to the book that led to Roots, became a folk hero. A TV smash hit became a cultural landmark."
Ironically, Roots probably owes some of its ratings success to ABC's lack of confidence in the show's potential. Then-ABC programming chief Fred Silverman, worried the project wouldn't play to the masses, opted against the usual air pattern of running one episode every week and instead decided to "run the shows consecutively," Amos told us last fall. "His thought was, 'Let's get this out of the way. Nobody will want to see this anyway. So we'll run them all together.' Little did he know." Rich's 1979 story reflects a similar ambivalence among advertisers. "Up to the last minute there were plenty of commercial spots for sale on Roots," he reported. "ABC itself projected only a passable 28 percent to 31 percent share of the audience for the show." Instead, by condensing Roots into an eight-night run, ABC ended up creating momentum for the mini-series. Episode one opened with a shockingly strong 40.5 rating (or 40.5 percent of TV homes), with night two jumping to a 44.1 rating. Viewership rose almost every night thereafter, save for a slight dip with episode four and a more notable drop for the penultimate episode, which aired opposite CBS's legendary Saturday night powerhouse The Carol Burnett Show.
While no other TV movie or mini-series has ever generated a bigger rating than Roots, episodes of two weekly series from the 1980s would ultimately surpass it, according to Nielsen. Three years after Roots first aired, a summer of speculation and endless publicity over the mystery of "Who Shot J.R." pushed CBS's Dallas to a 53.3 rating on November 21, 1980. And then, on February 28, 1983, the very last episode of M*A*S*H —  a two-and-a-half hour special dubbed "Goodbye, Farewell and Amen" —  blew away both previous record-holders: 60.2 percent of all TV homes watched the 4077th sign-off for good. Thirty-three years later, no other single American TV broadcast has reached a larger percentage of American homes — and, barring a zombie apocalypse or the introduction of President Trump's Hunger Games, nothing else probably will.
One final note about the ratings for Roots and how the show fits into the historical landscape: Numbers nerds who pay attention to such things might be wondering why over the last few years, networks have taken to blasting out press releases trumpeting that year's Super Bowl as "the most-watched event in TV history." It would seem that the NFL has gotten so popular lately that football's championship game was now regularly setting tune-in records. In fact, the networks (and those who cover TV) are actually engaging in a bit of collective self-delusion. It's true that, unlike during the first 40 or so years of TV history, the networks and most media outlets, including Vulture, report on a program's success or failure in terms of the average number of viewers who tune in to watch a show. Monday's performance finale of Dancing With the Stars, for instance, was the most-watched show the night it aired, with 13.3 million total viewers.
But while viewer-based ratings are superior for quantifying a show's audience relative to whatever else is airing on TV in the present day, they're a decidedly awful metric to use if you're trying to put a show in historical context. The reason: There are simply more Americans alive (and watching TV) today than there were in 1977 — lots more! The current U.S. population is closing in on 324 million, per the U.S. Census Bureau. That's over 100 million more than the roughly 220 million Americans alive, say, when Roots was first broadcast. Even compared to ten years ago, when U.S. population was still (just) under 300 million, there are notably more potential TV viewers. So much the same way inflation makes box-office figures for a 2016 film look far bigger than a movie released 20 or 30 years ago, population growth significantly skews comparison between TV shows. This is why it makes sense to compare household ratings — that 51.1 number we've cited for Roots — rather than viewership tallies.  It may be a less precise number — after all, not every home has the same number of viewers in it — but it has the advantage of allowing apples-to-apples comparisons through the decades. A 51.1 rating in 1977 means the same thing as it does today: 51.1 percent of all U.S. households with TV sets watched a show.