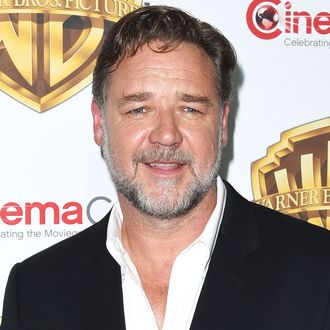 Russell Crowe/Mr. Hyde.
Photo: C Flanigan/Getty Images
Soon we'll be able to meet Russell Crowe's angrier alter ego (what a thought). Crowe has officially joined Tom Cruise's Mummy reboot, according to Variety, in what's being called a small "Dr. Jekyll–type role." This would set up a separate, presumably Jekyll-and-Hyde-type film down the line. Crowe confirmed his involvement at a roundtable junket yesterday, teasing that the film might err on the side of action in favor of horror. "This one is kind of more designed to seriously scare the shit out of you," he said. "It's very interesting, what they're gonna do with that stuff. I've had a couple of chats about it with the director [Alex Kurtzman] … there were a few things I put up in the air and he picked up on them." Jake Johnson and Courtney B. Vance will also be displaying their horror chops in the film.
The news comes after Johnny Depp signed on to play the Invisible Man in another Universal film — the studio is working on projects based on other famous monsters, including Dracula, Van Helsing, Bride of Frankenstein, and the Wolfman. Let this be a warning to future travelers: If you the disturb the rest of the The Mummy franchise, you may soon find yourself with a monster-movie cinematic universe.