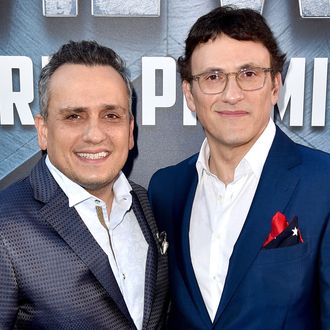 Big in China.
Photo: Kevin Winter/Getty Images
At this point, it's a well-established fact that Chinese moviegoers have an appetite for superheroes. To wit: Captain America: Civil War snagged more than $95 million in its opening weekend in the Middle Kingdom. However, most of its spandex-clad flicks are American imports, a fact that Civil War directors Joe and Anthony Russo are looking to change. The pair are producing a Chinese superhero movie called 英雄觉醒, tentatively titled A Hero's Awakening in English-speaking markets.
Details are scarce, but concept artist Anthony Leonardi III will be the film's artistic director, working alongside a to-be-announced Chinese director. The cast will be entirely Chinese, and the Russos will be heavily involved in the casting process. The Russos launched a studio called Anthem & Song in order to develop Chinese movie projects, and this one will be developed in coalition with the lengthily monikered Chinese company Beijing FangJin Visual Media Culture Communication Company. Superhero bubble? What superhero bubble?