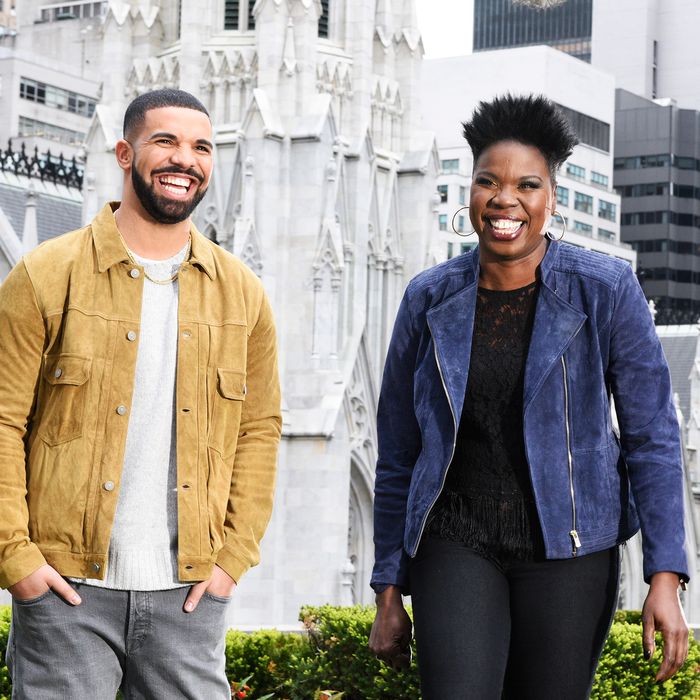 SATURDAY NIGHT LIVE – "Drake" Episode 1703 – Pictured: (l-r) Leslie Jones and host Drake on May 10, 2016 – (Photo by: Dana Edelson/NBC/NBCU Photo Bank via Getty Images)
Photo: NBC/2016 NBCUniversal Media, LLC
Drake and Saturday Night Live devotees will remember that Drizzy delivered during his first visit as host-and-musical-guest in January 2014. In addition to playing Jay Z, Lil Wayne, and Katt Williams, he also portrayed himself as the 13-year-old Drake at his bar mitzvah. The erstwhile Aubrey Graham seemed as confident in his comedy as he was in his music; maybe it wasn't as magical as Justin Timberlake's first job hosting, but it was well worth noting. But much has happened in the two years that have transpired: Drake hit with the ubiquitous "Hotline Bling" and "Jumpman," featured on tracks like Rihanna's "Work," took down Meek Mill in a pair of diss tracks (one of which got nominated for a Grammy), and did more comedy on Kimmel and as host of the ESPYs. There is a lot of ground to cover when Drake arrives to host a second time, and SNL does a good job of touching on it without hitting everything right on the nose (e.g. the Meek Mill beef mutates into a petty revenge fantasy lampooning all hip-hop scuffles). Drake, for his part, exhibits a lot of charm, poise and a sense of humor about himself.
Donald Trump / Chris Christie Cold Open
As far as cold opens go, this one's pretty limp. It plucks the most outrageous headline from a fairly uneventful week — Trump ostensibly posing as his own publicist with reporters in the '90s — but doesn't run very far with it. After Trump (Darrell Hammond) masquerades as "Joey Pepperoni" on the phone, Chris Christie (Bobby Moynihan) produces photos of potential vice-presidential candidates and the Donald dismisses them. The kiss-offs aren't particularly noteworthy — for instance, he shrugs off Carly Fiorina because she's "a B-cup" — though the sketch does give a nice sense of Christie as Trump's hapless lapdog.
Monologue
The monologue, which quickly becomes a musical number, is Drake's tongue-in-cheek plea to internet haters who, for instance, spat out hundreds of "Hotline Bling" dance memes. The central grumble — "I'm more than a meme" — is amusing, but the punchlines within the song don't always land. ("I do not complain, I'm not a whiner / But why am I sitting on the Seinfeld diner?" looks funnier in print than it is when it's sung.) The thing that saves it is Drake's sudden announcement that Rihanna is in the building before he dons a wig and does a quick RiRi impression. It's warm, silly, and it sets the tone for the evening.
Rent-A-Car
More than its story or stakes, this sketch is a pretext for Drake and Jay Pharoah to play noxious, self-obsessed customer service reps at a rental car counter. Drake is the combative, oblivious guy who can't keep his personal life from bleeding into his professional one; Pharoah is the lazy-tongued and incompetent manager who favors the phrase, "This whole situation is unbeknowest to me." The two of them are having fun, which is enough to make it watchable, but the duo's misbehaviors don't amount to much.
American Ninja Warrior
An idea no one wants to entertain while watching sports: Behind the competitor with "a lot of heart," and a tumultuous back story, there just may be some poor schlub unprepared to attempt any feat of physical prowess. Forty-two-year-old high school teacher Jeff Metcalf (Moynihan) is such a man. Though his small Texas town was ripped apart by a hurricane, he's raring to take on the American Ninja Warrior obstacle course. He fails, miserably. The sketch features a couple of nice pratfalls from Moynihan and some sad truths about well-intentioned failures. While replaying Metcalf's first spill, the announcer says this of his family and friends: "If you watch closely, you can see the hope drain from their faces."
Dennis Walls and the Cookies
Drake nods to his '70s R&B predecessors here, becoming a sensual soul vocalist à la Isaac Hayes or Barry White. Crooner Dennis Walls fails to remember the name of the director for his special "Sexy Kinda Evening," and now he and his backup dancers must deal with a number of attempts to sabotage his rampant sexiness. The bits are all AV gags: A rigged mic makes Walls sound like a "chipmunk," and he is forced to solo on a tiny sax. It's cute but slow, until the final prop — a revolving bed that spins as fast as a Gravitron — picks things up and provides an opportunity for some awkwardly racy poses.
Office Boss
Beck Bennett's recurring role as the businessman who has "the body of a baby," is one of the best physical performances to come out of SNL in the last few years. The context here is new — Paul Ryan (Taran Killam) is considering Mr. Patterson as a potential third-party presidential candidate — but the only thing that matters is Bennett's well-observed flailing, drooling, and stumbling. (His thrashing attempt to sign a piece of paper is particularly delightful.) With apologies to Drake, who has just a modest amount to do here, Bennett's commitment makes this the sketch of the night.
Weekend Update
The first half of Update revisits Trump's very likely excursions posing as his own publicist, "John Miller"; the best gag is Michael Che's insistence that Trump "show us John Miller's birth certificate." Kate McKinnon's long-suffering Russian peasant character, Olya Povlatsky, returns to talk about the presumptive Republican nominee, too. As always, McKinnon's spry and wild-eyed hamming sells what might be otherwise middling material about the horrible conditions in Russia. Her best barb about Trump: "Every 10 years, he comes to my village in the middle of the night to take a new wife!"
Jost sounds genuinely passionate about bathroom bills like the one that recently passed in North Carolina, and he nails one joke in particular: "The irony of this bathroom bill is that 'Bathroom Bill' sounds like the perfect name for a restaurant pervert." As something of a late bloomer herself, Leslie Jones is qualified to talk about the "never too late" success stories popping up on social media this week; it's sad to hear Jones tore her ACL doing the ninja sketch a couple of months ago, but the piece is loose and fun. Jay Pharoah reappears with another "secret rappers' meeting" — a short series of impressive impressions of everyone from Jay Z to Nicki Minaj. It's another whirlwind that leaves the audience giddy.
Black Jeopardy
The recurring Black Jeopardy sketches are about social codes: Those who understand black culture innately know something that outsiders and posers do not. This round, usual contestants Amir (Pharoah) and Keeley (Sasheer Zamata) square off against a Canadian dread named Jared (Drake). Jared drops references to the Juno Awards and, when asked about a certain comedian's "raw" and "delirious" routines from the '80s, conjures Rick Moranis. (Drake, of course, has his bona fides but as a Toronto resident, remains something of a misfit. The sketch gets a bit of mileage out of this, but there's only so far the writers can go with it.)
Drake's Beef
Here, Drake gets to show off his rapping chops while scoring laughs. As varying members of the SNL cast and staff commit faux pas against Drizzy backstage, he gets into elaborate, angry rhymes about how they offended him. Given how little can set someone off in the world of hip-hop, and Drake's own recent beef with Meek Mill, this is effective. Eventually, Drake is spitting hot fire about Lorne Michaels, who only delivers his host the faint praise, "Good job." Sample lyric: "I can never trust you, 'cause you were rude to my hat."
Spring Fling at Wilson H.S.
This sketch is strange but as far as five-to-ones go, it isn't incredibly weird. A bizarro chaperone at a high school Spring Fling encourages kids to dance and gets lost in flights of fancy about drinking beer with Osama bin Laden and O.J. Simpson. The writing has some redeeming qualities, but it needs someone to either do a credible Hulk Hogan impression or create another, fully-fledged character — Drake can't quite accomplish either one.
There aren't any great revelations in the show tonight, but just as he did in 2014, Drake proves himself an adept host: He is enthusiastic, assured and he plays well with others. Moments of silliness, such as his unexpected Rihanna quick-change and impression, play just as well as the self-effacing bits like "Drake's Beef." Certainly, as long as Drake stays culturally relevant in the next several years, SNL will have reason to want him back.