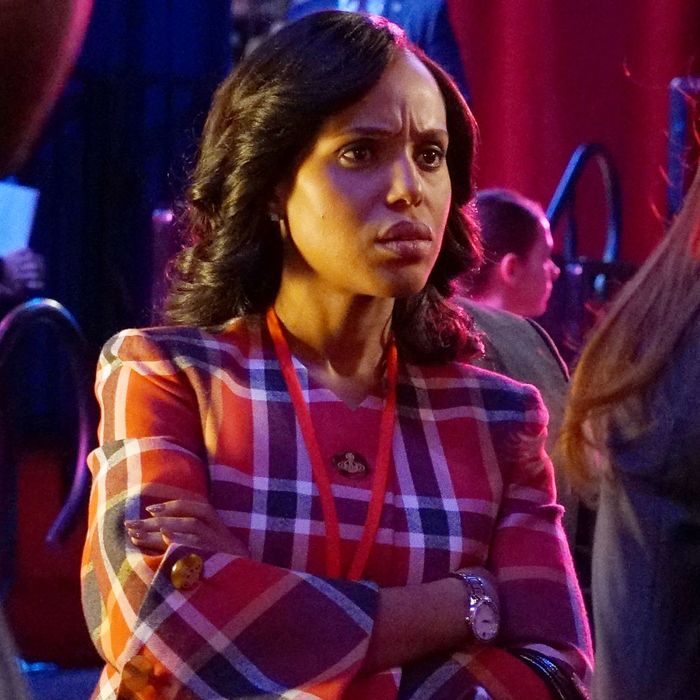 Kerry Washington as Olivia.
Photo: Byron Cohen/ABC
Well, #Gladiators, that's it! The fifth season is over and I'm … not quite sure how I feel about it. Here's the honest truth: It doesn't seem like Scandal knows what it is or what it wants to be. Perhaps it's time to accept this show's biggest flaws:
The Olake and Olitz nonsense will carry on until the series ends.
Rowan's evil ass is still alive, even though it's not that difficult to kill an AARP dude.
These characters are unlikable and they behave in contradictory ways, but we'll rock with it because we're addicted to Haus of Shonda Rhimes.
So yes, "That's My Girl" is less jaw-dropping than I had hoped, but it's still Scandal and I can't quit it. Neither can you, apparently. Let's talk, shall we?
We open with Jake having a drink with his father-in-law. Jake is looking as scrumptious as a Kind Bar after a 5k race, so I'm into this scene. Then, I'm immediately not into it: The father-in-law has a heart attack because Jake poisoned his drink. Why? Vanessa will inherit his fortune when he dies. Jake is all like, "Sorry, sir. Just let it pass. It's almost done." Cut to my vajeen like: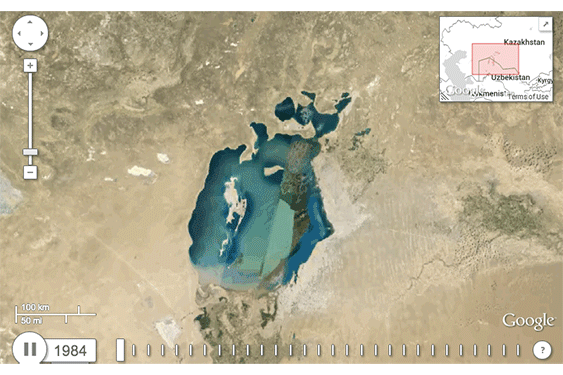 That's right. My lady bits dry the hell up every time Jake creepy-talks to someone he kills. I am not here for this foolishness.
Next, we catch up with Cyrus in his jammies as Tom comes home with surveillance on Michael. He and Ella are in Virginia. He's renting an apartment under a family member's name, he hired two private tutors, and is pretty much being a phenomenal parent. It's devastatingly obvious that Ella being with Michael and away from Cyrus is the best thing for her. Cy needs to stop pretending he gives a damn about his child. He should just leave them alone.
It's convention time! You know Sally's messy ass is right in the thick of it, rocking a Talbots skirt suit and being all smug like she didn't kill her husband two years ago. Anyway, it's time for Frankie and Mellie to pick their running mates … and Cy wants David Rosen to be Frankie's VP. HUH?! He's a terrible choice. David says he wants time to think about this offer. Lizzie wants in on the campaign, but David is too sad about losing Susan. Sorry, I never was that deep into Dusan, so I'm over him whining about it.
David's like, "I don't want to do this." But Lizzie wants to have sex, so I guess he will be doing it anyway? Is her vajeen that great? Maybe he's just that wack. At least he's better than Mellie's options, which are milk, mayonnaise, newly cleaned caulk in a CLR commercial, and a leftover bag of chalk at a gymnastics camp. In short, she has a bunch of corny-ass white dudes and this one military dude named Wagner, who is pretty much scandal-free … except for that time he and a friend sold cocaine in college. He owns up to it, though, which is enough to convince OPA that he should be Mellie's pick.
Across town, Rowan is at Vargas's campaign headquarters. He offers $30 million to fund the campaign, but there's a catch: They'll have to pick Jake as Frankie's running mate. Frankie is like, "Golly gee. I don't know. I guess I'll just continue being hot." After he leaves the room, Papa Pope tells Cy that if Jake isn't the VP, he's going to tell Vargas that Cy was behind the Harrisburg shooting. HOW HAS NOBODY PUSHED ROWAN DOWN A FLIGHT OF STAIRS? He's always ruining people's lives and yet he still walks this Earth and goes to Dunkin Donuts with nary a single hair on his head out of place. Cy should just ask Tom to kill Rowan and call it a day. Moving on!
Back at the White House, Fitz still thinks finishing up his presidential term is like graduating Bayside High School. LOL. In order to have senioritis, you need to have actually worked the previous three years, fool. Anyway, Fitz is happy his time is coming to an end. When he's out of office, he'll chill, write a book, and … maybe even go to Vermont.
We. Are. Not. Starting. This. Nonsense. Up. Again. There is no Vermont. There is no jam. There are no L.L. Bean pullover fleeces. You and Liv are done, Fitz! Y'all are waaaay too toxic for each other. If Olitz get back together, I'm setting fire to the rain. Leave her the hell alone, Fitz. Later that afternoon, he's in Abby's office and just so happens to be reading Liv's medical records, WHICH ARE STRAIGHT CHILLING ON ABBY'S DESK LIKE A DISH OF PEPPERMINT PATTIES! Abby, you are ignorant. Now Fitz knows about the abortion. That means an epic confrontation is coming, but it also means no more Vermont. Hallelujah, I guess.
That night, Cy visits Liv to vent about Rowan. This is enough to convince her to contact Jake, which she does the next day. In broad daylight. In a parking garage with security cameras. She's like, "The things I said to you before the wedding were to keep you alive." Not the time nor the place, but okay. Jake just wants to know if she will help him escape. She doesn't have a plan, but she agrees.
Back to Fitz. Mellie reads his convention speech, which is just him jerking off about how great he has been — has he, though? — and she is not happy. He says that talking about himself is the best thing he can do because no one will believe he's unbiased if he talks about her instead. Okay, I guess? She fires back, saying he's self-absorbed and only likes listening to himself talk about himself. (Very true.) Then she says she deserves a chance to talk about her achievements because she is not a white man, so she had to work for everything she got. Okay, I guess? But also:
Yes, I needed a quadruple take because Mellie is talking a whole lot of mess. Both of these fools should shut up. If we're keeping it really real, then this needs to be said about Fitz and Mellie:
MELLIE, YOU DIDN'T EARN SHIT. FITZ, YOU DIDN'T EARN SHIT. BOTH Y'ALL ARE PRIVILEGED ASSHATS, SO PLEASE SPARE ME THESE TALES OF Y'ALL'S KERRI STRUGGLES. SPARE ME Y'ALL'S DUMB-ASS INDIGNATION. SPARE ME Y'ALL'S MULTI-SYLLABIC SPEECHES. MELLIE, YOU ARE A WEALTHY WHITE WOMAN. ACTING LIKE YOU DON'T HAVE PRIVILEGE BECAUSE YOU'RE NOT A WHITE DUDE IS LOONEY TUNES FOOLISHNESS. NEITHER OF YOU HAVE DONE A DAMN WORTHWHILE THING SINCE YOU'VE BEEN IN THE WHITE HOUSE, UNLESS YOU COUNT SMASHING OTHER PEOPLE AND GETTING DRUNK WHEN YOU'RE NOT SUPPOSED TO. YES, FITZ HAS COMPLAINED ABOUT BEING PRESIDENT SINCE DAY ONE, BUT MELLIE'S BEEN A GOVERNOR FOR 17 MINUTES AND ACTS LIKE SHE'S BEEN IN THE TRENCHES FOR 30 YEARS. HEAUX, FALL ALL THE WAY BACK. FITZ, STFU. I AM THROUGH WITH BOTH OF YOU. MATTER OF FACT, I'M THROWING Y'ALL IN THE GAHTDAMN HUDSON RIVER. ENJOY CHILLING NEXT TO NEMO, FLOUNDER, SPONGEBOB, AND THAT MOTHERFLIPPIN' PINEAPPLE HOUSE. MELLIE AND FITZ, Y'ALL AREN'T SHIT. PLEASE QUIT TRYING TO REWRITE HISTORY. PLEASE AND THANK YOU.
End of rant. Back to the show.
After the Mellie/Fitz fight, we see Liv hard at work to save Jake. First, she leaks Wagner's drug-dealing past and then goes to the White House to tell Fitz that Jake will be Mellie's new running mate. I'm not sure how this will save Jake. Did Mellie even approve this? Isn't it bad to put Jake in a job he doesn't want? We have no time to figure that out, though, because Olitz have an unusually civil conversation. He says he misses having a work partner, then he apologizes for not listening and not caring about her needs. She appreciates the apology. As she leaves, he goes, "I support your choice, Liv. Not that you need it." This is his way of saying he knows about the abortion. Hmm, it seems a bit unbelievable that Fitz is so chill about the supposed love of his life getting an abortion behind his back. I didn't want or need another Olitz fight, but this scene was more muted than I expected.
Liv returns to OPA and talks to Huck, who is basically just heavy breathing and eye-bulging now. He tells her that she can't take down Command. Instead, she needs to become Command. Uh, is this the best advice right now? Jeez.
Speaking of "jeez," we catch up with Tom, his sexy legs, and Cy. They're talking about killing Michael, which Cy appreciates because he's never been able to discuss this stuff with his past baes. Not the sign of a good relationship, but sure. Tom seems to think otherwise; he wants to be the new Michael. WHOA! He is sprung. How does Cy manage to get all these young fillies? I am so impressed. Anyway, Cy isn't so sure about Tom being his ride-or-die bae.
We cut to Liv rolling up to Rowan's house. She's like, "Jake, let's go." If she just rolled up with Huck, they could have killed Rowan, but she did not, so we are stuck with this family tug-of-war. When he Jake gets up, Rowan is like, "Sit your narrow ass down." Cut to me like:
I feel like all black people have heard their parents say that exact same thing, so for a second I thought Phillip Martin Robinson Sr. was up in my crib. But it's just Rowan. Liv calls his bluff, grabs Jake's hand, and they walk out together. Huh, weird. I know that Jake is his "son," but Rowan would have killed him if he really wanted to. There must be something else going on here, right? RIGHT?!
It's the night of the convention. David learns he will not be Frankie's running mate. Who the hell else could it be? We don't find out yet, because it's time to watch Mellie and Marcus flirt. They'll definitely hook up next season. Next, we cut to Cy and Tom. Cy breaks up with him, coldly, and Michael is back in the picture. AWW! Tom looks heartbroken — and he's probably the worst person to break up with. Somebody will die for this next season. Nice knowing you, Michael! We catch up with Olivia and Jake. He's supposed to be getting ready to join Mellie on stage, but he tells Liv he wants off the ticket. He wants to stand in the sun with her and live a normal life, or something. Liv loses it.
She did not sacrifice so much to live in the 'burbs. She wants to be in control. That's when it dawns on Jake that Liv didn't save him because she loved him; she saved him so she could save Mellie's campaign. I want to feel sad for Jake, but how many times has Liv shown that she doesn't give a damn about him? And yet, he is still surprised. Get a clue, boo boo! He's like, "I've gone from being his bitch to yours." Welp. Maybe he just got that clue.
Liv is pissed and orders him to put on his tie. He does, then he goes out on stage with Mellie. They're onstage for a long time — is someone going to shoot them? Nope, doesn't happen. Here's what does happen: Abby breaks the news about Frankie's running mate.
We cut to Frankie, who steps out before the press … with Cyrus!
It was never going to be David Rosen. Cy just needed Rosen as a distraction to get Liv to go for Jake, which left the door open for him. He was playing her the whole time! This also explains why he dumped Tom — Michael and Ella make a "perfect" family. (Sidenote: Cy was a Republican and now he's a Democrat and no one cares? I love me some Scandal, no matter how Chris "Ludacris" Bridges it gets, but this doesn't make any gahtdamn sense.)
While all of this goes down on TV, Papa Pope is chilling at home with a glass of wine. I'm still waiting for someone to die. Is Rowan's wine poisoned? Nope! He smiles at the screen and says, "That's my girl." Oh damn, is this what he wanted all along? Is this why he kept Jake alive? Also: Is he proud that his daughter is becoming Command in her own right? Maybe it's a combination. All I know is that Rowan wins again!
In closing: Tom and Jake are crazy, but I would bang them both at the same time and also individually. Liv is turning into her dad. Fitz is #TeamBeByYourself. Maybe that's not so bad, after all.
Alrighty, what did you think of the season finale? Did you also find it a little ho-hum? Are you excited for the potential showdown between Cy and Liv? Will anyone ever kill Rowan?