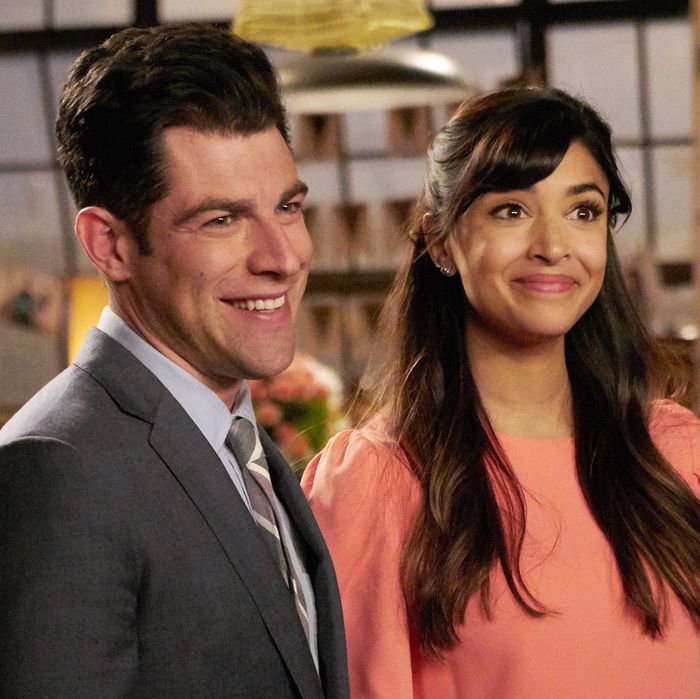 4ever!
Photo: Adam Taylor/FOX
After a full season of planning and four seasons of when will these crazy kids finally get together?, Schmidt and Cece will tie the knot on New Girl tonight. Jess and Nick have often been the driving romance of the show, but Schmidt and Cece were always the pair that felt Most Likely to End Up Together. In honor of their wedding, let's relive their best moments over the years.
Season 1, Episode 1: Cece Meets Schmidt
"I'm going to be honest, I did not hear a word you just said, because I can kind of see your party hats now." — Schmidt
Remember when Schmidt was like 40 times douche-ier than he is now? Welcome to the pilot!
Season 1, Episode 5: Cece Holds Schmidt's Hand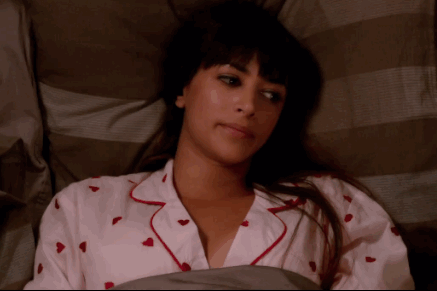 "I hate sleeping alone."
"Me too."
"Sweet." — Schmidt and Cece
A drunk Cece sleeps on Schmidt's bed and then she spends the whole episode tormenting him while he tries to "close" with her. After being sunburned and humiliated by the roof cat, Schmidt just wants to sleep in his bed (but Cece's still there), so he asks if he can join her and then they hold hands. So it begins!
Season 1, Episode 13–14: Schmidt and Cece Have Sex
"I want to tell people because I think that you are the dopest, flyest, smartest, ballsiest, bitchiest, truly terrifying woman that I have sexually enjoyed in a really long time." — Schmidt
After trying to help Jess have a one-night stand, Schmidt and Cece finally get together, on Valentine's Day no less! Cece wants to keep it a secret for the subsequent string of episodes, but the sex is super weird and great.
Season 1, Episode 19: Cece Realizes She Likes Schmidt
"She thought it was funny."
"Did you make that … and Cece let you wear it?"
— Jess and Schmidt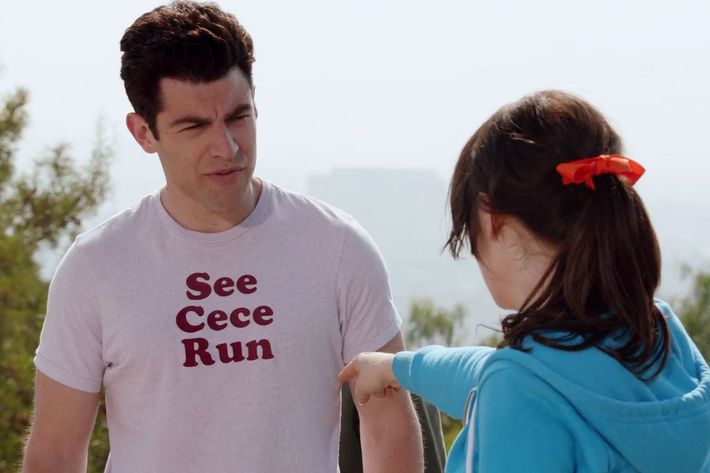 Jess initially hates that Cece didn't tell her she was sleeping with Schmidt, but after she sees Schmidt in this shirt she realizes that Cece must have real feelings for him. Cece realizes it, too, but can't quite tell him yet.
Season 1, Episode 21: Cece Has a Pregnancy Scare
"You are an amazing woman and you're going to do and be so many things in this life. Maybe you'll be a mom, and maybe not. But I will support you, no matter what." — Schmidt
Cece worries that she might be pregnant, but Schmidt steps up and says he'll support her, because, after all, it means her boobs will grow. It's a false alarm and Schmidt has to quickly push Cece into her car so she doesn't see the skywriting that says, "Marry Me."
Season 1, Episode 22: Cece Tells Schmidt She Likes Him
"… Because I like you. I can't just always say what I feel, okay?" — Cece
Schmidt "breaks his penis" after a night with Nadia, which prompts Cece to finally say how she feels.
Season 2, Episode 6: Schmidt Dresses Like a Groom
"I remember you saying that you missed hanging out with Schmidt." — Robby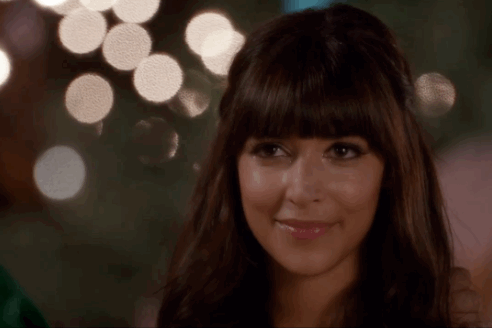 Schmidt messed everything up with Cece in the season-one finale and now she has a new boyfriend, Robby, whom he loves to torment. So, when she dresses as an angel for Halloween, Schmidt dresses as Abraham Lincoln so they look like a bride and groom. But when he realizes he's just making her upset, he lets Robby off the hook a bit and gives him his groom costume.
Season 2, Episode 10: Schmidt Tells Cece He Loves Her
"I'm ready to have kids with you, if that's what you want." — Schmidt
Schmidt tells Cece that he loves her and wants to be with her, finally. He even gives her a box with a pigeon in it, because he couldn't find a dove. He asks her to dinner and she says yes. Too bad he gets drunk for a presentation later and they never get that dinner.
Season 2, Episode 16: Schmidt Gives a Speech
"You and I not being together does not make sense to me." — Schmidt
Cece goes to a dating convention to try to find a nice, Indian husband, but gets placed at a bad table. Her disappointment compels Schmidt to give an impassioned speech about how special she is and how anyone would be lucky to have her. And they have sex again!
Season 2, Episode 25: Cece Doesn't Get Married
"This isn't what I want. What I want is to be with someone else." — Cece
Schmidt looks into Cece's eyes and knows she doesn't really want to get married. The usual high jinks ensue as the gang tries to sabotage the wedding and, finally, Cece says it's not what she wants either.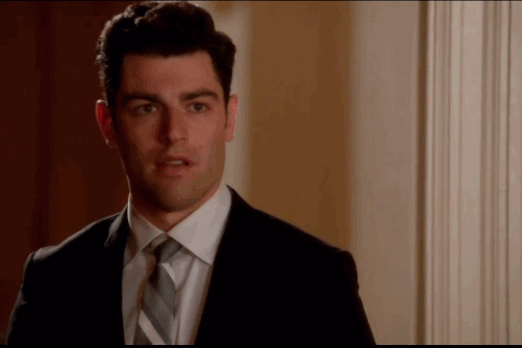 Season 3, Episode 18: Cece Wants Schmidt to be Smart About Abby
"I was worried about you, okay. I didn't want her to take advantage of you cause I know that you would do anything for the people that you care about." — Cece
Oh boy, this long drought comes courtesy of Schmidt very stupidly not deciding that he wanted to be with Cece over Elizabeth (even though we love Merritt Wever). They slowly start to become friends again and in, this episode, Cece tries to save Schmidt from getting taken advantage of by Jess's sister, Abby. They share a sweet moment when Cece apologizes for assuming Abby was up to no good. Which leads us to …
Season 3, Episode 23: Schmidt Buys Cece a Ring
"I just want you to be happy." — Schmidt
Cece finally gets her GED and Schmidt buys her a class ring to celebrate. He wants to tell her, on a cruise, that he loves her, but when he sees her busy trying to contact her boyfriend, he realizes it's not quite the right time (even though he has a violin player ready to go). Still, the finale ends with Winston asking, in front of everyone, if Cece is checking out Schmidt in a group photo.
Season 4, Episode 7: Schmidt Says Good-bye to Cece's Boobs
"I guess if I'm being honest it doesn't matter what size you are. I'm always going to love you, because you're attached to the most beautiful person in the whole world." — Schmidt
Schmidt has a lot of trouble with the idea of Cece getting a breast reduction. Okay, so this might've not been the best story line. But it does lead to this pretty hilarious and, in the end, heartwarming scene where Schmidt gives a long good-bye to Harold and Kumar.
Season 4, Episode 9: Cece and Schmidt Spend Bangsgiving Together
"Thanksgiving should be spent with people that you care about." — Cece
Cece spends the whole episode thinking Schmidt didn't set her up with someone for his Thanksgiving sex party like he was supposed to, but Schmidt insists his guy is just stuck in traffic. When a hottie does eventually turn up, Cece turns him away so that she can hang out with Schmidt.

Season 4, Episode 11: Cece Likes Being Schmidt's Friend
"He disrespected something more important to me than any stupid lounge … something priceless." — Schmidt
Cece helps Schmidt get into the airport first-class lounge and meet a fancy rich man. When that guy says something rude to Schmidt about Cece, he makes a big scene. Later, in the food court, Cece tells Schmidt that she's glad they're friends now (and also she stole him a pillow he liked from the lounge).
Season 4, Episode 20: Cece Loves Schmidt
"She needs to accept you exactly how you are or you need to find somebody that will. Because I think you are fine as is." — Cece
For the second half of the season, Cece knows that she is in love with Schmidt again, but she can't quite tell him yet. There's his terrible girlfriend, Fawn, after all. When Fawn critiques Schmidt's appearance after a bronzing incident, Cece tells him he deserves better.

Season 4, Episode 22: Schmidt Proposes
"Girl, will you marry me!" — Schmidt
Schmidt spends the whole episode trying to get back $5 he threw away, in a misguided attempt at a clean break from Cece. When Cece comes to see him (just as he's going to see her) he reveals that it's the $5 he put in the "Douchebag Jar" when he met her and said, "Girl, I'ma marry you." She obviously says yes.
Season 5, Episode 1:  Schmidt Tries to Win Cece's Mother's Love
"I never thought that I would fall for the slim-hipped ghost of Tom Cruise." — Cece
Cece's mom does not approve of Schmidt, so he performs a Bollywood dance to try to show how serious and in love with her daughter he is. That doesn't work. The episode ends with the team deciding they can throw a wedding without Cece's mother, on a budget, because Schmidt and Cece's love is the most important thing.
Season 5, Episode 7: Cece and Schmidt Tell a Lie
"You know when we first met I had to pretend that all kinds of things were wrong with you just so I wouldn't freak out." — Schmidt
One of the fun things about Schmidt and Cece being a certainty this season is that they get to work together as a team, a lot. In this episode, in order to get Nick out of their room (he can't eat in front of Reagan), they try to think of something that makes Reagan imperfect. Here's what they settle on:
Season 5, Episode 8: Cece and Schmidt Find a Wedding Venue
"Yeah, but it's your dream."
"I know, but I already have my dream. It's marrying you." — Cece and Schmidt
Cece wants Schmidt to get his perfect wedding venue, The Lisbon, especially because an old bully of his wants the venue, too. It doesn't work out, but it's another great Schmidt/Cece team-up.
Season 5, Episode 11: Cece Moves in With Schmidt
"We'll be scared together. And we'll be really happy together, too." — Schmidt
It's finally time for Cece to officially move, but she can't decide what to give away and she's freaking out about the wedding even though she definitely wants to be with Schmidt. He comes to help her finish packing (and makes her coffee) and tells her he's scared too, but he knows it doesn't mean he doesn't want to get married. Marriage, he says, is the two of them dealing with all their problems together.
Season 5, Episode 17/18:  Schmidt and Cece Worry About How They'll Be As Spouses
"Who did that to you? Where are they? I will kill them." — Cece
Schmidt's worried he's not strong enough for Cece; Cece worries she's not going to be enough of a homemaker. Eventually, they realize both fill their own roles. Schmidt's the person who makes sure the house is in order, and Cece's the mama bear.