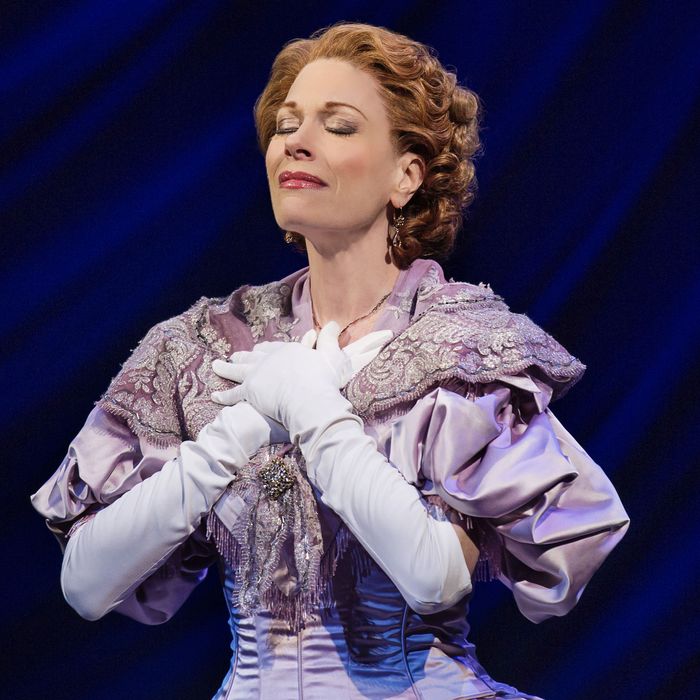 Marin Mazzie steps in as Anna.
Photo: Paul Kolnik
Many a Golden Age musical has grown musty with overfamiliarity and rote revival. And many a hit show, unable to maintain discipline or accommodate replacements, grows ragged during a long run. Lincoln Center Theater's production of The King and I, which opened last April to rave reviews, had already avoided the first problem; Bartlett Sher's staging of the Rodgers and Hammerstein classic uncovered new reserves of emotion in the piece while demonstrating why it was a classic in the first place. Happily, this King and I has also avoided the second problem. More than a year later, and with new actors in the two title roles, it is still, as I wrote upon its opening, too beautiful to miss. 
Which is not to say it's the same creature. A certain shifting of weight has occurred, mostly the result of Marin Mazzie's taking over from Kelli O'Hara as Anna. O'Hara, who was 38 when the show opened, portrayed the schoolteacher as a vivacious young woman, only recently widowed, still discovering and testing herself in the radically new situation of the Siamese court. Mazzie, who is 55, naturally reads differently; her Anna is confident and set in her ways. Having seen the world, she seems less likely to be destabilized by the King's demands and attentions. (You might think that her husband was decades dead, though she still has her 11-year-old son Louis in tow.) Meanwhile, Daniel Dae Kim reads younger than Ken Watanabe, who took the role at age 55. (Kim is a very youthful 47.) As a result, the polarities of the central relationship are flipped, to fascinating effect. As the flirtation between Anna and the king becomes more serious, her sense of awakening is more of a shock, even as his motivations become harder to parse. Is he falling in love or indulging a momentary whim or toying with an older woman who can help him? 
Because the production was so emotionally active even in the secondary and ensemble roles, it has the flexibility to shift gracefully around this change. Without alterations in the staging, new ideas come to the fore. Ruthie Ann Miles, who won a Tony award as the king's "head wife," Lady Thiang, is often the bearer of these new ideas. While Anna sings "Hello, Young Lovers" to the royal harem, for instance, Miles moves slowly downstage, not exactly pulling focus but forcing us to think: What does it mean for one wife among dozens to hear this haunting tribute to monogamy? Such moments existed last year, too, but somehow, with the tension of the central story ever-so-slightly desexualized — though "Shall We Dance" is still breathtakingly erotic — Sher's perspectival inversions become more powerful. We keep looking to the tragic young lovers Tuptim and Lun Tha, or to the king's prime minister, or even to his secretary, to understand how close Anna's disruption is coming to disaster. And we look to the young crown prince, played even more deeply now by the marvelous Jon Viktor Corpuz, to see how close it is coming to success.
Not that you get much time to mull; the information, no less than the beauty, simply washes over you. You may cluck in astonishment, as I did, at the daring of the "Small House of Uncle Thomas" ballet. You may shake your head with pleasure over Hammerstein's inerrant thematic architecture. (Has no one written a thesis on the use of the words "house" and "home" in The King and I?) And surely you will melt at Rodgers's brilliant intensification of emotion in song. (Mazzie sings her role perfectly; Kim half-sings his nearly as well.) But mostly you will simply be grateful that they don't remake 'em like they used to. Sher & Co. remake 'em better. 
The King and I is at the Vivian Beaumont Theater.