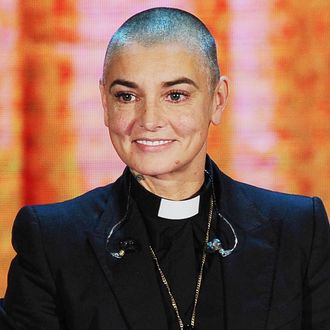 Sinead O'Connor.
Photo: Stefania D'Alessandro/Getty Images
Shortly after Sinead O'Connor was reported missing in the Chicago suburbs, she has been found safe, police confirmed to Reuters. The Irish singer disappeared while staying with friends in Wilmette, Illinois, on Sunday afternoon, and was last seen wearing a "black parka, black leather pants and a sweatshirt with 'Ireland' on the back." Police reportedly classified O'Connor as "missing suicidal," though they say now that she has been "safely located." O'Connor revealed in 2012 that she had been living with bipolar disorder and received treatment in Ireland after posting what appeared to be suicide notes on her Facebook page last year. She is currently being sued by Arsenio Hall over her claims that Hall supplied Prince with the drugs that may have led to the music legend's death.
This story has been updated throughout.