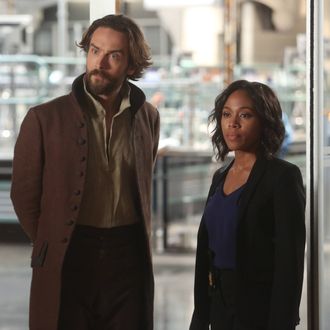 Will you still watch?
Photo: Tina Rowden/FOX
Fox will attempt to get you to trust them again by renewing Sleepy Hollow for a fourth season. The move comes after the show controversially killed off Nicole Beharie's Abbie Mills in the season three finale, leaving the show without its female lead and network TV with one less WOC in a starring role. Beharie reportedly had long wanted off the show, with discussions for the shocking twist happening as early as before season three even went into production. Nikki Reed and Zach Appelman will also not be back, according to a season four cast list. So when Ichabod Crane returns, he'll not only be less one head, but less a lot of co-stars. Spooky.