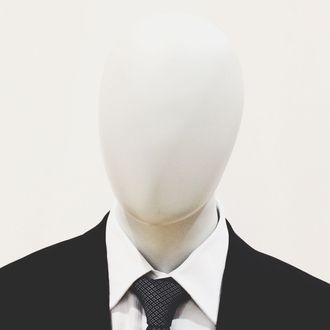 A mannequin that looks like Slender Man.
Photo: Andrew Wheway / EyeEm/Getty Images
Slender Man isn't just a popular nickname for one of New York City's most handsome bloggers; soon, it will also be a movie. According to The Hollywood Reporter, Screen Gems is in talks to produce a film based on the internet horror meme about a tall, featureless man in a suit who does terrible things to children. Slender Man was created in the forums of SomethingAwful.com in 2009; its rights are held by Mythology Entertainment, which is negotiating with Screen Gems. If the film gets made, it will be part of a wave of similar releases hitting screens in the near future: M. Night Shyamalan's TNT horror block is developing a series called Creatures inspired by the 2014 Slender Man stabbing, while the next season of American Horror Story is also rumored to be focusing on the character. (Ryan Murphy has said the season will be about "the innocence of children.") Spooky scary!