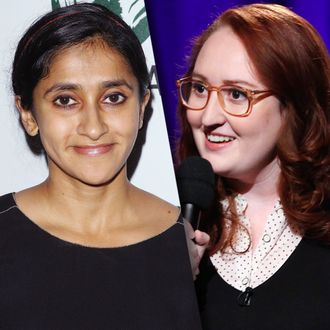 Comedy Central announced its annual list of half-hour comedy specials today, featuring some Vulture faves like Emily Heller, Aparna Nancherla, Nate Fernald, and Naomi Ekperigin. After its release, comedian Sara Schaefer noticed a nice little trend:
Though there are undeniably plenty of women at the top of comedy mountain, female representation actually appears to decrease as you descend the mountain. There are opportunities for Melissa McCarthy and Amy Schumer, but if you look at that level of comedians trying to transition from featuring at clubs (doing about 15–20 minutes) to headlining, things are less sunny. Progress like this changes things for people.
Sure, it's not perfect, but it's still nice to see. A half hour is often a step on the path to a develop deal at Comedy Central or, at minimum, it raises a comic's profile to where they can get significant TV work. That means progress here has a direct influence on more widespread progress on TV.
The specials will tape in June, with no release date set. Read the full list of comedians below.
Cy Amundson
Erik Bergstrom
Ahmed Bharoocha
Matthew Broussard
Naomi Ekperigin
Nate Fernald
Noah Gardenswartz
Emily Heller
Martha Kelly
Joe Machi
Drew Michael
Aparna Nancherla
Jacqueline Novak
Mike Recine
Ramon Rivas II
Ali Siddiq
Nick Turner