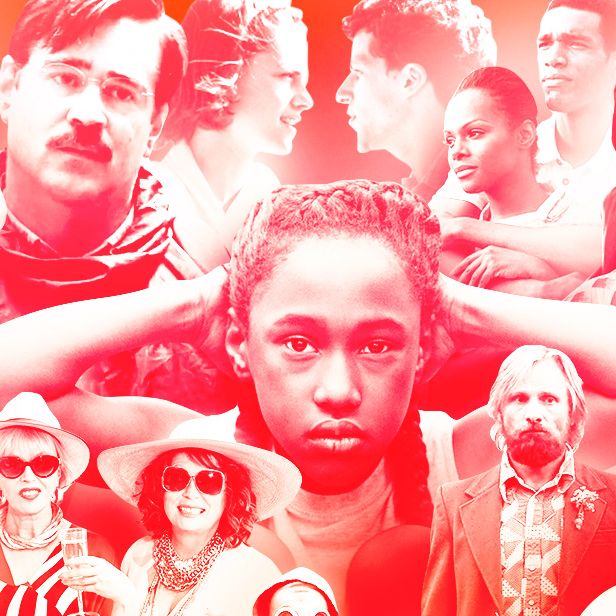 Photo-Illustration: Maya Robinson
Also see Vulture's guide to this summer's best blockbusters.
It's not often that we look to big-studio summer fare for originality, but the big-budget summer slate this year feels particularly uninspired, with sequels no one asked for, wanly rehashed comic continuations, and remakes that didn't need to be remade. In other words, if you're a movie fan who wants to make it to the fall, you're going to have to look to independent and specialty films. Fortunately, there's a lot to offer from the smaller studios, making counter-programming a cinch.
Below, we give you the scoop on ten of the most notable indie entries, and quickly run you through some of the other titles you'll want to have on your radar.
A Bigger Splash (out May 4)
The summer-movie slate kicked off with one of the sexiest films of the season. A Bigger Splash features Tilda Swinton as a rock star with a failing voice who takes to an Italian island to recuperate, as one does. She's got fantastic clothes, a beautiful mansion, and a studly boyfriend (Matthias Schoenaerts) to help her, but once old flame Ralph Fiennes flies into town with his provocative daughter, Dakota Johnson, the sexual crosscurrents of this quartet leave no time for convalescence. Directed by Luca Guadagnino (I Am Love), A Bigger Splash is a good bit of decadent fun, and everyone in it looks tremendous while unclothed. Go see it!
The Lobster (out May 13)
The droll conceit at the heart of The Lobster suggests a dystopian spin on Tinder: In this film from Dogtooth director Yorgos Lanthimos, single people are given 45 days to couple up, or else they'll be transformed into animals. A doughy Colin Farrell does his best to find a mate before he turns into the titular lobster, but finds he may have better luck opting out and running off into the woods with the rogue activist Rachel Weisz. It's perhaps the driest date movie ever made.
Weiner (out May 20)
This riveting documentary begins as a comeback story, following candidate Anthony Weiner as he runs for New York City mayor and attempts to put his disreputable past as a serial sexter behind him. When an all-new sexting scandal breaks out during filming, it's almost impossible to believe that Weiner would do something so dumb … and let the documentarians roll tape as his career crashes and burns a second time. The level of access is almost as incredible as the shady side-eye proffered by Weiner's wife, Hillary Clinton aide Huma Abedin.
The Fits (out June 3)
Some next big things come in small packages, and so it goes for 10-year-old Royalty Hightower, an agile youngster who toplines The Fits. An intriguing indie from director Anna Rose Holmer, The Fits stars Hightower as a girl who's beguiled by an all-female dance squad; though, just as she's finding her footing with the group, its members start succumbing to convulsions, one by one. After acclaimed bows at the Venice and Sundance film festivals, you might find the movie itself just as contagious.
Swiss Army Man (out June 24)
Yep, this is the movie where Paul Dano rides Daniel Radcliffe's farting corpse like a Jet Ski. A high-spirited head-scratcher, Swiss Army Man inspired walkouts back at the Sundance Film Festival, but if you know ahead of time what you're getting into with this surreal bit of Adult Swim–level weirdness, you might prove to be the right target audience. At the very least, let your internal compass decide whether you want to see a movie where DanRad's erection is used as an external compass. It's like that!
The Neon Demon (out in June)
Nicolas Winding Refn, the director of Drive, is making a movie about cannibalistic supermodels? All right, we're there (and willing to overlook his last effort, Only God Forgives). Frequent muse Ryan Gosling sits this one out, but Elle Fanning, Christina Hendricks, and Keanu Reeves are along for the ride. After a Cannes premiere, Amazon plans to set a summer debut in theaters.
Captain Fantastic (out July 8)
If Viggo Mortensen invited you to live in the woods with him, who among us could possibly decline the offer? But the six kids he raised off the grid in the Sundance smash Captain Fantastic have known no other way, so when tragedy strikes and the family has to reenter civilization, they're stunned by the everyday life their dad eschewed. If Captain America isn't quite your thing, perhaps Fantastic will do.
Cafe Society (out July 15)
In Woody Allen's 1930s-set comedy, Jesse Eisenberg finds himself entranced by two women guaranteed to set comment sections aflame, Kristen Stewart and Blake Lively. Each helps him weave his way through the upper crust on both coasts: K-Stew is a Hollywood assistant working during the Golden Age, while Lively is a socialite plugged into New York's café society. Even more enticing: Two recent Allen standouts, Irrational Man's Parker Posey and Midnight in Paris scene-stealer Corey Stoll, are back onboard for this one.
Absolutely Fabulous: The Movie (out July 22)
Sweetie, darling, it's impossible to discuss the further adventures of Edina and Patsy without saying "sweetie" and "darling," so could you make an allowance just this once, sweetie darling? Our dissolute duo returns for this big-screen romp, where a true crime against fashion — Edina's accidental murder of Kate Moss — sends Pats and Eddy on the lam. Cameos from the likes of Jon Hamm and Gwendoline Christie amplify the contact high.
Southside With You (out August 26)
If this hostile election season has got you pining for four more years of the Obamas as our first family, perhaps you'd settle for even one more day? That's what Southside With You gives you, but at least the day in question is a significant one: The movie retells the story of Barack and Michelle's first date, with charming stand-ins Parker Sawyers and Tika Sumpter as the presidency-bound pair. The two have a great rapport, and Barack's first move on Michelle (instigated over an ice-cream cone) is bound to inspire swoons.
THE REST OF THE …

… COMEDIES:
Several different flavors await: If you prefer things dystopian and dark, check out Tom Hiddleston in the class satire High Rise, but if you want a film that's safe and family-friendly, John Krasinski's clan-comes-together comedy The Hollars may be more your speed. Whit Stillman directs Kate Beckinsale to a career-best performance in the clever Jane Austen adaptation Love & Friendship, while in the more lowbrow Search Party, Thomas Middleditch, T.J. Miller, and Adam Pally endure comic misadventures in Mexico. There's also a Greta Gerwig–starring rom-com from director Rebecca Miller called Maggie's Plan (with a hilarious supporting turn from Julianne Moore) and a new Todd Solondz film, Wiener-Dog, that will provoke dark laughs and maybe even a few teary yelps.
… PRESTIGE DRAMAS:
Prepare for a double-dose of Ewan McGregor: Last Days in the Desert casts him as both Jesus and the Devil (and it was shot by three-time Oscar-winner Emmanuel Lubezki), and Our Kind of Traitor plants him in a modern spy thriller. If you need more films with British actors, Colin Firth and Jude Law headline Genius as editor Maxwell Perkins and writer Thomas Wolfe, while model Agyness Deyn is the muse in Sunset Song, the Terence Davies–directed adaptation of Lewis Grassic Gibbon's rural Scottish novel. Former Focus head James Schamus helms Indignation, a period piece based on the book by Philip Roth, while Equity is more in the moment: a female-fronted Wall Street movie starring Anna Gunn.
… FOREIGN FILMS:
This summer's slate boasts gems like Jacques Audiard's Palme d'Or winner Dheepan, about a Sri Lankan soldier who weathers a variety of hostilities in Paris, and the fest award-winner Chevalier, a deadpan satire of masculine mores that follows a group of hypercompetitive friends on vacation. In Hirokazu Koreeda's intimate Our Little Sister, three close-knit sisters decide to take in the stepsister they barely know, while in Ma ma, a cancer-stricken Penelope Cruz leans on a stranger who's lost his family. Meanwhile, Léa Seydoux cuts a swath through Provence in a new spin on Diary of a Chambermaid, proving that her take on the help is hardly helpless.
… THRILLERS:
Finally, you can expect some high blood pressure from The Ones Below, a London-set thriller about a pregnant woman who comes to fear the couple living in the apartment beneath her; the scary Clown from Spider-Man: Homecoming director Jon Watts; and Cell, an adaptation of the Stephen King book about zombified mobile users starring John Cusack and Samuel L. Jackson. Then again, truth might be stranger than fiction if you're checking out the documentaries Eat That Question: Frank Zappa in His Own Words or Holy Hell, the latter of which was filmed by a cult member starting to doubt his speedo-clad guru. God bless the world of independent film for that log line.