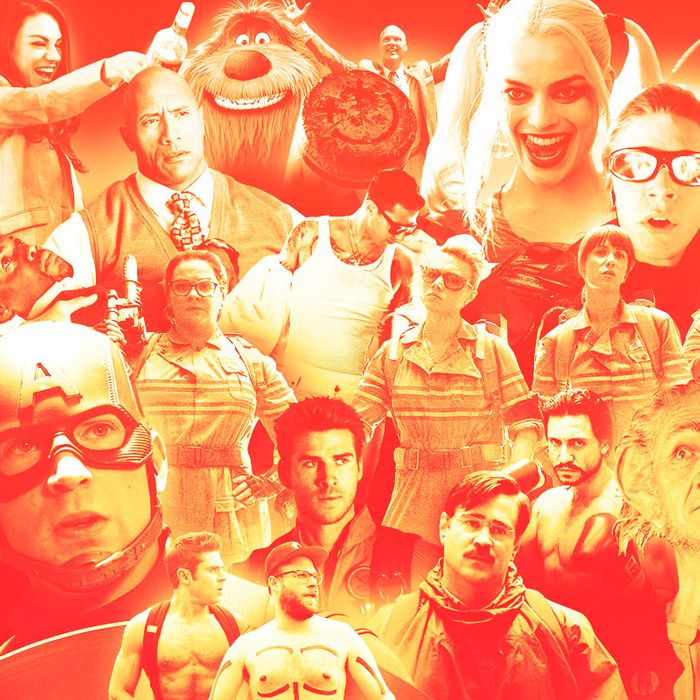 Photo-Illustration: Maya Robinson
Also see Vulture's guide to this summer's best indie movies.
If you were expecting this to be the summer in which Hollywood kicked its franchise addiction, then:

1. I applaud your optimism.
2. Your wait continues.
But it does look like it could be a pivotal moment in the evolution of blockbuster filmmaking, with the bulk of the major releases far from sure things — aside, of course, from Marvel, which should continue its winning streak as it enters Phase Three of its Cinematic Universe. If those other films falter, though, we could see shock waves go through the industry, reminding studios that a recognizable property isn't the only thing you need to make a hit these days, particularly as more and more recognizable names are revived out of desperation. And if they hit — well, I hope you're feeling nostalgic.
Below are the ten biggest releases of the summer movie season, followed by a quick run-through of the rest of what the studios have to offer.
Captain America: Civil War (out May 6)
The 2016 Summer Movie Season kicked off this weekend with the 13th installment in the Marvel Cinematic Universe. Even considering the Voltron-esque construction of the two Avengers installments, you could make a good argument that Civil War — which splits most of the Marvel heroes that matter (including newcomers Spider-Man, played by Tom Holland, and Black Panther, played by Chadwick Boseman) into opposing teams led by Captain America and Iron Man — is MCU maestro Kevin Feige's most ambitious outing yet. While ostensibly part of the Captain America sub-franchise, and directed by Captain America sub-franchise directors Joe and Anthony Russo (with sub-franchise writers Christopher Markus and Stephen McFeely writing), Civil War shows the aggregated might of Disney's heroes and couldn't come at a more perfect time, what with Warner Bros. and DC staggering after the tepid reception of Batman v. Superman. Early reviews have been euphoric and it's already doing gangbusters overseas, so don't expect any tepidness here.
X-Men: Apocalypse (out May 27)
Civil War's likely dominance could prove troubling for another superhero tentpole. X-Men: Apocalypse is Bryan Singer's fourth go-around with the franchise, dating all the way back to 2000, or eight years before the start of the MCU. Its predecessor, Days of Future Past, made about $234 million domestically, a number that Batman v. Superman beat by the end of its second weekend. There's a legitimate question as to how many $200 million-budget movies the market can support, and even with Oscar Isaac playing the titular villain, and the return of star players like Jennifer Lawrence, Michael Fassbender, James McAvoy, and a million others, Apocalypse may be testing that limit. But will it be any good? Singer's track record with the franchise is impressive — and the addition of Isaac has never hurt anything.
Finding Dory (out June 17)
Pixar's never felt the need to rush their sequels — Toy Story 3 followed Toy Story 2 by 11 years, and Monsters University came 12 years after Monsters, Inc. In that company, the 13-year gap between Finding Nemo and Finding Dory starts to make sense, even if logic seems to suggest that the follow-up to one of their most popular movies could've come a lot sooner. Dory returns most of the talent from Nemo, including Ellen Degeneres as the titular fish, Albert Brooks as Marlin, and writer-director Andrew Stanton; if there's a surer bet than this one in the summer-movie landscape, you'd be hard-pressed to find it.
Independence Day: Resurgence (out June 24)
What is Independence Day without Will Smith? That's what Resurgence is about to find out, having reunited all the other essential pieces — director Roland Emmerich; talisman Jeff Goldblum; those aliens — for the 20th anniversary of 1996's landmark summer extravaganza. While Fox tried to explain away Smith's absence by saying his character died, the whole thing has mostly served as a reminder of how the elements that make these movies hits in the first place are mysterious, alchemical, and hard to replace, particularly when they include what was, at the time, the world's biggest movie star. If Resurgence can't reproduce the thrills of its predecessor, expect the blame — or credit — to be placed at Smith's feet. But it could have even more to do with losing the element of surprise, an experience that the film will share with its resurgent extraterrestrials.
The BFG (out July 1)
After two Very Serious, politically minded films — 2012's Lincoln and last year's Bridge of Spies — Steven Spielberg returns to his Amblin roots with a version of Roald Dahl's beloved The BFG, one of the author's most prominent novels not yet to receive a major big-screen adaptation. While he's leaving behind the statecraft, Spielberg is taking his Bridge of Spies muse and recent Oscar winner Mark Rylance with him to play the BFG, a.k.a. Big Friendly Giant, and he'll be joined by Bill Hader, Jemaine Clement, Rebecca Hall, as well as newcomer Ruby Barnhill in the role of Sophie.
Ghostbusters (out July 15)
What to make of the news that Ghostbusters has the most disliked trailer in the history of YouTube? Probably very little: While men on the internet who down-vote YouTube videos are certainly a demo, they are not the only demo; there are also women and men who aren't lunatics. Expect those two groups to come out in droves to see Kristen Wiig, Melissa McCarthy, Kate McKinnon, and Leslie Jones reinvigorate one of our most beloved franchises under the direction of Paul Feig. The main question is whether Ghostbusters will follow in the footsteps of recent reboots like The Force Awakens and Jurassic World and essentially retell the same story as the first installment, or if it'll strike out on its own.
Star Trek Beyond (out July 22)
The full title of this movie really should be Star Trek Beyond: J.J. Abrams. This will be the first installment of the franchise since its reboot to be directed by someone other than the King of the Lens Flare, who left the captain's chair to go helm Star Wars: The Force Awakens. In his place is Justin Lin, director of four Fast and Furious movies, who will try to reassert the place of Star Trek in a world now solidly dominated by its Force-using counterpart. Other draws include Idris Elba as Krall and a script co-written by Simon Pegg, suggesting that humor could be its secret weapon.
Jason Bourne (out July 29)
Civil War; Apocalypse; Resurgence; Beyond. While the rest of the summer slate opts for banal, vaguely grandiose tag words, Paul Greengrass and Matt Damon get back to basics. Jason Bourne reunites the director (who helmed Bourne Supremacy and Bourne Ultimatum) and star in their first Bourne since 2007; the major difference is that Tony Gilroy, the Michael Clayton filmmaker who wrote or co-wrote the screenplay for all three of the character's first outings, is gone, replaced by Greengrass and his longtime editor Christopher Rouse. While Greengrass's frenetic handheld style was a major calling-card for the series, so were the intelligence and precision of Gilroy's scripts, leaving the new writing team some big shoes to fill. That being said, Matt Damon's playing Jason Bourne again: That goes a long way.
Suicide Squad (out August 5)
Following the Batman v. Superman letdown, Suicide Squad's significance skyrocketed: Now, the irreverent ensemble actioner, which includes Will Smith, Margot Robbie, and Jared Leto among its roster of bad-guy protagonists, is being positioned as the DC universe's corrective. Instead of the morose grandiosity of BvS, it'll provide a fun, high-octane alternative route for Warner Bros.' superhero movies. Will it deliver? Writer-director David Ayer has a long track record with gritty, entertaining morality tales, so he's in the right place. At the very least, he's not Zack Snyder.
The Founder (out August 5)
Some actors indicate a film's quality just by choosing to appear in it. Michael Keaton's on a different level: He's starred in the last two Best Picture winners. While his new movie, in which he plays McDonald's founder Ray Kroc in the aptly named The Founder, appears to be poised as more adult-oriented summertime counter-programming than Oscar fodder, it still has a fine pedigree: Director John Lee Hancock shot Best Picture nominee The Blind Side (as well as the snubbed Saving Mr. Banks) and writer Robert Siegel wrote the screenplay for Darren Aronofsky's The Wrestler. And the excellent cast — which beyond Keaton features Patrick Wilson, Linda Cardellini, Laura Dern, B.J. Novak, and John Carroll Lynch and Nick Offerman as Mac and Dick McDonald — should guarantee that, in a summer of superheroes, this'll be the rare film that allows us to watch real actors play real people.
THE REST OF THE …
… POPCORN MOVIES:
On the non-comic-book end of the spectrum, sequels abound. Teenage Mutant Ninja Turtles 2, Now You See Me 2, The Purge: Election Year, and Mechanic: Resurrection are mostly successors to films that either dominated the box office or made great returns on investment, and in an industry that's becoming extra risk-averse, that's where the safe money hangs out. It also means that there's no gap too long between an adored predecessor and its possible follow-up, exemplified by the revival of Independence Day and the Bourne franchise.
… FRANCHISES IN THE MAKING:
Every studio is currently combing through its rights library looking for dormant IP that can be stood back up and stuck into the ground as a possible tentpole. On the one hand, this can lead to exciting reinventions of otherwise played-out properties, à la Paul Feig's female-led Ghostbusters; on the other, it can yield The Legend of Tarzan and Ben-Hur, two movies that will test audiences' true affection for the Golden Age of Hollywood. Meanwhile, Warcraft becomes the latest in a long line of challengers vying to be the first breakout video-game adaptation.
… HORROR FLICKS:
James Wan dominates the upcoming slate of scary fare: He wrote and directed The Conjuring 2, a sequel to his critically esteemed hit The Conjuring, and he produced Lights Out, starring Teresa Palmer and Maria Bello. The Shallows features Blake Lively getting attacked by a shark, if that sounds like your thing.
… FAMILY MOVIES:
This summer's all-ages offerings mostly come in the form of live-action/CGI hybrids and animated films based on classic properties (Finding Dory, The BFG, Pete's Dragon), successful franchises (Alice Through the Looking Glass, Ice Age: Collision Course), and … games you play on your phone (The Angry Birds Movie). Combined with the recent Lego Movie, the success of that last one would solidly prove that you can make a blockbuster out of anything. Elsewhere, Louis C.K. voices a dog in The Secret Life of Pets (so you can thank that movie for helping to fund Horace and Pete), Nine Lives stars Kevin Spacey as a cat, and Kubo and the Two Strings features the voices of Charlize Theron, Matthew McConaughey, Rooney Mara, and Ralph Fiennes, which might give it the best cast of any movie this summer.
… COMEDIES:
Aside from Ghostbusters, which also has the franchise element going for it, none of the nine studio comedies coming out this summer made our top ten. That's not a knock on any of the films in question, one of which is the sequel to a breakout hit (Neighbors 2), one of which stars Kevin Hart and the Rock (Central Intelligence), and one of which looks really good (The Nice Guys, starring Ryan Gosling and Russell Crowe).
Instead, it shows the degree to which comedies have slid from the top of the blockbuster heap, displaced in budget and priority by movies that play better overseas. It's also a testament to the fracturing of the comedic landscape: While Seth Rogen, Andy Samberg (Popstar: Never Stop Never Stopping), and Kevin Hart are successful comedians with large followings, neither comes even close to the kind of ubiquity and mainstream appeal of guys like Eddie Murphy, Jim Carrey, and Mike Myers in their heydays. In fact, the biggest comic star in Hollywood today — Melissa McCarthy — is competing in a different category altogether. Aside from those four, Zac Efron plays the straight man to Aubrey Plaza and Anna Kendrick (Mike and Dave Need Wedding Dates); Bad Moms is about bad moms; Seth Rogan and Evan Goldberg's Sausage Party promises to be as raunchy as its name suggests; and War Dogs marks Todd Phillips's post-Hangover return, with Jonah Hill and Miles Teller playing arms dealers.
… DRAMAS:
Because of how back-loaded the awards calendar is, any movie with a shot at an Oscar is going to be released in September or later. That means the serious, adult-targeted, non-franchise films being released during the summer are being released during the summer for one of two reasons: One, they didn't turn out well enough to have a shot at awards contention; or two, they're genre-oriented enough to serve as effective alternatives for audiences sick of superheroes. Money Monster, Free State of Jones, and The Founder all appear at least likely to be in the latter camp; whether that'll be enough to cut through the noise of the larger, louder blockbusters is more debatable. Florence Foster Jenkins and Hands of Stone put Meryl Streep and Robert De Niro in real-life roles that should play to an older crowd.
… ROM-COMS:
If you want any more evidence that romance is not a priority for studios anymore, consider the fact that Me Before You, starring Daenerys Targaryen and Finnick Odair, is the only attempt even being made at the genre this summer.