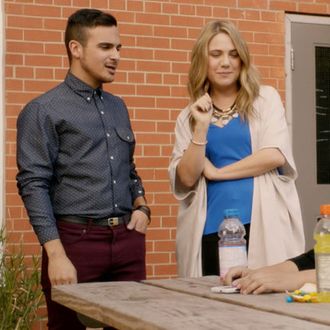 Unrequited crushes, half-forgotten rivals, that one science teacher you always run into drinking alone at your hometown bar: Anyone who's ever been to a high school-reunion knows it is a veritable emotional minefield. Lucky for you, the second season of Degrassi: Next Class, which premieres on Netflix on July 22, will commemorate the show's 500th episode by featuring a host of Next Generation students in town for their reunion. Entertainment Weekly has the first look. While Next Gen's Marco, Paige, Emma, and Spinner (or Adamo Ruggiero, Lauren Collins, Miriam McDonald, and Shane Kippel, depending on your memory) will all be making the trip, Jimmy, played by the illimitable Aubrey Graham, will not. "It's the 35th anniversary 
of the school, so we all get together to celebrate. But sadly, the wheelchair ramp was
 out of service," Ruggiero joked. If a broken wheelchair ramp is the only thing keeping Drake's Jimmy from making his glorious return to DeGrassi, you will fly to Canada and build one for the show yourself. And it will be terrible.