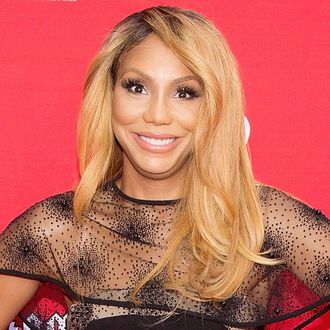 Photo: Gabriel Olsen/Getty Images
Everyone is filled with a certain amount of righteous anger on Facebook, but invoking the power of Prince and Beyoncé? That should be reserved for bringing about a fiery apocalypse, and a fiery apocalypse only. Variety reports that Tamar Braxton is exiting her co-host position on The Real, having been a part of the show's panel since its inception in 2013.
"The Real and Tamar Braxton have mutually decided that Tamar will not be continuing with the show for its upcoming third season," the singer and show announced in a joint statement. "She will be leaving in order to concentrate on her solo career. Everyone associated with The Real appreciates Tamar's efforts and the contributions she has made to the show's success, and we wish her all the best for the future." Over on Facebook, however, Tamar has recently been deeply wounded by an act of treachery. "I love u all but I have been stabbed in the back by someone I stupidly trusted (not my man or my sisters)," she wrote. "I am not about to be tried and tested to snitch (👀) and it's not in good taste to tell you who…… but as #tamartians you are very smart and can figure things out on your own." The star of Braxton Family Values concludes, "I am Tamar Braxton. And if you thought for 1 sec u played me…..In the late great prince and the amazing Beyoncé voice you PLAYED yourself." What's worse: Tamar Braxton was stabbed in the back by a person or persons at The Real, or she's leaving The Real and completely unrelatedly she was utterly betrayed?