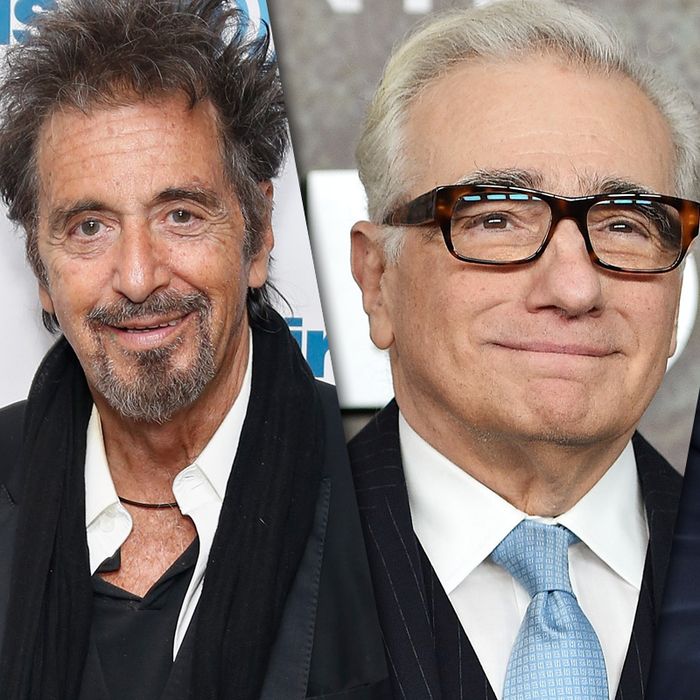 In what sounds like a cinematic Mad Lib, Martin Scorsese is making a Netflix movie, and Robert De Niro and Al Pacino are starring in it. Production for the pricey picture is slated for August, and there are a lot of details to parse. Joe Pesci has reportedly come out of retirement to reteam with Scorsese and De Niro — a source told Deadline he declined as many as 50 times — for an epic mob movie. The Irishman is a passion project of Scorsese's, one that has been gestating for over half a decade. Here's what you should know about the project, which is the rarest kind of modern Hollywood film: a non-franchise blockbuster.
1. It's a return to Scorsese's favorite subject.
Scorsese is the great bard of the American mob, and The Irishman will mark his return to that subject for the first time since the 2006 Best Picture-winner The Departed. That movie was an adaptation of the 2002 Hong Kong movie Infernal Affairs, mixed with the true story of Whitey Bulger and Frank Connolly (which received a direct portrayal in last year's Black Mass). The Irishman is based on the Charles Brandt nonfiction book I Heard You Paint Houses, which tells the story of Frank "The Irishman" Sheeran — a hitman tied to the Bufalino crime family who claimed, on his deathbed, to have murdered Teamster leader and iconic cold case Jimmy Hoffa. (Hoffa also said he was involved in the Kennedy assassination, in case you were worried that's not enough material for one movie.)
2. It's been in the works since at least 2010.
The Irishman's title first surfaced on September 14, 2010, when Deadline reported that Scorsese had begun developing the project with his muse, Robert De Niro. Earlier that year, Scorsese had released the mystery thriller Shutter Island, and a week later, the pilot he directed for Boardwalk Empire aired on HBO. Since then, he's stayed just as busy: He directed the documentaries Public Speaking (2010), George Harrison: Living in the Material World (2011), and The 50 Year Argument (2014); the animated feature Hugo (2011), which won five Oscars and was nominated for Best Picture; the brash corruption comedy The Wolf of Wall Street, which was nominated for five Oscars, including Best Picture; and the pilot for Vinyl, the HBO rock-and-roll series he co-developed with Mick Jagger. Scorsese's most recent feature was Silence, a narrative about Jesuits in 17th-century Japan, starring Adam Driver, Liam Neeson, and Andrew Garfield, a passion project that was three decades in the making before it was released last fall.
3. It was written by Oscar-winning screenwriter Steve Zaillian.
Steve Zaillian is one of those names that makes aspiring screenwriters genuflect, as his scripts have been directed by Steven Spielberg (Schindler's List), Brian de Palma (Mission Impossible), Ridley Scott (Hannibal, American Gangster, Gods and Kings), David Fincher (The Girl with the Dragon Tattoo), Sydney Pollack (The Interpreter), and Bennett Miller (Moneyball). He's been nominated for Best Screenplay four times and won once, for Schindler's List. And while Zaillian's last feature, the whitewashed debacle Exodus: Gods and Kings, didn't exactly part the Red Sea — if you know what I mean — he's also co-writer of the adapted TV miniseries The Night Of, which is airing to great acclaim on HBO. Zaillian and Scorsese have worked together before, on Gangs of New York, although Zaillian shared credit for that with Jay Cocks (also the writer of Silence) and Kenneth Lonergan (a master in his own right). Scorsese tends to use screenwriters he's comfortable with at this point in his career, and Zaillian more than fits that bill.
4. It's going to be (reasonably) pricey.
At $100 million, The Irishman carries a high price tag for a non-franchise, non-superhero film. But The Wolf of Wall Street, which also cost $100 million, ended up making $392 million worldwide, giving some credibility to the idea that Scorsese's vision can be enough to power a film at the box office. (It didn't hurt that Wolf starred Leonardo DiCaprio, one of the few remaining global box-office draws.) Fábrica de Cine, the production company of Mexican financier Gaston Pavlovich, will finance, marking its second straight Scorsese–Paramount team-up after Silence.
5. It's a major project for Netflix and indie studio STX.
IndieWire first reported in May that The Irishman will be a Netflix production, with sources saying it will get a day and date in 2019 with a limited Oscar-qualifying release. A movie this pricey is a gamble for Netflix, and for Scorsese, who's beholden to the classic movie-theater experience. Also involved: STX, a young studio focused on making mid-budget, adult-targeted, star-powered films — which so far include The Gift, The Boy, and Hardcore Henry — secured the international rights to The Irishman, with Paramount distributing domestically. Along with Aaron Sorkin's directorial debut, Molly's Game, the rights to which STX also acquired at Cannes, The Irishman will mark an enormous step forward for the nascent studio as it seeks to compete with the bigger powers worldwide.
6. Two Scorsese collaborators — De Niro and Pesci — are returning, plus Al Pacino, in his first Scorsese flick.
Scorsese and De Niro have made eight films together — one of the most fruitful and consistent creative partnerships in the history of film. Pesci has had supporting roles in three Scorsese pictures (Raging Bull, Goodfellas, and Casino) and has reportedly been recruited out of retirement for The Irishman. Shockingly, Scorsese has never worked with Pacino before, despite the actor's longevity and his role in one the greatest crime sagas not made by Scorsese, The Godfather. De Niro and Pacino, on the other hand, have collaborated three times now: in The Godfather II (where they did not share any scenes), the Michael Mann classic Heat, and the less-than-classic Righteous Kill. Harvey Keitel, another Scorsese alum, is also reportedly in talks to join the movie. The pair have made five movies together, including Scorsese's directorial debut, Who's That Knocking at My Door. Vinyl star Bobby Cannavale is also in talks to join, but hasn't been confirmed to co-star.
7. It will — according to De Niro — make its actors look younger.
De Niro said on Empire magazine's podcast, "I'm working on The Irishman with Marty Scorsese, and there are sections, earlier periods in the film, where we're experimenting with how I can [look younger], like Benjamin Button. Not only me, but the other actors too." As interesting as this is, it's also disappointing, because it eliminates any chance of Zac Efron taking on the role of younger Sheeran.
This post has been updated throughout.