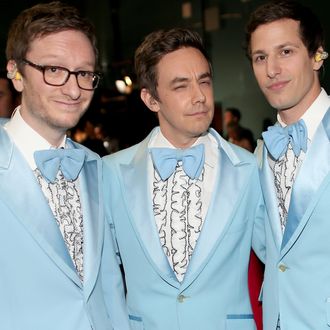 TLI.
Photo: Christopher Polk/2015 Getty Images
To one-up Zayn's new music video (and promote their forthcoming comedy) on Monday night, the Lonely Island released two songs from Popstar: Never Stop Never Stopping's soundtrack. "Me and @zaynmalik always have the same ideas," tweeted Conner4Real, Andy Samberg's protagonist in the movie, before sharing "Mona Lisa" and "I'm So Humble." In the former catchy pop parody, Conner recalls his underwhelming experience seeing Leonardo da Vinci's "overrated" painting for the first time: "With your terrible style and your dead-shark eyes," he sings, "Mona Lisa, the original basic bitch, traveled thousands of miles to see your beautiful smile, talk about a bait-and-switch — you ugly."
"Humble," meanwhile, touts an Adam Levine feature and shows off Conner's idea of stylistic versatility. "Bar none, I am the most humblest, number one at the top of the Humble List," he spits. "My Apple Crumb is by far the most crumblest, but I act like it tastes bad out of humbleness — the thing about me that's so impressive is how infrequently I mention all of my successes."

As you prep for the corresponding movie, you can stream both singles above via Spotify, or you can find them on iTunes, Apple Music, Amazon, and Google Play. Popstar, with Samberg, Jorma Taccone, Akiva Schaffer, Sarah Silverman, Tim Meadows, and Maya Rudolph, arrives June 3.