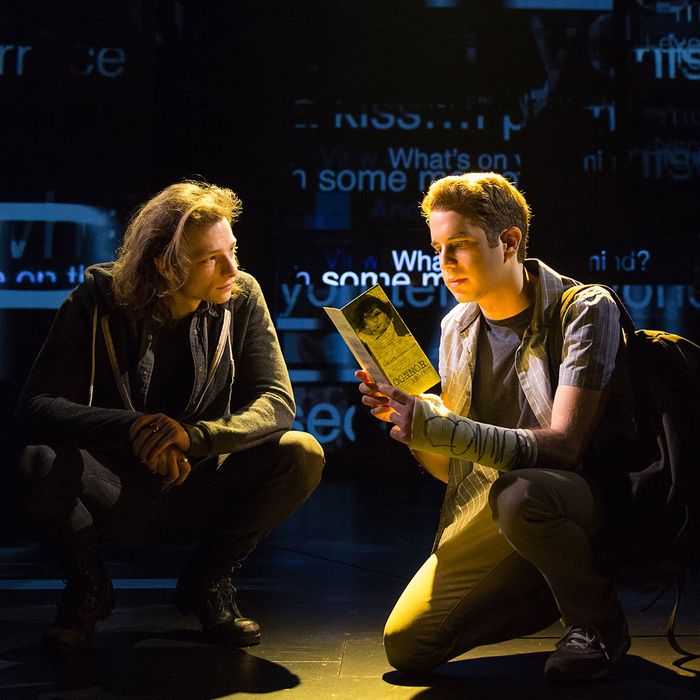 From Dear Evan Hansen, at Second Stage.
Photo: Matthew Murphy
Musicals are uniquely adept at telling large stories about individuals in conflict with society — so capable of doing so that we sometimes forget how smart they can be about individuals in conflict with themselves. In the former category, think about Porgy and Bess, West Side Story, and Sweeney Todd. In the latter, think about, well, Fun Home. And, now, Dear Evan Hansen, the terrific musical — songs by Benj Pasek and Justin Paul; book by Steven Levenson — that opened tonight at Second Stage. Like Fun Home, its focus is very tight, its subject is very dark, and its songs spiral inward as its implications stretch outward. But also like Fun Home, it makes of these constraints a powerfully emotional and often uncomfortably funny experience. It's the feel-anxious musical of the season.
Its success begins with an unusually fine script by Levenson, whose 2013 drama The Unavoidable Disappearance of Tom Durnin took on another dour subject: Bernie Madoff. This time the outcast is the titular Evan Hansen, a 17-year-old with social anxiety serious enough to require medication. His mother, a divorcée scraping by as a nurse's aide while also taking paralegal classes in the evenings, worries about him enough to send him to a shrink, but she's too busy to let herself fathom the depth of his unhappiness. Levenson doesn't say all this, though; he has found a way to dramatize it in an actual plot that springs from one small believable event — indeed, it is based on an incident from Pasek's youth — and then evolves in ways that are inevitable within the story's logic while always remaining surprising. I wouldn't want to give too much away, but it's fair to reveal that it begins with a letter that the shrink assigns Evan to write to himself as a daily affirmation: "Dear Evan Hansen. This is going to be a good day and here's why." One of these letters, not so affirming, gets into another teenager's hands; when that boy's family, the Murphys, find it, they think it's a suicide note.
How Evan, who completely freezes when speaking in public, comes to talk way too much when the Murphys need his words is one of the story's many heartbreaking ironies. So is the way social media at first supports and then exploits the situation, trapping him in his own attempt to do good. But Evan is no saint in this; he comes to enjoy too much the feeling of importance his inadvertent role in the situation leads to; he not only becomes popular at school and acquires a girlfriend but finds a substitute family — a rich one — in the Murphys. And while the plot is firmly centered in Evan's experience, it dramatizes the effects of his actions on all the people around him sufficiently to make it necessary for them to sing. 
As befits the dramatic material and Evan's nature, the songs by Pasek and Paul, whose excellent Dogfight played at Second Stage in 2012, have the sonic contours of thrummy emo pop but with the kind of careful structuring only found in the best musical theater. The songs do something, then do something else, even if in some cases, especially Evan's, what they tend to do is wind and perseverate. It's hard to stay ahead of a savvy New York audience, but the lyrics, in part because they are only lightly rhymed, almost always surprise by pushing away from what they seem to predict. "You Will Be Found," on first glance a traditional pop anthem for the end of the first act, turns out to be something both funnier and more sinister. The song in which Evan's mother is finally able to address her son honestly is called "So Big/So Small" but has nothing to do with the expected clichés of parental nostalgia. It's about how the house felt, and how she felt, on the day her husband left her.
That knockout eleven o'clock number (more like ten o'clock in this two-and-a-half-hour musical) is delivered in a career-topping performance by Rachel Bay Jones, whose recent work in Pippin and First Daughter Suite was already exemplary. Here, she catches so perfectly the mixed emotions of excusing oneself to one's child that parents in the audience may find it almost unbearably profound. Several other familiar musical-theater actors, especially Jennifer Laura Thompson and John Dossett as the Murphys, are working at capacity as well, and Laura Dreyfuss, Kristolyn Lloyd, and Will Roland as Evan's schoolmates are all excellent. But, other than Jones, the night obviously belongs to Ben Platt, who is uncanny as the awkward, endearing, desperate, foolish Evan. There may be many young actors (Platt, best known from the Pitch Perfect movies, is 22) who could master Evan's symphony of tics and grimaces. And many, surely, could get the character's vocal patterns — fast, involuted, hairpinning mid-thought — to flow clean. But I'm not sure I've ever seen a performer Platt's age maintain that level of technical virtuosity (he also sings beautifully) while delivering a wrenchingly sad portrait of loneliness at the same time. 
All that said, we must leave something for the inevitable Broadway transfer. Michael Greif, directing with his usual combination of performative detail and large-scale vision, has already delivered a very fine work. It could be even finer. David Korins's set design is mostly a platform for Peter Nigrini's social-media projections; this is a smart solution for a small stage but ultimately not visually strong enough for the emotions of the story. Alex Lacamoire's orchestrations could use a wider variety of color to keep some of the songs from sounding too much like others. (Some woodwinds, please?) Another number for Evan's mother would not be amiss, especially if you have Jones to sing it. And as good as the book is, a few confusions do loom past the point you'd want them settled. 
But these are luxurious problems; usually new musicals have things like incoherence and irrelevance to fix. Dear Evan Hansen has only to embrace its potential bigness a little more. It's already a small gem. 
Dear Evan Hansen is at Second Stage through May 29.