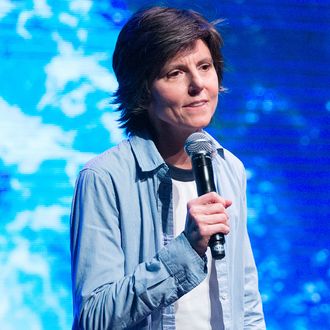 Tig Notaro.
Photo: Rich Polk/Getty Images
"Don't be weird—we're all just people," Tig Notaro told a couple hundred fans at the end of her panel at BookCon, this weekend's consumer book fair. Launched two years ago in an effort to channel Comic-Con euphoria toward dead trees and the publishers who love selling them, BookCon followed its trade appendage, BookExpo America, to Chicago this year.  (Both return to their Javits Center home base in 2017.) The road trip entailed less than half as many fans (over one day instead of two), fewer TV stars, and an intense focus on the YA and fantasy fare that inspires wizard hats and teenage squeals. (Giant placards warned, "Cosplay is Not Consent.") The panels were almost entirely targeted to teens, and not even Notaro, a low-key middle-aged comic, was spared their standard prelude: A hype man blasting techno and imploring the audience, some of them grownups, to wave their hands in the air.
Notaro flew in from L.A. to promote her memoir, I'm Just a Person, an introspective elaboration on that time she turned the trifecta of her mother's death, her breakup, and a breast-cancer diagnosis into a career-making routine. (She's in full remission). Notaro's sets are firmly in the school of understated cringe, her crowd work (on pointed display at Saturday's event) kind by way of cruelty. At fist-pumping, fan-stroking BookCon, she wasn't just counterprogramming; she was antimatter. Then again, her second most famous routine, subject of a popular This American Life segment, revolved around being snubbed by eighties sensation Taylor Dayne. So her entrance music, "Tell It To My Heart," was exactly right.
Notaro appeared and the onstage deejay cut the music. "Why did you think I wanted you to turn that off?" Notaro asked him. "I thought they'd like to hear you talk," he said. "Yeah, but that's not what I'm here for." This went on for a while, to growing laughter. A few minutes later, Notaro interrupted her own opening bit to mock an audience member for laughing when she said she'd only held a temp job for a week. "Temp is short for temporary," she reminded her, before losing the story's thread. "This is me having a meltdown in public, and it's because of you. To be fair, my meltdown also looks like boredom, which it's not."
Public humiliation was the through-line of the talk. Her interviewer, Nerdette podcast host Tricia Bobeda, asked an early question about bombing onstage. "It rarely rattles me because a I've been through worse in life." She eventually told three embarrassing anecdotes with relish. Notaro once did an entire set wearing a chocolate ice-cream moustache, which was still on when she looked in her mirror at night. "It was a very, very, low, low point," she said. She'd also have killed to see it herself. At a bummer of a Florida gig, she was met with uncomprehending stares; forty minutes in, "I just said, 'You guys, this is really funny. This club flew me across the country to silence. I'm telling you things that I think are funny and you guys don't agree at all.'"
A fan brought up a Conan appearance during which she forgot her set for what felt like ages. Notaro said that was the day her girlfriend broke up with her, in the midst of her annus horribilis. Conan's producer had offered to cut the painfully long pause. "I said, 'I think you should leave it in. It would be really interesting to see, because we do have those moments.'"
Her stories were very much on brand: I'm Just a Person. Notaro chose the title to mock celebrities' false modesty—and maybe also her own nouveau celebrity. "It's a response to people thinking they know me or interrupting my dinner." She recalled fondly the one fan who got fandom right, while passing her on an airport walkway in North Carolina. "Tig, what's up!" he said, and then kept rolling without looking back. "Near-daily I think about him, and I hope if I tell this story enough I can reach him somehow. We could be friends."
If that ever happens, he'd best be prepared for the kind of tough love she doled out during the extensive Q&A. "Leah from Wisconsin" was instantly interrupted: "I love that everyone tells me where they're from." "He told me to!" Leah said, pointing to the usher. "I know he did, I'm not mad at you," said Tig. "But I can't see your face. I'll never remember your name or where you're from, and that's the sad truth of it all."
Bob from Chicago asked her what three comics she'd bring to a desert island. "How did we get trapped?" she asked. "Well," said Bob, "you were on a ship and the ship crashed, and you found some inflatable pinball machines—"
"Sir, this is sheer insanity," said Notaro. "It's true," Bob retorted. "That's what happened." Notaro relented—"I love you"—and gamely answered. "There's Nick Offerman, who can build anything, I would bring Maria Bamford just because she blows my mind nonstop. And my friend Kyle Dunnigan, because he's just pure silliness."
Amanda from California asked if Taylor Dayne had reached out since This American Life. "We have crossed paths," said Notaro. "Again?" Amanda asked. "Yes! I don't know if you know how this works, you ask your question and then I answer it." Amanda nodded: "You're just a person." "I am just a person and I just snapped at you," said Notaro. Dayne did in fact text her when she found out about Notaro's breast cancer, telling her she could call anytime. Notaro considered doing so at 3 a.m. from a hospital bed, but thought better of it.
The last question came from Walt, "a working man" who boasted of a hilarious Tarzan yell. "I would like to do that for you," he said. "No thank you," Notaro said—then changed her mind. "Of course. That's why I'm here." Walt's trill was decent, though lacking falsetto. "What do you do, working man?" Walt works in the shipping department of Vienna Beef, source of the classic Chicago dog. "Thanks for doing what you do, sir."
Walt was immune to embarrassment; the questioner before him wasn't so fortunate. "You mentioned that throughout your career there were moments when you tanked onstage," Anna from Chicago began. "Yes, Anna, we went over this," said Notaro. "Sorry, I basically checked out because I was so nervous," Anna said. "You said that it doesn't affect you anymore. How are you able to do that?"
"Anna, I feel like you haven't been listening. Anna, let me repeat myself. God, this is so embarrassing for you." Anna moped. "I was completely checked out! I think I'm gonna go."
"Yeah, go sit down," said Notaro. Anna slunk back, blushing and smiling. Minutes later, the techno was back.