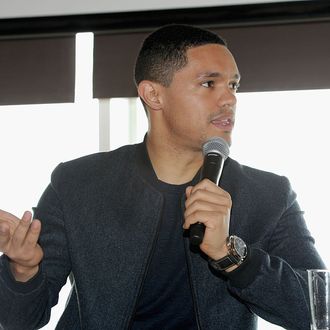 Trevor Noah.
Photo: Craig Barritt/Getty Images
South African comedian and host of The Daily Show Trevor Noah discussed politics, the American media, and Donald Trump at Vulture Festival with New York Magazine's Rembert Browne. Below, some highlights from their conversation.
On what Trump's rise to political prominence has revealed about the dangers of one particular modern ailment — information overload:
Donald Trump has mastered the art of moving us onto the next news cycle. He goes, "Ted Cruz's dad assassinated Kennedy." And you're going, What?! I'm sorry, what just happened? And then he's like, "And I will not release my tax returns." Wait, wait, what? And now we've forgotten the assassination, and now we're like, What do you mean you won't release your tax returns? And he goes, "Yeah, I talked to John Miller about this." Who's John Miller? What's going on? You fake your own interviews?! And now we've forgotten about the tax returns. And then you're like, Why John Miller? And now we're on that thing, and he turns around and goes, "Chris Christie, stop eating Oreos." And we're like, Wait, did he just do that? And then while we're still thinking about that he's like, "Okay we're gonna have a trade war with China, what's the worst that could happen?" And now we're on this and we haven't even gotten over the assassination. We move so quickly and we absorb so much news. And in the middle of all this, there's an Egypt airplane that is missing now, it's just overwhelming at times for many people to try and consume this news and try and find time to process it, so we live in a world of hot takes now.

On the surreal nature of the campaign-endorsement system in American political parties:
In America, it's like WWE, you've created this fanfare. That's why it's so easy for people to endorse people after they've fallen out of the race. My mind is honestly broken by that. How can you say everything that you've said, every single day you've said [it]? This is the Republican side — everyone said, "Donald Trump's the worst thing that could happen to this country, he cannot be commander-in-chief, you cannot trust him, he's a liar, he's a cheat, he's all of these things, you cannot have him, you cannot have him, you cannot have him, he's the worst thing ever, I'm dropping out of the race, and I think we can all agree that Donald Trump is the best choice for president." Like, woah, what just happened there? That's where you see that they are playing a game with the people, and that is something that — I don't get over that. You can't say that.
… And how American racism never truly went away:
It's also showing how angry people are. You know, you can't just gloss over this. You can't gloss over — I always ask people, where do you think all the racists went? I'm always fascinated by that. Well we had a civil-rights movement, and then, where did all the racists go? There was no mass emigration, so where'd they go? Did people just go civil rights, no more racism, and they're all just like, All right, I'm done. We had a good run, racists. This is what we've done to people — we've not had a moment, there hasn't been a discussion. It's not easy, but there has to be some sort of conversation that is had between people. Everyone just acts like it's done … it's not done.
But, he has hope for the upcoming November elections:
I feel like when Donald Trump loses, there will be a moment in the country where it's just like, the lights have just come on in the club … Ooooh, you looked so much better when the lights were off. I think it's a good thing. I think it's good because it's sparking conversation.