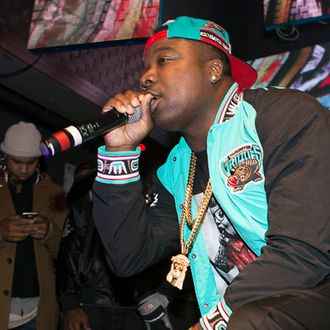 Troy Ave.
Photo: Johnny Nunez/Getty Images
Brooklyn rapper Troy Ave has been arrested in connection with a deadly Wednesday night shooting at T.I.'s concert at Irving Plaza, reports the New York Daily News. Ave has reportedly been charged with opening fire backstage, which resulted in the death of his bodyguard Ronald "Banga" McPhatter and left three injured, including Ave himself, who sustained a gunshot wound to the leg. Sources tell the Daily News that Ave has been charged with reckless endangerment, illegal-weapons possession, and criminal use of a firearm, but the NYPD is awaiting the results of ballistics tests before Ave can be charged with murder. "There is clear video, very graphic video. He walks right out, women all around, and starts shooting his gun," the source says. The shooting is said to have stemmed from a dispute between Ave and rapper Maino, who had performed just prior to the shooting. Troy Ave was also set to perform. In a lengthy Instagram post on Thursday, Maino denied having any involvement in the shooting. The NYPD has released disturbing security footage of the shooting.
Update: The NYPD had clarified earlier that "T.I. [did] not appear to be involved with this in any way." The rapper, later on Thursday, extended his sympathies to the deceased victim's family via social media, writing, "Rest in Peace Bro. God bless."
Update: Troy Ave has been formally indicted for his role in the shooting. He faces one charge of attempted murder and two felony weapon charges. He has pleaded not guilty to the charges and is being held without bail.