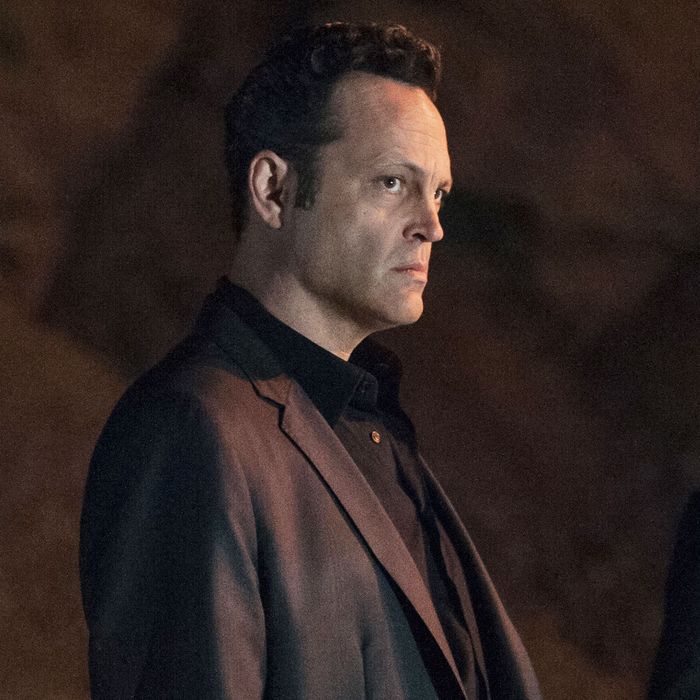 Vince Vaughn in True Detective season three.
Time may be a flat circle, but apparently said circle may have been completed when it comes to True Detective. Per The Hollywood Reporter, it now seems likely that series creator Nic Pizzolatto's next project for HBO will be something completely new rather than a third season of the crime franchise. THR didn't completely rule out the possibility of a new True Detective, saying only that a decision will now fall to HBO's newly installed president of programming Casey Bloys. (A network spokesperson declined comment when contacted by Vulture.) But assuming True Detective is dead, there's little reason for viewers — or executives at HBO — to mourn the loss.
The argument against a third season of True D has nothing to do with the widespread perception (not shared by everyone, of course) that the second season was a creative miss. The series was an anthology, with completely different characters and actors. Given the right idea and cast, as well as plenty of pre-production time, it's quite possible #TrueDetectiveSeason3 would've been every bit the creative triumph as the original edition.  Likewise, the ratings performance of both seasons of the show wasn't so decisive one way or the other to matter all that much when considering the merits of moving forward. Viewership for the sophomore year of the show trended down as the season went on, but not dramatically. On the other hand, ratings for both seasons — while higher than more recent efforts such as Vinyl and The Leftovers — weren't so good that HBO is depriving itself of a juggernaut if it doesn't greenlight another edition.
Instead, the main reason HBO's new boss would be wise to let True D rest in peace is simply this: It's just not worth the risk. While the network didn't lose a ton of money on the poorly received season two, its brand was tarnished, even if only slightly and temporarily. Ratings don't matter as much to HBO as other networks, but buzz and acclaim do. And by that metric, True D season two was sort of a disaster. Having given audiences one of 2014's best viewing experiences with the original series, the follow-up landed with a thud. Instead of Twitter lighting up with excitement at the end of every episode, it often seemed those who watched season two were doing so out of obligation — or a desire to trash what they were seeing on social media. Worse, the not-good season of True D came as part of what's been a pretty rocky year for HBO creatively. Not long after True D season two, HBO's Jack Black-led comedy The Brink bombed, earning the distinction of being that rare HBO series which doesn't get a second season. And then this winter, the much-hyped Vinyl ended up a critical and commercial disappointment, so much so that showrunner Terence Winter has been squeezed out in advance of season two.
To be sure, even this rough patch for HBO is unlikely to prove all that detrimental to the network's long-term (or even short-term) financial success. But HBO is a network that thrives on creating programming subscribers feel so passionate about, they're willing to shell out up to $15 a month to get it. Obviously, not every show the network does is going to work, and even those that do won't appeal to all (or even most) subscribers. But with True Detective season two, HBO ended up taking something subscribers once loved and turning it into a disappointment. It was then followed by two more high-profile misses. Were HBO to revive True D for a third go-round and it, too, met with critical and/or viewer derision, it might result in more serious long-term damage to the network's image, as we noted last summer. Fairly or not, it would raise questions about whether the network was starting to lose its way creatively. Given the ferocity of established rivals such as Showtime (whose scripted series now beat HBO's more often than not) and newcomers such as Netflix and Amazon, the bad PR that would follow a TD3 flop is a headache HBO simply doesn't need. That's doubly true now that the executive who oversaw both the good and bad versions of True D, former programming chief Michael Lombardo, has stepped down. With Lombardo gone, HBO can simply write off True D as a relic of an old regime. If the show were revived, Bloys, who has run HBO's very successful comedy division in recent years, would be taking ownership of a tarnished franchise. Why bother?