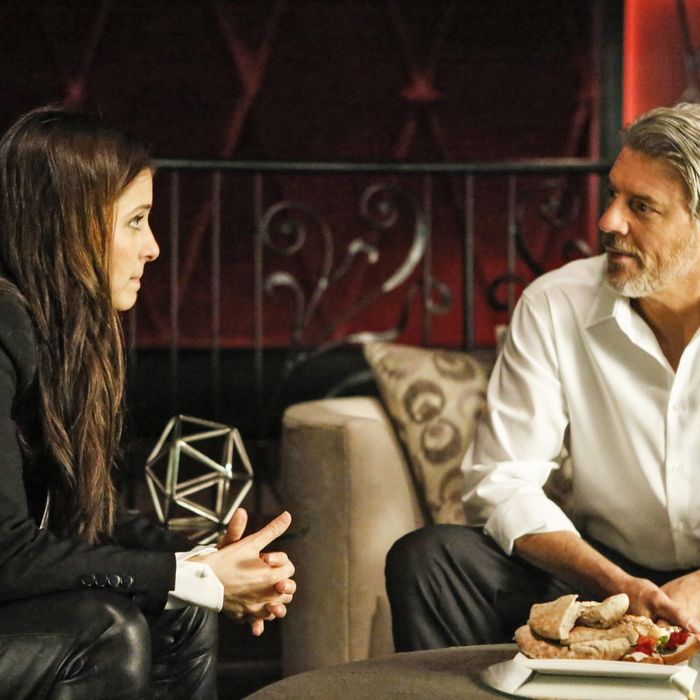 Shiri Appleby talks to a network executive in season two of UnREAL.
Photo: Bettina Strauss/Lifetime / Unreal 2 North Productions In.
Money.
Dick.
Power.

Rachel and Quinn have the three aggressive words tattooed on their wrists in the second season premiere of Lifetime's UnREAL, a mantra they first scribbled on cocktail napkins during a night of inebriated celebration. "What do we want?  We want money, period. We want dick, period. We want power, period," Constance Zimmer, who plays Quinn, repeated during an interview last month in her trailer in Vancouver, where the show films. "They take the napkin and they go to a tattoo guy. Originally, the art was big with cursive writing and flowers in between, and both [Shiri Appleby] and I were like, 'Absolutely not! Have you met these women?'"
Oh, have we. In season one, the manipulations of reality-show producers Rachel and Quinn pushed one love-seeking contestant to the point of suicide. Their new ink also highlights one of the dominant themes of the new season, premiering Monday — there's a new world order on Everlasting: The women are in charge, the men look radically different, and history is being made as the reality show within the show takes on what no real TV dating competition has managed so far: casting a black suitor.
The new chapter opens with Quinn in Chet's (Craig Bierko) former role, Rachel (Appleby) as the new Everlasting showrunner, and Chet searching for his inner caveman in the jungles of Patagonia.  The women fall for new men and party harder than ever as they gear up for production on another cycle of Everlasting, under pressure from above to top the previous season. But what can top a contestant jumping off the balcony and a runaway bride? Rachel is convinced it's her new black suitor, Darius Beck, an NFL quarterback atoning for a media scandal.
"Rachel doesn't have that sense of guilt that she felt about what she's doing to these contestants," said Appleby during an early morning interview on location in Vancouver. "That's really dulled. She's the showrunner now and she'll do what she needs to do. She's only producing Darius, so she doesn't feel a responsibility to the women. The way she's navigating in this world is, she's got bigger fish to fry, and losing or hurting people along the way is all for the greater good. Everyone is really changing."
Zimmer recalled reading the first scripts and being intrigued how all the characters are growing. "At the very end of last season, you realize they're stuck in their complacency and so I love it that this season is about showing how they are evolving and becoming different people for different reasons — good, bad, or otherwise," she said.
Some of these changes are reflected externally. These days, Rachel not only has access to a shower, she's wearing fitted blazers and straightening her hair; Jay and Jeremy (Josh Kelly) have both grown out their beards. But the most drastic transformation is hedonistic billionaire Chet, who disappears for six months to get in touch with his manhood among a tribe of men. When he returns, he is 50 pounds lighter, sober, and trying to win back his lost kingdom. But has he really changed? "You can put an extra coat of paint on a jalopy but it's still a jalopy," joked Jeffrey Bowyer-Chapman, who plays Jay. "Not much has changed. Maybe he will, but I look at Chet in a state of arrested development. He's not there yet."
Bierko's personal mission to lose weight after the first season wrapped inspired a new direction for his character, but he admits he was afraid he'd lose his job over choosing his health. "There were people who were nervous about it because it was going to change his character so much," said co-creator and executive producer Sarah Gertrude Shapiro. "But I feel that actors are human beings first and foremost, and if that's what he wanted to do for his life, that's great. As soon as it was clear that's what he wanted, I just went about figuring out how to make the best story out of it.  The thing is, it's so relatable because men in that age group often do have breakthroughs — if they don't take care of this, they're going to have a heart attack."
Chet's trip to Patagonia also became a way for the writers to explore how the men's rights movement intersects with feminism. "For Chet it was less about cosmetics and health and more about feeling castrated," Bierko explained during a break on set last month. "One of the things the writers are tackling this season is, what is masculinity? And if a woman is in a masculine position of authority, what happens to the men who are subjects in that kingdom? This feels like an actual contribution to a conversation that is important to have. People's points of view can mature, and they can realize that women are not all out to get us. It's very intimidating to be a man in that kind of environment where a woman is in control, and you can't say anything about it because you're afraid you will look like a pansy."
To give a sense of just how much have the roles reversed this season, consider: For all of the sex scenes, the writers are directing the men to disrobe while the women stay dressed. "Those poor boys! I didn't really mean to do this — well maybe I did mean to do it but it wasn't some master plan — all of the guys are so concerned about their bodies," Shapiro said. "They come to me all the time asking if they look okay. They ask when's my next scene with my shirt off? Do I need more body makeup? Those guys talk about what they eat and talk about working out all the time. I've never had one of those conversations with the girls. Ever."
The fierceness of Rachel and Quinn might be toughest on Jay, who breaks down in one episode in the middle of the season because he is torn between his career ambitions and having to be deceptive to get what he wants. "There was one day that I felt like I was crying all day and one of the crew members came over and put their hand on my shoulder and said, 'Jay is the moral compass of the show,'" Bowyer-Chapman said. "If Jay didn't feel bad, the audience might not feel bad. He wants to make quality television without selling his soul."
Jay is particularly sensitive to the direction the new season of Everlasting takes. Rachel and Quinn take Darius's race and fame as an invitation to populate the mansion with a group of women ready-made for controversy: a racist from Mississippi, a Pakistani woman they want to depict as a possible terrorist, a football princess, and a Black Lives Matter activist.
Shapiro said she considered having a female suitor for season two, but she didn't feel it would allow for as many interesting, relevant themes to explore. When the writers reconvened, she threw out the idea of a black suitor to two black female writers on staff whom she trusts. "It was clear to me that it was going to be really awkward at times because we were going to have conversations that a lot of us probably haven't had before," Shaprio said. "And we did have some super-awkward conversations and tense moments, but we just kept going. We have this character in Quinn who says the most outrageous shit and is the vehicle to say things a lot of people think but don't want to say out loud. And we have Rachel, who is so self-righteous and liberal and is a trope of her own. She's somebody who's patting herself on the back for casting the first black suitor and taking credit for that story when it's really not her story."
As she researched violence against black men in particular, Shapiro noticed a disturbing trend — when police officers testify in cases where a black man had been injured or killed, they often referred to the victims by terms like "monster," "animal," and "superhero."
"They feel they are so physically intimidating and so physically dangerous that they need to stop their bodies with a bullet," Shapiro said. "That's very dramatic and way bigger than anything we're talking about, but the idea of making a black Prince Charming is actually potentially important, just to have that picture in the world to start chipping away at those images."
B.J. Britt (Agents of S.H.I.E.L.D and Being Mary Jane), who plays Darius, intended to watch a couple of episodes from the first season to meet with the casting director and wound up bingeing the entire season in 48 hours. "UnREAL deals with a lot of things that are going on right now in the world," Britt said. "It brings it to light in a way [where] you can bring it up at the dinner table."
Personally, though, it's been a step outside his comfort zone. "I get teased nonstop about doing this role," he laughed. "I'm sure I'll never be able to live this down. Even when we did the first night elimination scene — you can stay, you can go. It's like, oh my God. I was cheesing. They were like, 'B.J. stop smiling.'  I was like, I'm so sorry. It's so embarrassing."