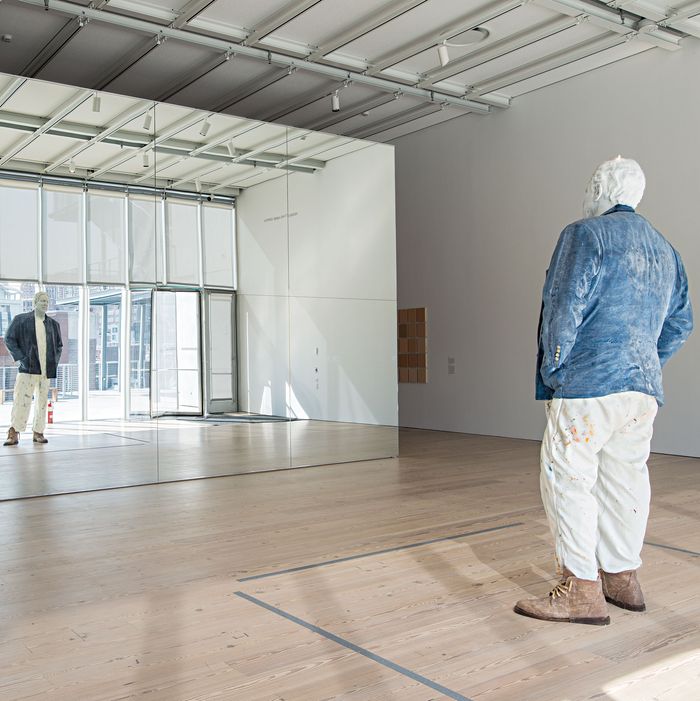 The wax sculpture will eventually dissolve into a puddle.
Photo: Bill Orcutt
Urs Fischer's giant wax sculpture of artist-director Julian Schnabel calls to mind a temple figure — or idol worship. Whether burning brightly or burning out, the Fischer sculpture is also a real candle. Atop Schnabel's head a flame burns, melting the enormous wax figure in glacial time. The hair's already gone; wax is running down the sculpture's back. All this will dissolve into some Wicked Witch–like puddle in a few months. Schnabel likens the sculpture to Ozymandias, Shelley's decaying stone sculpture in the desert. And me? Beyond the highly realistic Baroque sculpture, the distorted surfaces of Rodin, the superrealism of Duane Hanson, and Frankenstein via technological razzle-dazzle (body scans, milled foam, casts, wax, and wicks) — beyond all that, I see a meta-vision of two male artists as candles burning in the wind.
Or, more Freudian, it's the younger (and Swiss) Fischer negating the image of one of the most controversial American artists of the past 40 years. "Julian is like an archetype," says Fischer. "It's like the tide moves around him." Contemplating the sculpture, I thought of the 28-year-old Robert Rauschenberg showing up at the door of Willem de Kooning in 1953 — and asking for a drawing in order to erase it. De Kooning gave him one, saying, "I know what you're doing."
On view as part of "Human Interest" at the Whitney.
*This article appears in the May 16, 2016 issue of New York Magazine.